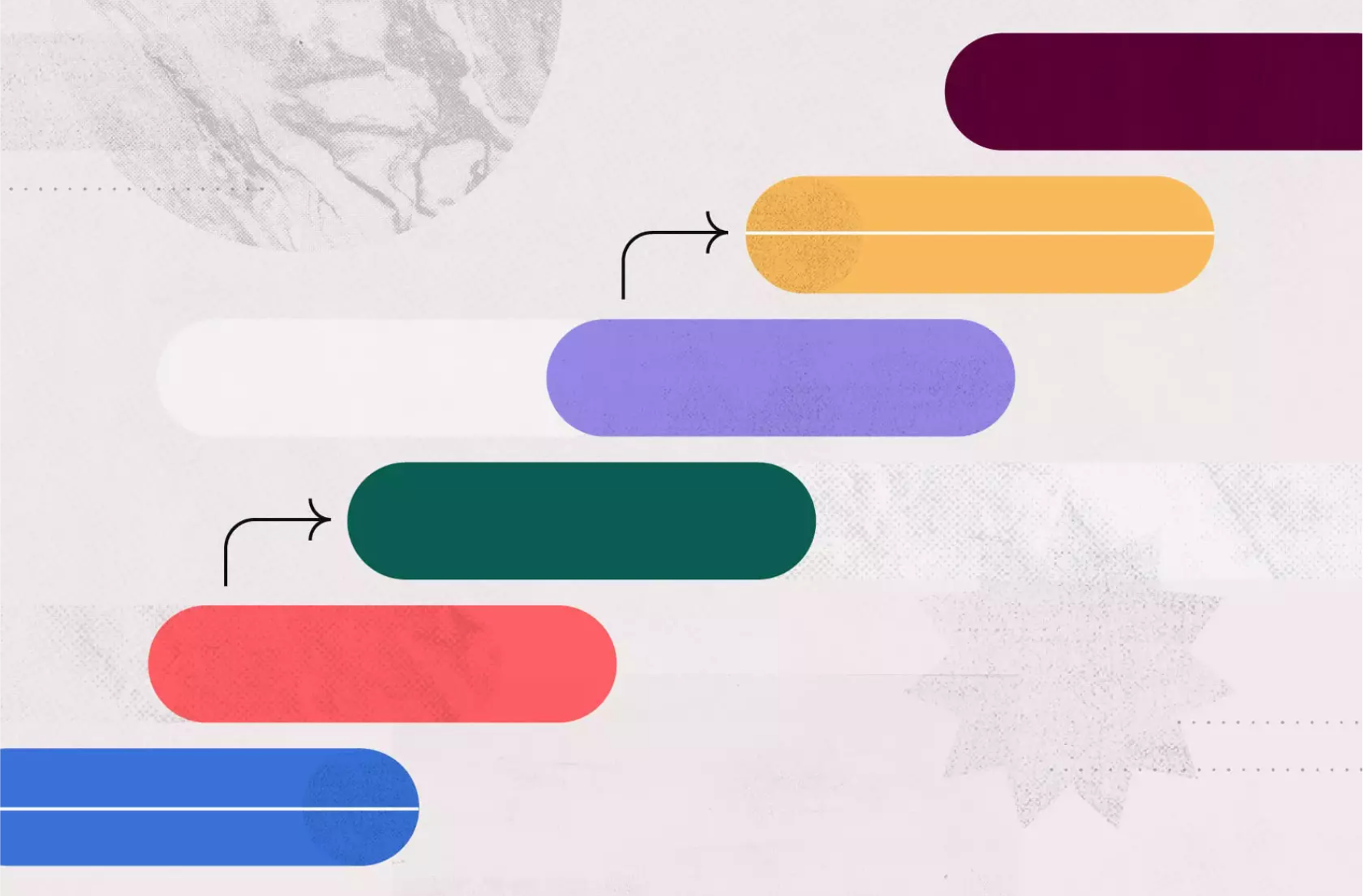 Product development is the creation of a new product which starts on the stage of finding ideas in different brainstorming sessions and finishes on the market launch. Combining creativity and strategic tasks, such as market research, competitors' analytics, and others, can be exciting but challenging. For this, there is some general plan of product development that will guide you through every stage towards your final product launch.
Here are six stages of the product development process you need to follow to transform your workflows and cross-team collaboration into the most successful and organized.
The 6 stages of the product development process
1. Idea generation (Ideation)

As we have highlighted, the product development process involves all the steps toward your product launch. The initial phase here is to generate  general ideas of what your product can be. Here, it is always helpful to brainstorm some product concepts according to your customers' needs, concept testing, and market research.
While looking for some ideas, consider the following factors:
Target market: At the beginning of your product development life cycle, it is essential to identify the target audience, which would be your potential customers interested in your product.
Existing products: Analyzing your business's and competitors' existing products will help ensure your product's viability and relevancy on the market.
Functionality: This factor will help you answer the questions about what your product should look like and why you should be interested in it. You only need to bring part of the product's functionality to this stage. It would be perfect to understand some main objectives of your product creation.
SWOT analysis: To ensure why your product is different from the others on the market and to alleviate your future work on this concept, it is crucial to analyze the product's strengths, weaknesses, opportunities, and threats in this initial stage.
While getting a clearer view of the product concept, it is important to note every idea in one place to keep everyone on the same page. For this, you can create an Asana project and guard all the information about your steps in product development there.
2. Product definition

Once you've found the ideas about your product's concept and functionality, you can start with product definition, which will further help you work on the strategies.
During this product development phase, you determine some of the following specifics:
Business analysis: This analysis consists of your distribution strategy, eCommerce strategy, and more profound competitor analysis. In this step, you start to build the product roadmap.
Value proposition: A value proposition is a thing you need to convince customers to buy your product or service. This value should highlight the pros of your products, the problem it's solving, and the results your clients will achieve using the product. The definition of value is also essential for your marketing strategy.
Success metrics: These are simple KPIs that correspond to your essential goals and results. You are free to establish the metrics that you find the most representative of your product launch efficiency.
Marketing strategy: Having performed your business analysis and knowing your value proposition and success metrics, you can start identifying the channels through which you want to promote your product. Remember that your marketing strategy can constantly be reviewed and replanned according to some product changes or your marketing results.
3. Prototyping

At this stage, your team will research and create a product prototype. It could be done as a simple drawing or computer render of the initial design. What matters here is that this step will help you to determine some areas of risk before you create your product.
What will you work on during this phase?
Feasibility analysis: During this analysis, you should evaluate the feasibility of your estimations, workload, and plans and reassure yourself that everything can be achieved according to the plan and your stakeholders' requests.
Market risk research: It is crucial to analyze the potential risks affecting your production and communicate them to your team to prevent delayed product launch.
Development strategy: Here, you can start with planning your timeline, tasks, and assignees.
MVP (minimum viable product): At the end of your prototype stage, you should have the MVP. It is a prototype of the product with all the features necessary to launch and everything required for its well-performed functions.
4. Initial design

At this stage, with the stakeholders, you work together on the mockup of your MVP, keeping in mind your target audience and the critical functionality your product has.
To make the initial design, you will need to:
Source materials: You will work with other vendors or create your materials for the design. In this step, it is essential to document everything you get to be able to reference all the materials and share your choices with the stakeholders.
Connect with stakeholders. Weekly or daily meetings will help you and your stakeholders keep in touch and be on the same track regarding the ongoing process of your initial design.
Receive initial feedback: Once you've completed your preliminary design, ask your stakeholders for feedback. It's essential to get the opportunity to revise and change everything you have until the final design is developed.
5. Validation and testing

Once your design is approved, it's time to validate and test your new product to ensure everything is working before the release.
What do you need to do?
Concept development and testing: Even if your prototype looks successful, you need to consider the possible issues that can arise during the software development or physical production. So, it's better to test your product functionality with the help of your team or beta testers.
Front-end testing: This step is needed to check the risks of front-end functionality. To ensure a successful launch, you should test the e-commerce functionality for its stability.
Test marketing: Not only testing your product is essential before your products launch, but also our marketing strategies. Try to review your marketing plan before launching the product to ensure that all campaigns and other activities are set up well and relevant to your product.
5. Commercialization

Once you've passed your testing, you are ready to launch your product and implement it on your website.
At this stage, you should work on the following:
Product development: You should give your team a final prototype and all the NVP interactions to enable them to produce a final product with all the agreed features and specifications.
Ecommerce implementation: Your team will transition your e-commerce materials to a live state once your final product is ready to launch. Additional testing will likely be required to ensure that your final product functions as it were in the front-end testing phase.
When your final product is launched, all you have to do is to measure its results and success, the metrics you have agreed on at the product definition stage.
Product development process participants and examples
Who takes part in product development?

There are many teams and different stakeholders who play the role of decision-makers during the product development phases. While the product manager is the leader, who oversees all processes, and maintains and controls them, the other roles and teams are not the least important in the product life cycle. For example, the project manager assists the cross-team communication, controls the deadlines, and helps to keep everyone on the same page. There are some particular and essential roles for a design team during the prototyping phase; the marketing team is responsible for marketing strategies, the sales team is in charge of after-launch product distribution, and the others.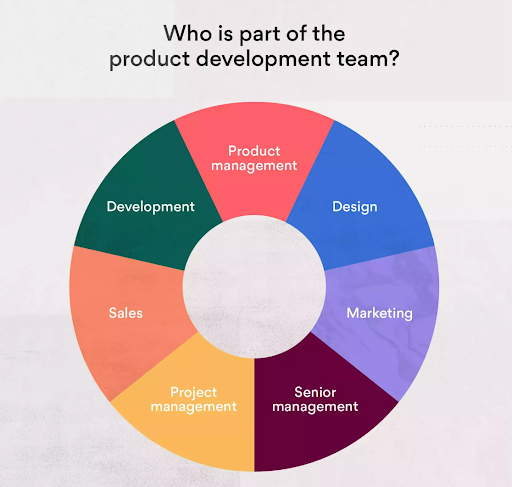 How can a task manager tool alleviate your product development process?

Product development is a compound process involving many professionals from different areas. Let's see an example of abmk, an architectural and engineering company that provides comprehensive development and implementation of architectural objects.
While needed to build a more transparent, effective, and team-friendly environment, implement team performance metrics, and obtain analytics, the ambk company decided to use Asana task manager as the primary source of their planning and cross-team communication. Because to define and launch their product, ambk unites the work of engineers, architects, designers, and managers, the all-in-one place platform was a huge game changer for the company workflow. Asana tool allowed the ambk team to systemize their work processes and effectively manage 100% of projects by the team in one safe workspace. All these help ambk to provide an effective and organized product development process and to deliver high-quality products to their customers.
If you want to know more about how abmk successfully builds its workflows with Asana tools, check out our case study.
Asana is an excellent tool for project management. Thanks to the various integrations, it can offer users the complete package of functionality for the most efficient work-building processes. You can discover more Asana functions and get detailed information about its benefits from Cloudfresh specialists.
Cloudfresh is an Asana Solution Partner and a unique center of expertise for Asana, Google Cloud, and Zendesk. For these products, we can provide you with the following services:
Customization;
Development;
Integration;
Training;
License;
Support.
Our specialists will help you optimize your IT infrastructure, develop integrations for better system interoperability, and help create entirely new structures and processes for your teams. At the same time, our support center will provide you with the best customer experience!