Asana
23.12.2022
Asana time tracking: What you should know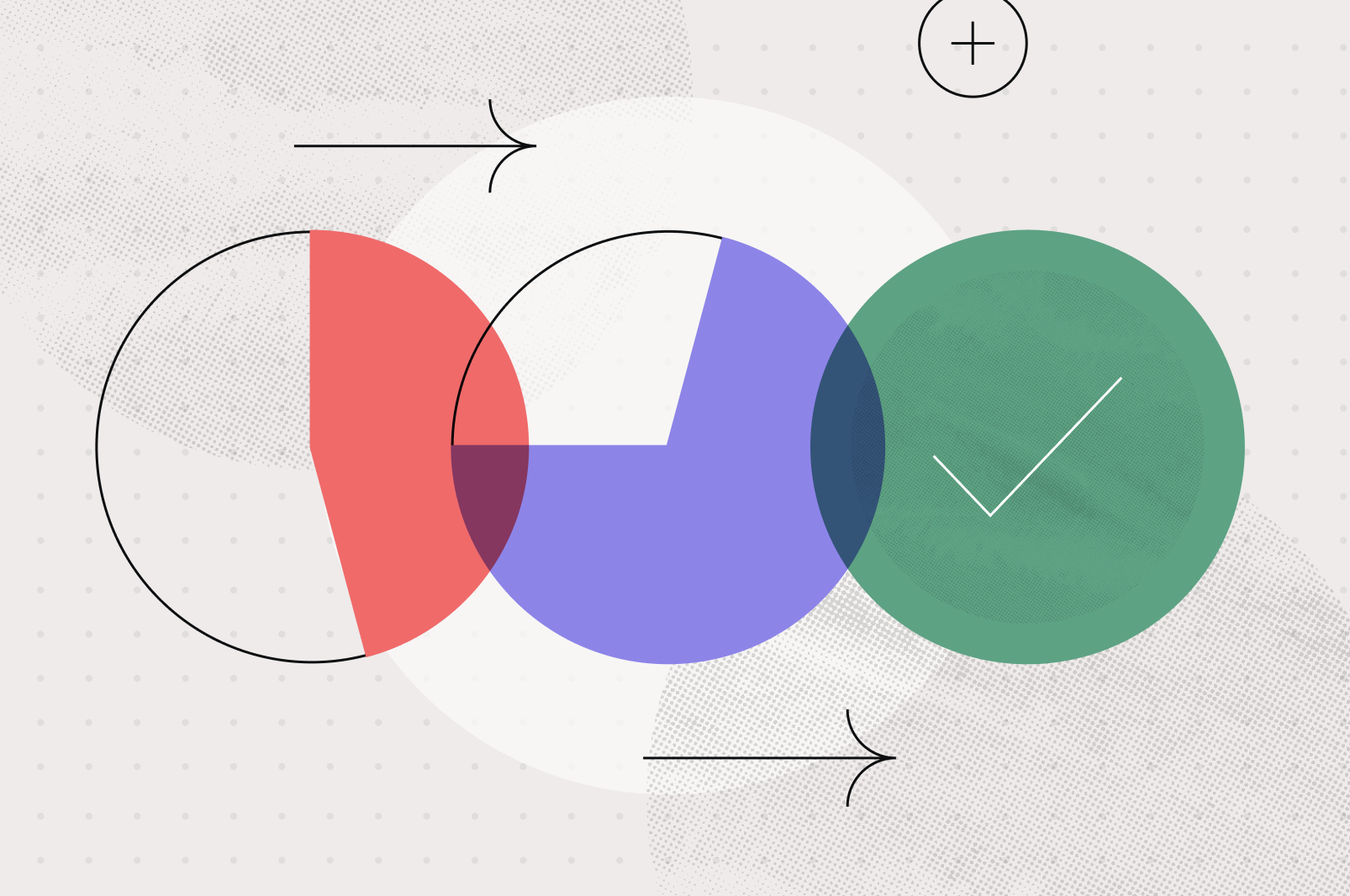 Asana rapidly levels up to be one of the top work management platforms for more and more users worldwide. Its high quantity of functionality, simplicity, and straightforward interface have helped teams build efficient work processes for many years.
Many organizations who plan to use Asana were often interested in the time management functionality, while many Asana users were waiting for this feature to come up. Now is the exact time to congratulate both of them because recently, Asana released the time tracking functionalities for Business and Enterprise licenses.
Let's plunge into these updates, learn why everyone needs a time tracking system, and discover the opportunities to manage time in Asana if you are not using Business or Enterprise editions.
Why would you need a time tracking system at all?
Time tracking provides businesses with several benefits regardless of your company size, amounts of team and projects. Using the application to track your time, you can :
Get the best reporting and analytics by showing how the exact time workers spend on their tasks
Improve the level of your performance by effectively planning your time.
Boost the detailing of your billing by ensuring that you pay for the exact amount of completed work
Enable workers to be more accurate and responsible with deadlines
Enhance individual responsibility in the work processes
So, time tracking functionality is indispensable for your business efficiency and also plays an essential role in your workers' ability to handle the workload productively.
Fresh Update: Tracking Time in Asana
In November 2022, the Asana team enabled users with a vast, long-awaited update. From now on, you can estimate the necessary time for your task's completion and see the actual time that was spent on it. This feature allows you to manage your projects' progress, effectively plan your team performance, check overdue tasks, and forecast the budget overall.
You can track time in Asana in 2 ways: manually or automatically, using special logging to calculate the time spent on each task.
Enabling time tracking in your projects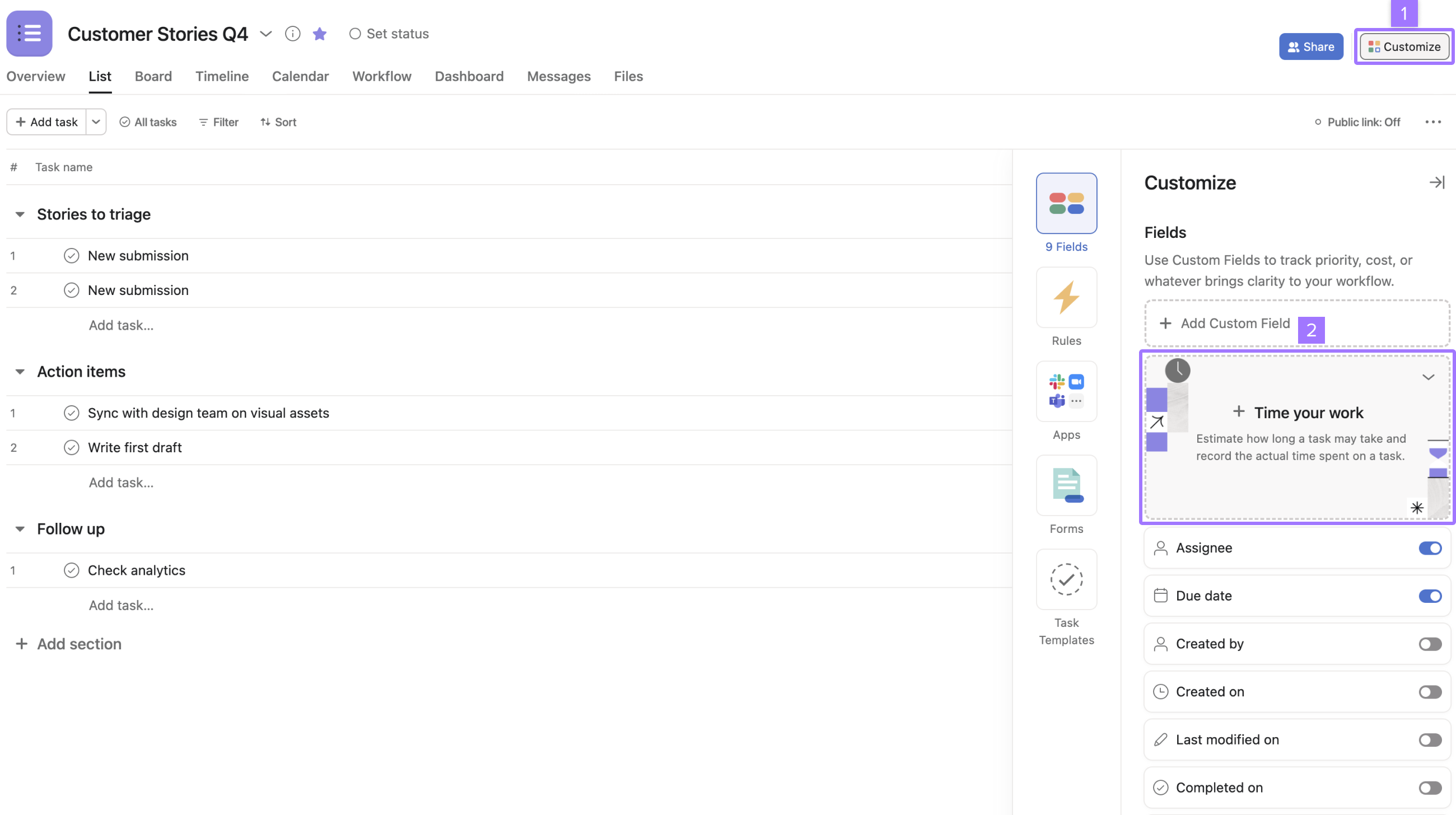 To activate the time tracking features, you should:
Go to the main view of your tasks
Click on "Customize" (1) in the upper right corner
Select "Time tracking" (2) from the list
Actual & Estimated time
To better understand the overall task duration and compare it with the time forecast while planning your team's progress, you can set up actual time and estimated time fields for your project by activating the time tracking, as we explained above.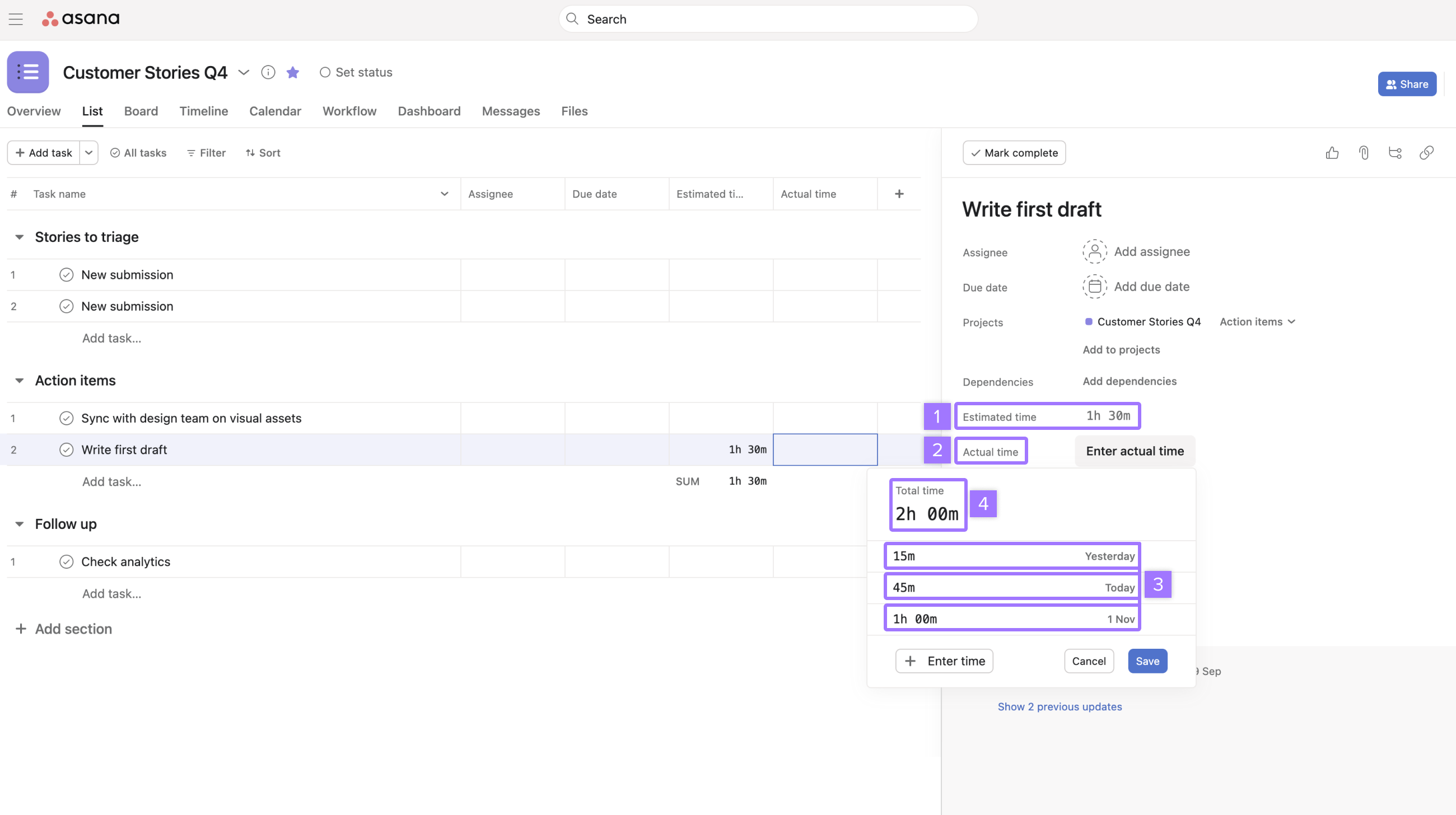 For the estimated time (1), you should tap the time prediction, and that's it. And how to calculate the actual time?
Firstly, you or your team member can do it manually. You should tap the Actual time after the task is done in the same called field (2).
Secondly, you can hedge the manual work, and Asana will track everything automatically. To make it happen, you should activate time log (3), and it will automatically record all the occasions while your team member was working on this task and for how much time. Then, you will see the actual overall results Total time (4) field, which is also automatically calculated from all the time logs.
Reporting on your time tracking
You can use this newest feature to make reports and analyze your tracking data through Asana's dashboards. You should just put the "Estimated time" as one of your custom fields in the dashboards.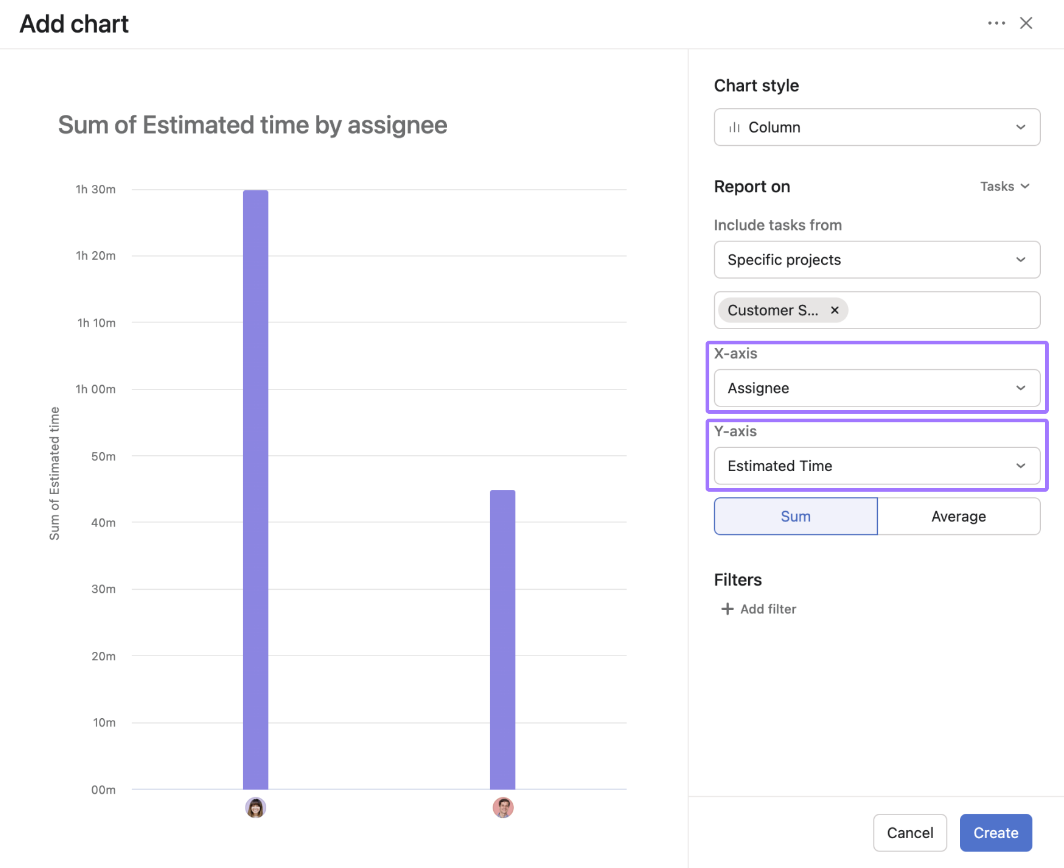 For example, here we can see the dashboard, which shows an estimated time for projects' tasks completion per assignee. To make such a chart, you should:
Choose the project you want to analyze in the "Specific projects" field
Choose the "Assignee" field in the X-axis
Choose the "Estimated time" field in the Y-axis
What are some of the best time tracking Asana integrations?
As mentioned, Asana's new time tracking features are now available only for Business and Enterprise licenses. Nevertheless, we will tell you about plenty of time tracking integrations working well with Asana. It will solve that problem and easily extend Asana functionality, making users confident that it responds to their various needs.
Using Asana's Basic or Premium plan, you can take advantage of the various time tracking integrations. Let's dive deeply into the best Asana integrations for time management.
Everhour + Asana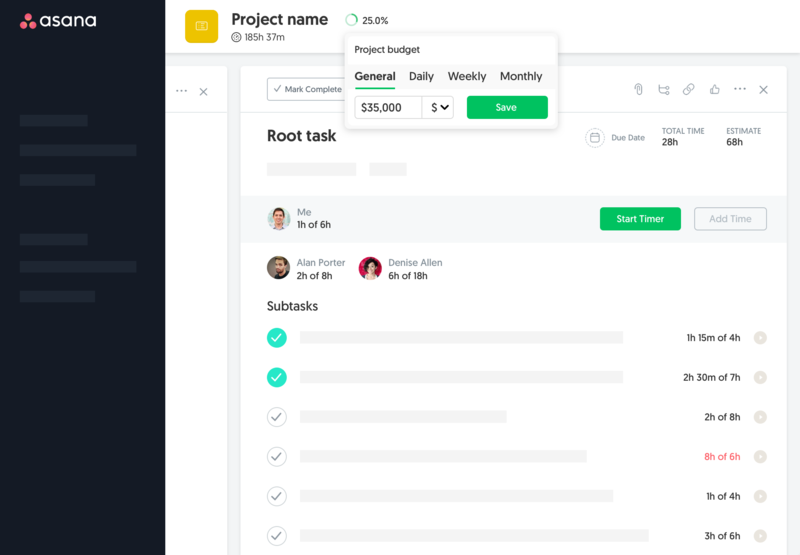 Everhour is one of the most popular time tracking instruments that allows you to create workload reports and has an automatic synching function for active projects. Evenhour integrates directly with Asana and gives information on how much time a user spends on a project. This integration with Asana lets you track progress, estimate workload, set budgets easily, and get customized reports.
Here are some of the priority benefits of Enerhour and Asana integration:
No manual work is needed: after you sign up for Evenhour, the platform will automatically synchronize all your projects, so you can start tracking your time immediately.
The best reporting: Enerhour is attentive to every new project you add to Asana, so it will automatically be put into the reports. Besides, once you change the name of your current project, the platform will see it and replace the name with the new one in the reports.
After you integrate Asana and Everhour, the time tracking function will appear in your Asana interface, enabling you to manage the most accurately.
And even more great news about the reporting: to make the reporting in Everhour the most precise and clear, you can use the tags, custom fields, and sections from Asana while forming your dashboards.
Tick + Asana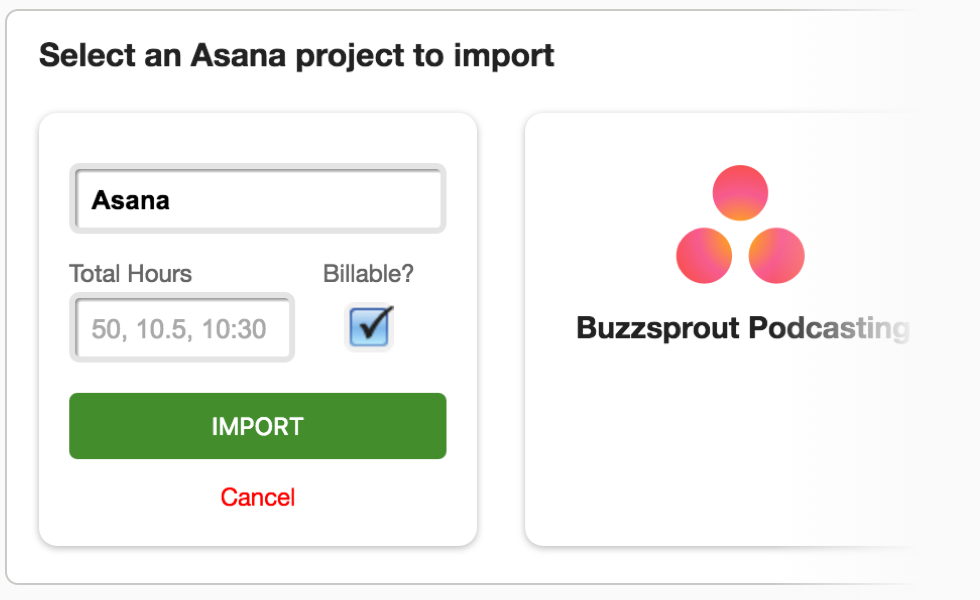 Tick is a time tracking platform that gives you the possibility of real-time budget tracking. The app enables you to assign projects to your team to take advantage of Tick's time and budget tracking features. You can easily import Asana projects into Tick, add tasks and subtasks automatically, and track the time needed for the assignments.
Let's see some advantages of such integration:
Easily import your projects from Asana into Tick.
Add Asana tasks and subtasks into Tick automatically.
Profit from the fresh information: each night, Tick will check if it has all the tasks in Asana for the most precise and relevant time tracking and analysis.
TMetric + Asana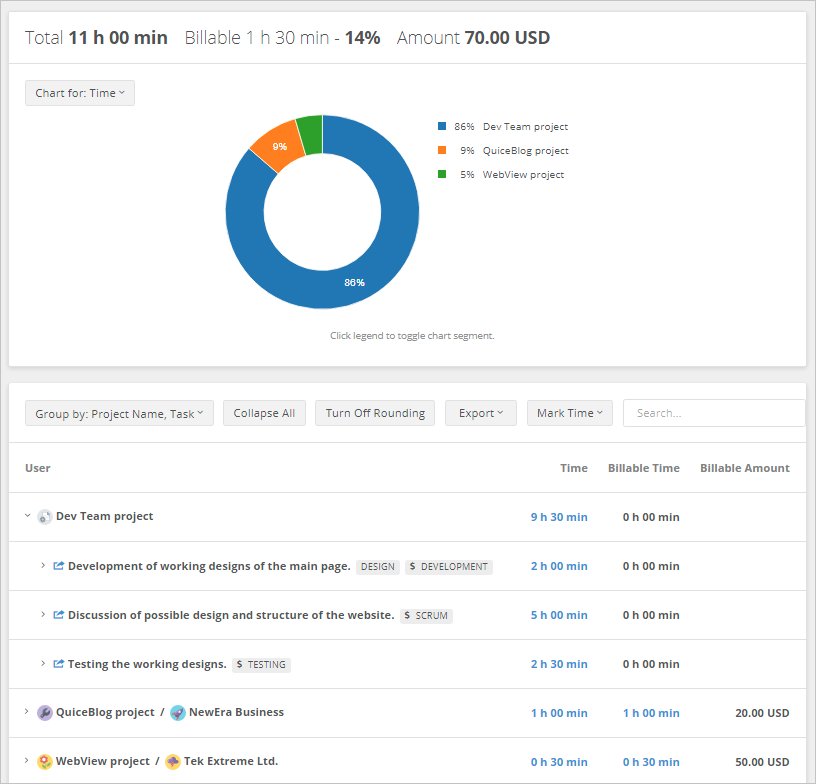 TMetric is also a powerful tracking app that can help you track time spent on tasks and projects in Asana, set rates or budgets on Asana projects, and measure how much money you make per project or task.
And what are some of the top pros?
You can reference your project in Asana by the direct link or use the Asana tags for time entries.
TMetric covers almost all time requests you can desire while working with Asana.
It's intuitively understandable: no extra training is required.
You can track your time in a user-friendly way from anywhere – desktop or mobile.
Timely + Asana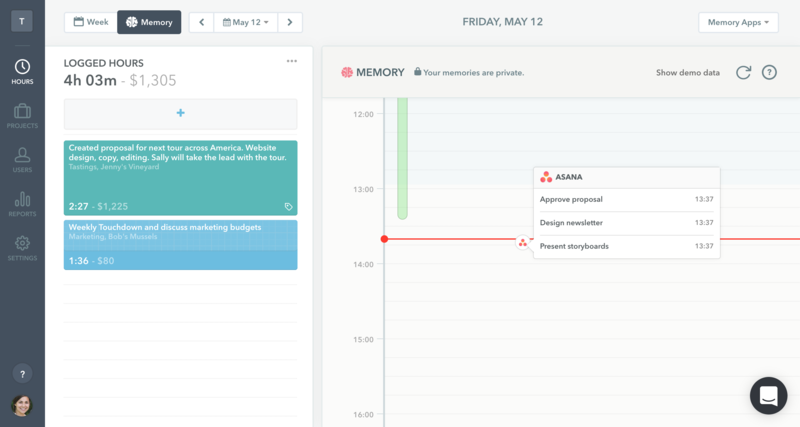 Timely is a time tracking Asana app integration that eliminates manual work and automates time management of Asana tasks.
The core benefits of Timely & Asana Integration are:
With Timely, you can see all completed tasks for Asana projects once you set a time.
All the completed tasks show up automatically in Timely's Memory timeline, even if you mark ten of them at once done.
As we see, time tracking remains an essential part of work efficiency both for remote and office work. Asana's newest time management functions and the well-known integrations with other time tracking apps help you transform your work processes into the most productive and enable you with automated and understandable reports. So you can dedicate most of your work time to strategic work.
Asana is an excellent tool for project management. Thanks to the continuous updates, and various integrations, it can offer users of any subscription the complete package of functionality for the most efficient work-building processes. You can discover more Asana functions and get detailed information about its benefits from Cloudfresh specialists.
Being an Asana Solutions Partner, we are the unique center of expertise for Asana possibilities. Our team of certified professionals can consult you about product features, help to choose the suitable license according to your request, offer the training for your team, and provide the utmost care and advanced support on each stage of your work with Asana work management tool.
Get in touch with us via the link below to manage your work processes using Asana's advanced functionalities and available integrations, including the time tracking feature, right away!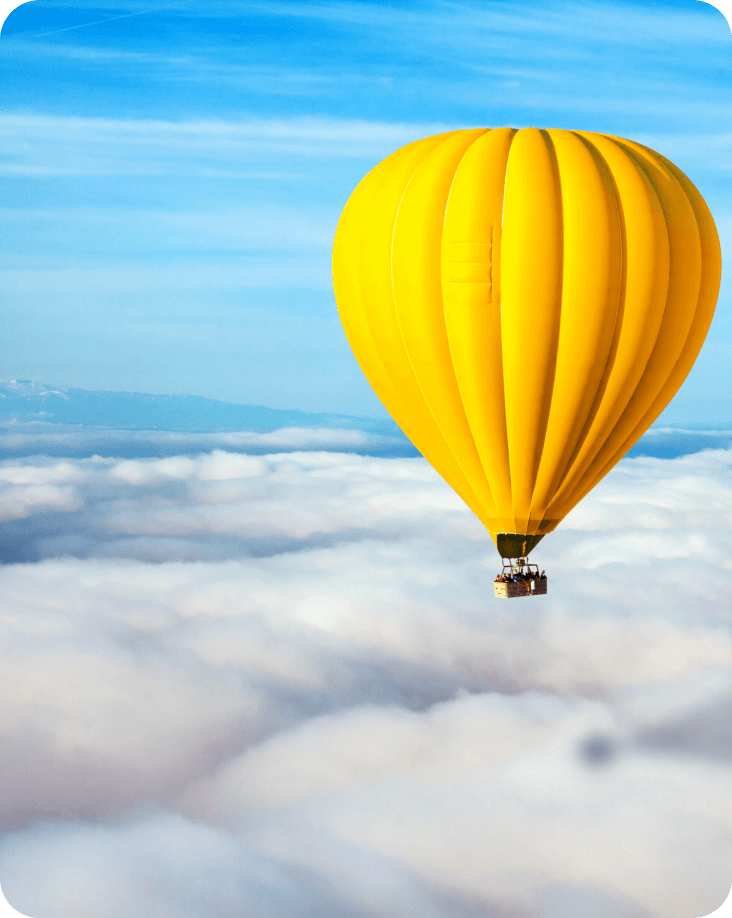 Get in touch with Сloudfresh