Asana
04.07.2023
13 Useful Tips for Using Asana
Asana is an essential management tool for large companies. You can easily optimize tasks and thereby increase the  productivity of the company. If you are an active user of this platform, you probably already know how handy it is. But even the most active users of Asana do not know all the features the software provides.
Now we will tell you about the most useful and important features of Asana that you might not know about or just didn't pay attention to and how to use Asana effectively.
To-Do list in My Task Board
Don't know where to begin your day? Then just open the My Task tab. A great feature for those who do not keep all their tasks in mind. In the My Task section the user can see all his current tasks. Also, he can select them by priority and by date of readiness. The same information can then be seen on the Calendar as a timeline.
The main advantage of this section is that absolutely all of your tasks are organised here – no matter whether it is your board in Asana or a completely different project. You'll be able to click on the task and see the actual updates right away.
@notification of employee or tasks
Asana's main goal is to simplify your workflow and to keep you from getting distracted by unnecessary questions. That's why the platform provides a mentions feature, Asana tags via @. You can also attach a file or document to a task this way. You can do it simply by writing an update in the comments to the task.
Ability to assign tasks to multiple projects
A small, unnoticeable, but very important feature. In Asana, you can assign tasks to more than one project. This is a very significant feature that is often neglected by regular users and for good reason. For example, if you are working on different projects, which coincide with each other in one task, you can make a task card appear on both your boards. Then you don't have to switch between tabs and boards to look for that particular task. It will automatically appear on your board. Also, this feature allows Asana assign task to multiple users.
Using the color code
Scientists have proven that it is much easier to remember visually. That's why Asana offers the possibility to designate tasks, boards and priorities with colors. For example, you can color-code a priority, where red would be a high priority and yellow a medium priority. Similarly, you can control the colors of the products or topics to which the task belongs.
You can also color code entire projects or boards, set icons for them and change the color of the functionality. Asana is not trying to be a program where everything would be covered with colored tasks, like on a Velcro board. But that doesn't mean that you can't use color designs when using the platform.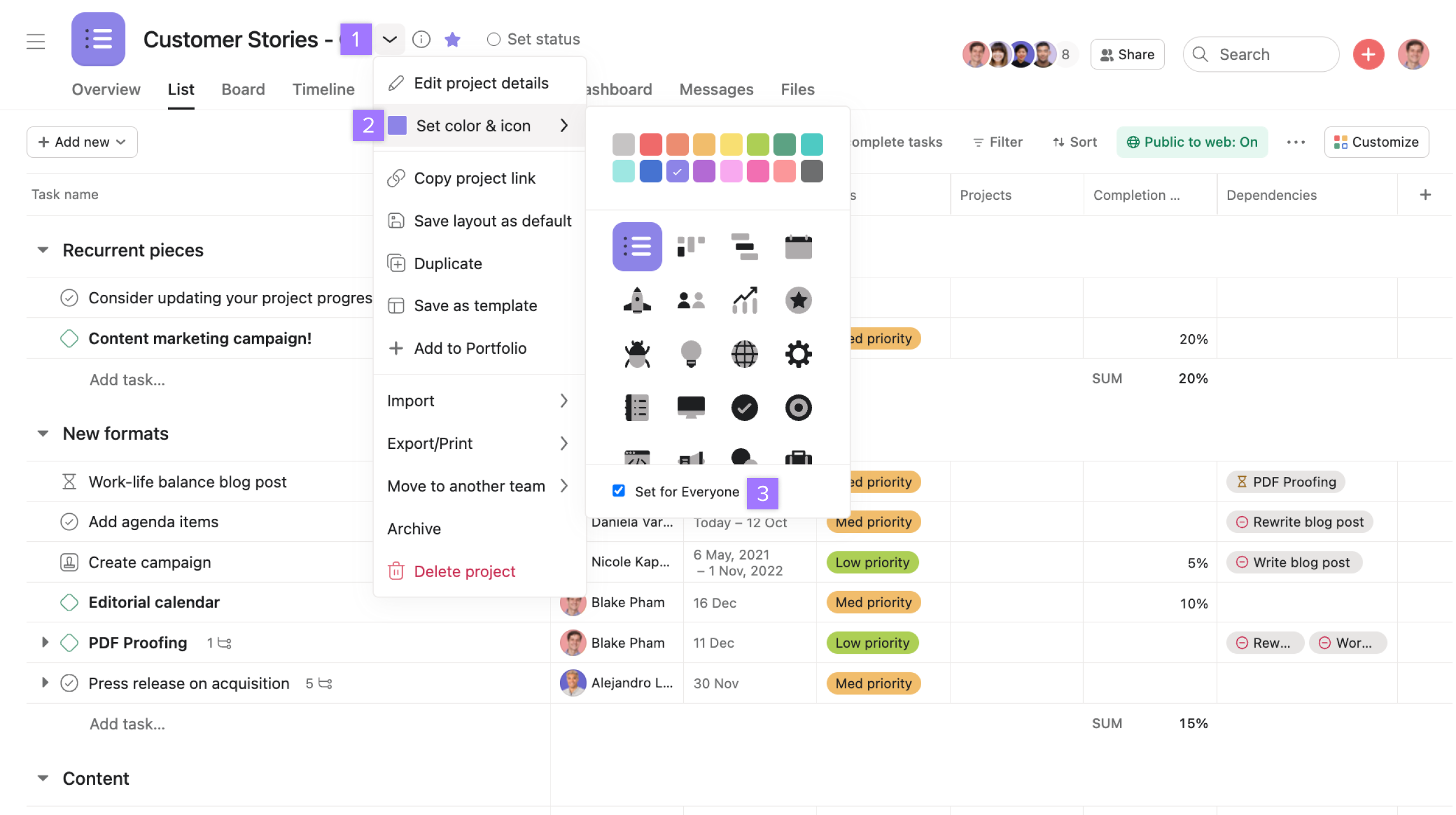 Schedule visualization
Returning to the question of better memorization, it is also worth mentioning that Asana offers a schedule visualization feature. You can see it in the Timeline tab, where all your tasks will be displayed on a timeline. Also, Asana show subtasks on timeline, and you can make sure you don't miss any deadlines. It will also help you plan your workload more rationally, because you can see what tasks you have for upcoming dates. This tab also displays the tasks of all participants who also work in your board.
Displaying the time to complete a task
Asana also provides a unique feature that gives you the ability to set a start date for a task. For example, if you plan to start working on a task not on the day it is assigned, but on another day, then you can easily set a start date. This way you can show your colleagues how your workload is doing, as well as better manage your time.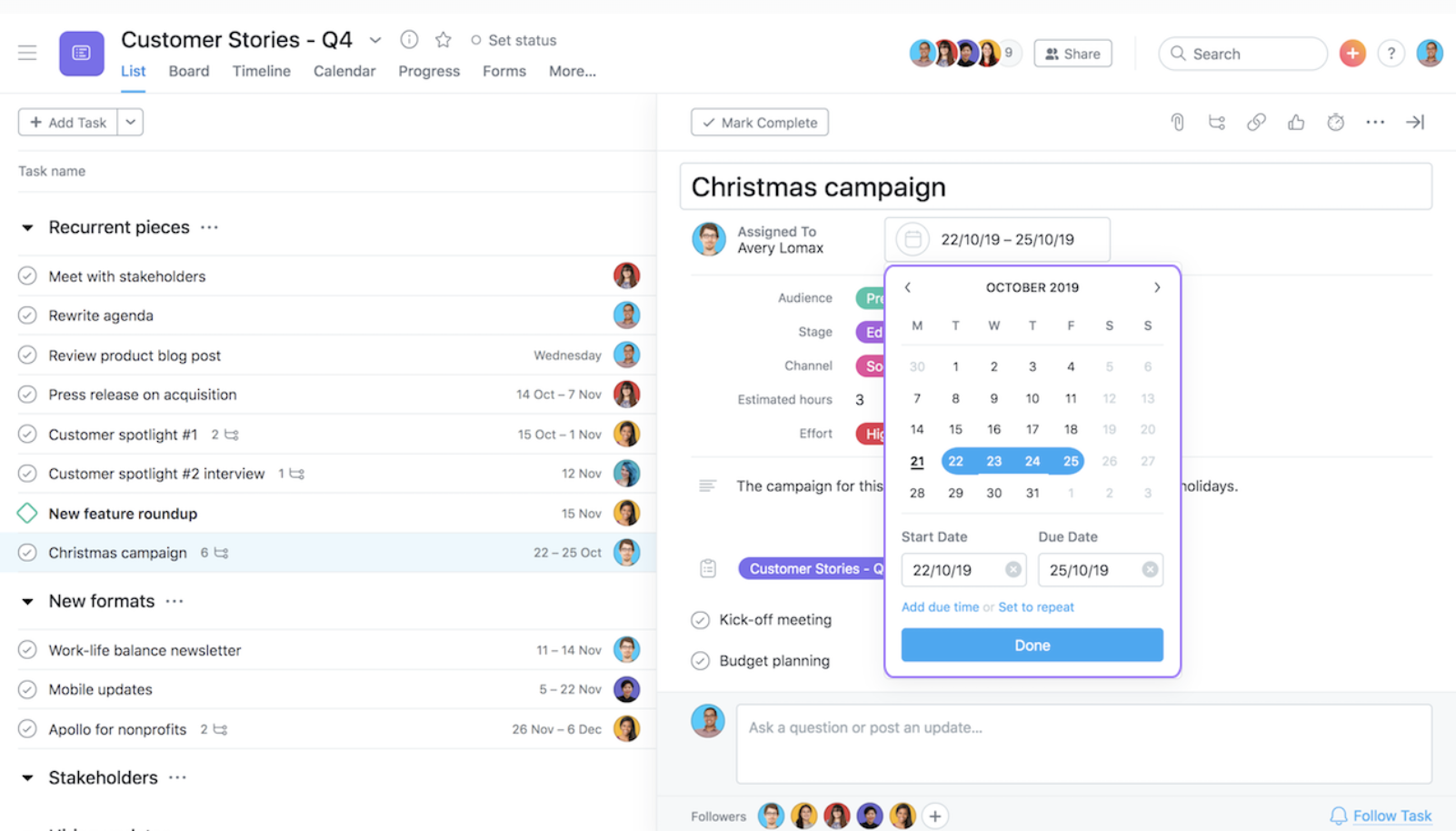 Integration with other tools
Another important feature that many people also forget about. Asana offers a wide range of tools and platforms that can be integrated into the platform. You can choose from more than 100 tools, such as Google tools, Slack, DropBox and many others. This allows you to share information more quickly and get feedback from your colleagues at an accelerated pace.
Using boards for planning
Use the columns in the boards to visually track the workflow and progress of a task. You can set names for each column and move it around as you work on the task. For example, if your first column is called To Do, then the next one can be called In Progress. That way, you can manage the process of working on the task and move it around as you progress.

Enhance your workflow efficiency with Asana keyboard shortcuts
Utilizing shortcuts can significantly expedite your workflow and reduce time spent on non-essential tasks. Asana offers a variety of shortcuts that can be executed through different key combinations. These shortcuts enable employees to effortlessly switch between various views with a single click, saving them considerable time that would otherwise be wasted on navigating through the application. The table below summarizes some of the most crucial shortcuts.
Tab + Q – Add task
Tab + N – Add section
Tab + S – Add subtask
Tab + D – Add due date
Tab + Z – Switch to "my tasks"
Tab + I – Switch to my inbox
Tab + M – Assign task to myself
Define tasks effectively with Asana subtasks
To maintain a clear overview of multiple tasks, it is beneficial to break down individual tasks into subtasks. Asana provides the functionality to create subtasks, ensuring that the list of tasks remains organized. The detailed view of each task allows for visibility of all associated subtasks. Additionally, this feature enables the assignment of specific responsible individuals to each subtask. As a result, team members are aware of their assigned to-dos without the need to navigate through overarching tasks. Asana convert task to subtask at a granular level, all involved employees gain a better understanding of the open tasks.
Once all tasks have been defined and responsible individuals have been assigned, the actual project execution can commence. During project work, particularly with larger teams or across different departments, effective communication plays a pivotal role in achieving project success. Well-structured communication is essential within the company and department, as well as externally when collaborating with customers or business partners.
Streamline recurring processes with project templates
When dealing with projects that repeat on a regular basis or when embarking on new projects that closely resemble previous ones, utilizing project templates can save a substantial amount of time.
These Asana task templates encompass all essential structures and processes from past projects. They have already been thoroughly tested and can be reused, eliminating the need to start from scratch and reducing time spent on setting up a new project. You have the option to leverage templates from your own previously created projects or choose from the wide range of templates available within Asana's repository.
Convert emails into tasks within Asana
By synchronizing Asana with popular email platforms such as Gmail, you can seamlessly create Asana task from email. This feature proves invaluable when handling customer requests or assisting colleagues with projects. With just a single click, you can create a new task in Asana from an email, saving you significant time and ensuring that important requests are not lost amidst the daily deluge of emails. Additionally, the synchronization with Gmail allows you to conveniently forward emails. By utilizing the address setting email@mail.asana.com, emails can be directly forwarded to your Asana mailbox, eliminating the need to open another application and enabling instant visibility within Asana.
Consistently mark tasks as completed
In Asana, you can easily mark individual tasks or subtasks as completed with a single click. This serves two important purposes. Firstly, it allows employees to keep track of which tasks they have successfully finished, providing them with a clear overview of their accomplishments. Secondly, it enhances the overall display of remaining tasks by removing completed ones. Moreover, by utilizing subtasks, you can individually mark smaller steps as completed, ensuring that all team members have an accurate and up-to-date overview of the project's progress and view completed tasks in Asana. As an added benefit, Asana hide completed tasks and provides visual feedback when tasks are checked off, which can serve as a source of motivation for team members.
There are many ways of using Asana for personal use, but we want to tell you about the most important points of using the application and what you should pay attention to.
FAQ
How to see completed tasks in Asana?
In any list view, click the "Completed" tab at the top to only show tasks marked as completed.
Use the filters dropdown on any task list and check "Completed" to only view done tasks.
Click your profile icon > My Tasks to view a list of all your completed personal tasks.
If your workplace uses project sections, expand a section and click "Completed" to see finished tasks for that section.
Visit a project's Progress view and scroll down to see the "Completed Tasks" module that lists finished tasks for that project.
How to forward email to Asana task?
Click the inbox icon to open Asana Inbox.
Click the Settings cog icon and select "Add Account".
Choose your email provider like Gmail and sign in.
Select which inbox folders you want to forward emails from.
In your email account, simply forward messages to your unique Asana email address to turn emails into tasks.
How to make a task a subtask in Asana?
Click the three dots next to the task name and select "Convert to Subtask".
Search for and select the parent task you want it nested under.
The task now becomes a subtask under the parent.
Alternatively, you can also drag-and-drop a task below another task to nest it as a subtask.
How to make a recurring task in Asana?
While creating/editing a task, click "Repeat" to expand options.
Select a frequency like "Daily", "Weekly", "Monthly" etc.
Set end date or recurrence limit.
Click "Save" to create the recurring task.
Automated recurring instances will now be generated based on your schedule.
How to add priority to Asana tasks?
Hover over a task and click the gray star icon to mark it as a priority.
The star turns gold to indicate it is now a priority task.
To remove priority, click the gold star again.
You can also star entire projects to prioritize them on your Asana dashboard.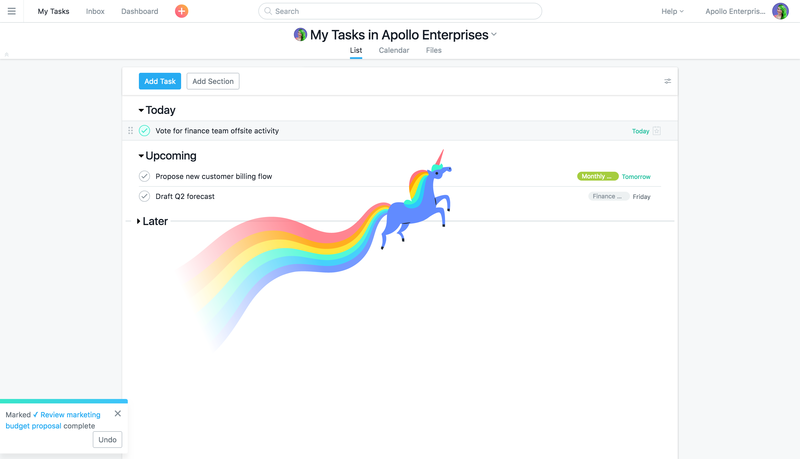 Need more Asana tips and tricks?
Asana is a multifaceted task-setting platform that offers many more interesting and useful features. That's why you can always consult the Asana experts from Cloudfresh, who will be happy to tell you about all the hidden features of the task management platform! Cloudfresh team is a unique center of expertise for Asana, Google Cloud and Zendesk. For these products, we can provide you with the following services:
Customization;
Development;
Integration;
Training;
License;
Support.
Our Asana consultants will help you optimize your IT infrastructure, develop integrations for better system interoperability, share Asana best practices and help create completely new structures and processes for your teams, while our support center will provide you with the best customer experience!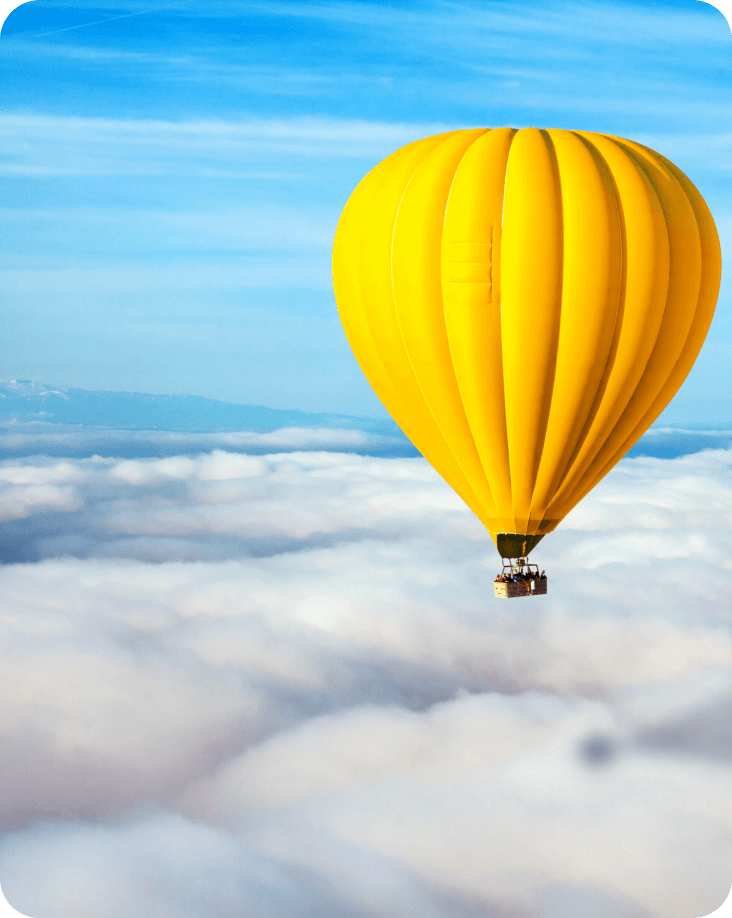 Get in touch with Сloudfresh