Asana is an essential management tool for large companies. You can easily optimize tasks and thereby increase the  productivity of the company. If you are an active user of this platform, you probably already know how handy it is. But even the most active users of Asana do not know all the features the software provides.
Now we will tell you about the most useful and important features of Asana that you might not know about or just didn't pay attention to.
To-Do list in My Task Board
Don't know where to begin your day? Then just open the My Task tab. A great feature for those who do not keep all their tasks in mind. In the My Task section the user can see all his current tasks. Also, he can select them by priority and by date of readiness. The same information can then be seen on the Calendar as a timeline.
The main advantage of this section is that absolutely all of your tasks are organised here – no matter whether it is your board in Asana or a completely different project. You'll be able to click on the task and see the actual updates right away.
@notification of employee or tasks
Asana's main goal is to simplify your workflow and to keep you from getting distracted by unnecessary questions. That's why the platform provides a mentions feature via @. You can also attach a file or document to a task this way. You can do it simply by writing an update in the comments to the task.
Ability to assign tasks to multiple projects
A small, unnoticeable, but very important feature. In Asana, you can assign tasks to more than one project. This is a very significant feature that is often neglected by regular users and for good reason. For example, if you are working on different projects, which coincide with each other in one task, you can make a task card appear on both your boards. Then you don't have to switch between tabs and boards to look for that particular task. It will automatically appear on your board.

Using the color code
Scientists have proven that it is much easier to remember visually. That's why Asana offers the possibility to designate tasks, boards and priorities with colors. For example, you can color-code a priority, where red would be a high priority and yellow a medium priority. Similarly, you can control the colors of the products or topics to which the task belongs.
You can also color code entire projects or boards, set icons for them and change the color of the functionality. Asana is not trying to be a program where everything would be covered with colored tasks, like on a Velcro board. But that doesn't mean that you can't use color designs when using the platform.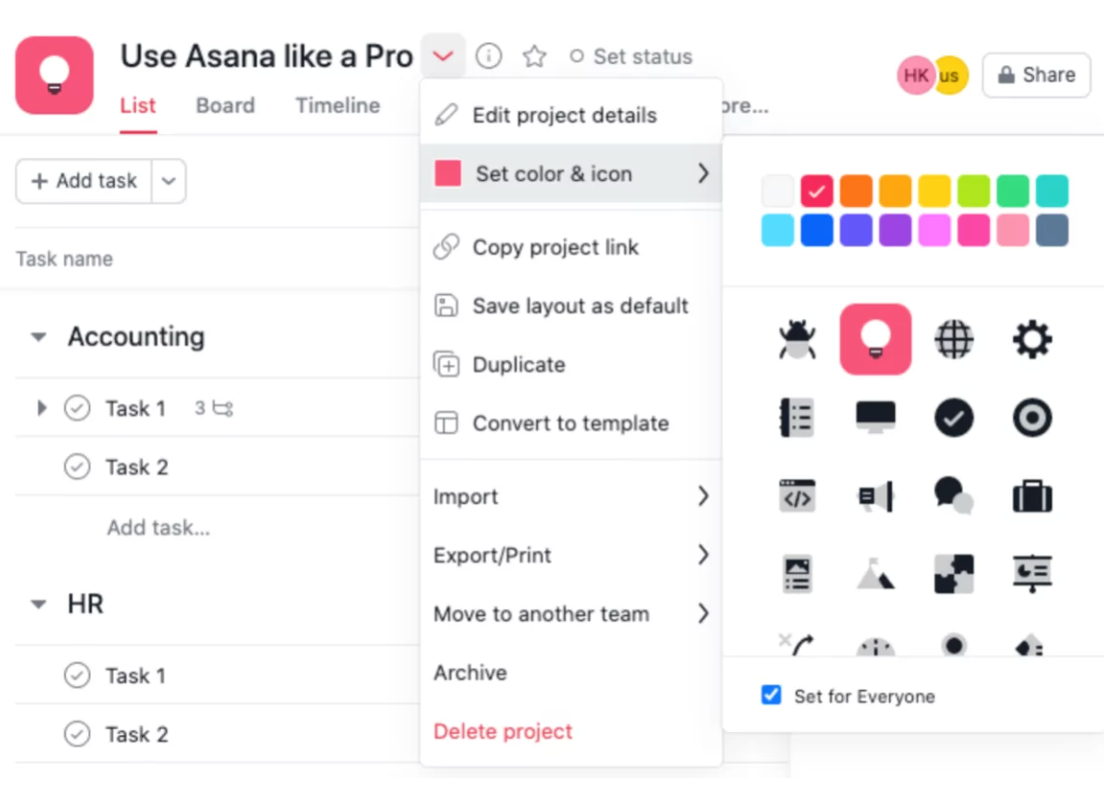 Schedule visualization
Returning to the question of better memorization, it is also worth mentioning that Asana offers a schedule visualization feature. You can see it in the Timeline tab, where all your tasks will be displayed on a timeline. This way you can make sure you don't miss any deadlines. It will also help you plan your workload more rationally, because you can see what tasks you have for upcoming dates. This tab also displays the tasks of all participants who also work in your board.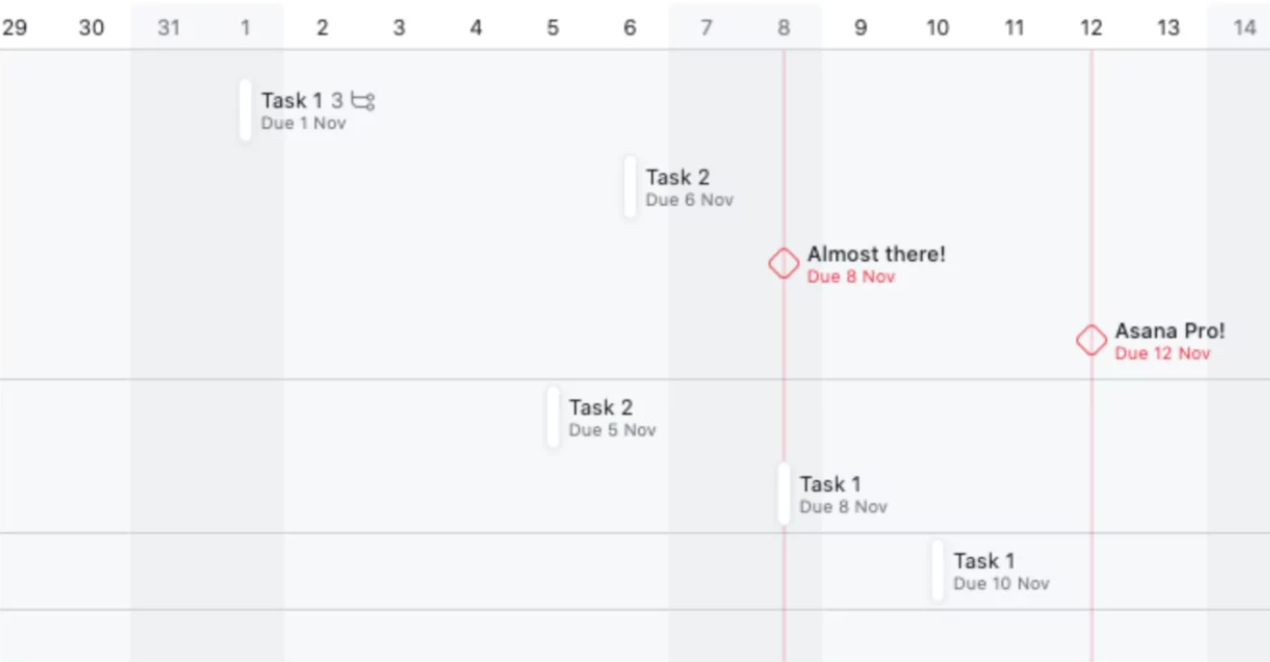 Displaying the time to complete a task
Asana also provides a unique feature that gives you the ability to set a start date for a task. For example, if you plan to start working on a task not on the day it is assigned, but on another day, then you can easily set a start date. This way you can show your colleagues how your workload is doing, as well as better manage your time.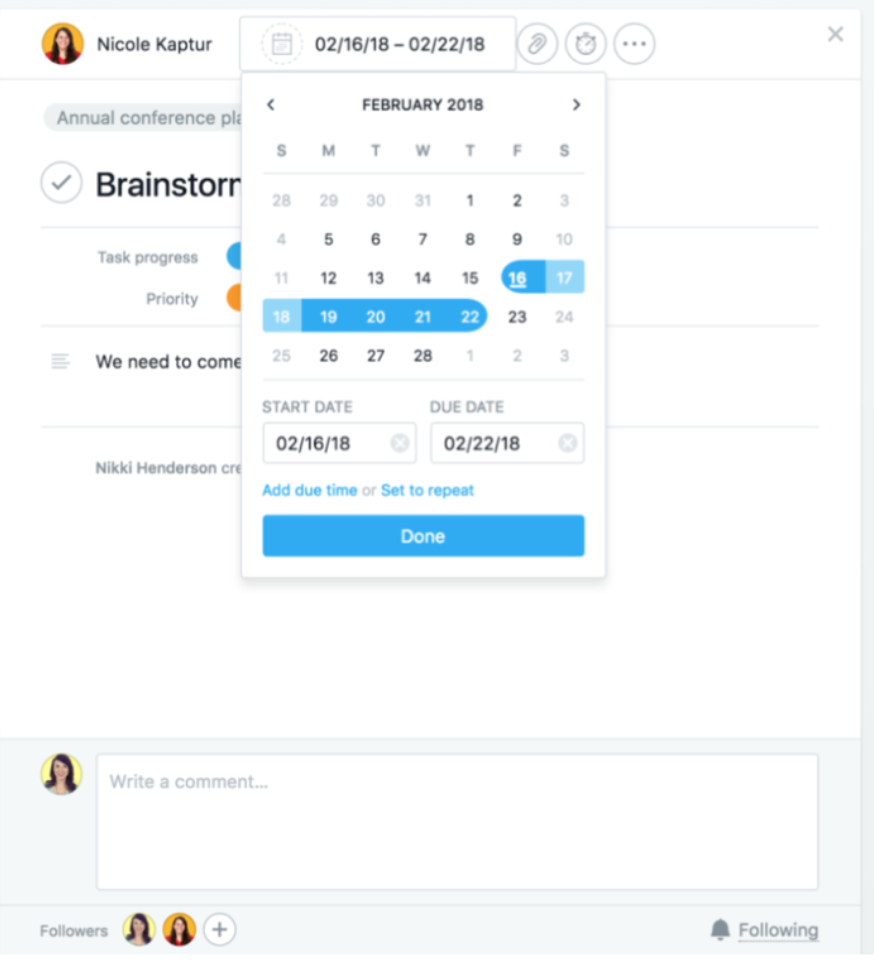 Integration with other tools
Another important feature that many people also forget about. Asana offers a wide range of tools and platforms that can be integrated into the platform. You can choose from more than 100 tools, such as Google tools, Sluck, DropBox and many others. This allows you to share information more quickly and get feedback from your colleagues at an accelerated pace.
Using boards for planning
Use the columns in the boards to visually track the workflow and progress of a task. You can set names for each column and move it around as you work on the task. For example, if your first column is called To Do, then the next one can be called In Progress. That way, you can manage the process of working on the task and move it around as you progress.

Need more tips?
Asana is a multifaceted task-setting platform that offers many more interesting and useful features. That's why you can always consult the Asana experts from Cloudfresh, who will be happy to tell you about all the hidden features of the task management platform! Cloudfresh team is a unique center of expertise for Asana, Google Cloud and Zendesk. For these products, we can provide you with the following services:
Customization;
Development;
Integration;
Training;
License;
Support.
Our specialists will help you optimize your IT infrastructure, develop integrations for better system interoperability, and help create completely new structures and processes for your teams, while our support center will provide you with the best customer experience!