Asana
12.07.2023
How to use Asana effectively on different projects
You probably know how Asana can help you organize your workflow or systematize your project management. But do you know what opportunities Asana opens up for students and teachers? Perhaps not. 
Asana is a leader as a project management platform for many reasons. The application can be used for several areas of life, which you may not have thought about. Now we are going to look at a few examples of how you can and should use Asana effectively and what you can use the capabilities of this project management platform for as well. 
How to use Asana for project management
Asana's first and direct function is systematic project management in large and medium-sized companies. With this application, you can easily keep track of work or projects in general, as well as interact with other departments in the company. 
The main people who could benefit from using Asana are those who are still using Excel spreadsheets to track work progress. Columns are always getting bent, rows are sliding while changing the look of the whole table – if this is familiar to you, then the following information is sure to be useful. 
There are many ways of using Asana for project management, your work in general or Asana for individuals. But we want to tell you about the most important points of using the application and what you should pay attention to. Additionally, you can explore more Asana tips on our blog.
Calendars in Asana 
Let's skip the stage where you register, create your account and then go to team and tasks in projects. Introducing a feature you definitely shouldn't ignore, using Asana project management. This is the ability to see your tasks on the timeline.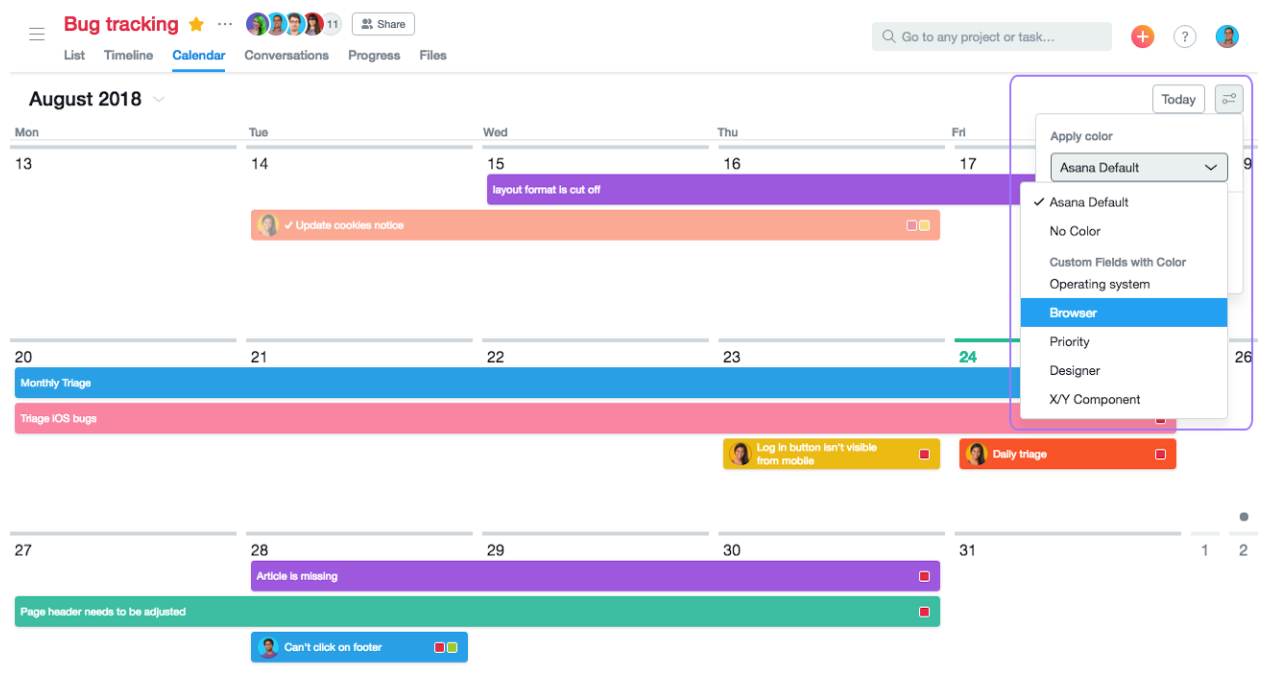 In doing so, Asana provides two features related to the calendar at once. The first is to literally see your deadlines and tasks by date. Here you can mark tasks with a color marker and immediately see who is responsible for their completion. 
Another feature is to view tasks on a timeline. This feature differs from the previous view of tasks in that you can see not only the date the task was started or completed, but also the co-dependency of the tasks as well as their current status. This viewing section is very useful for managers to clearly track the workflow and its milestones.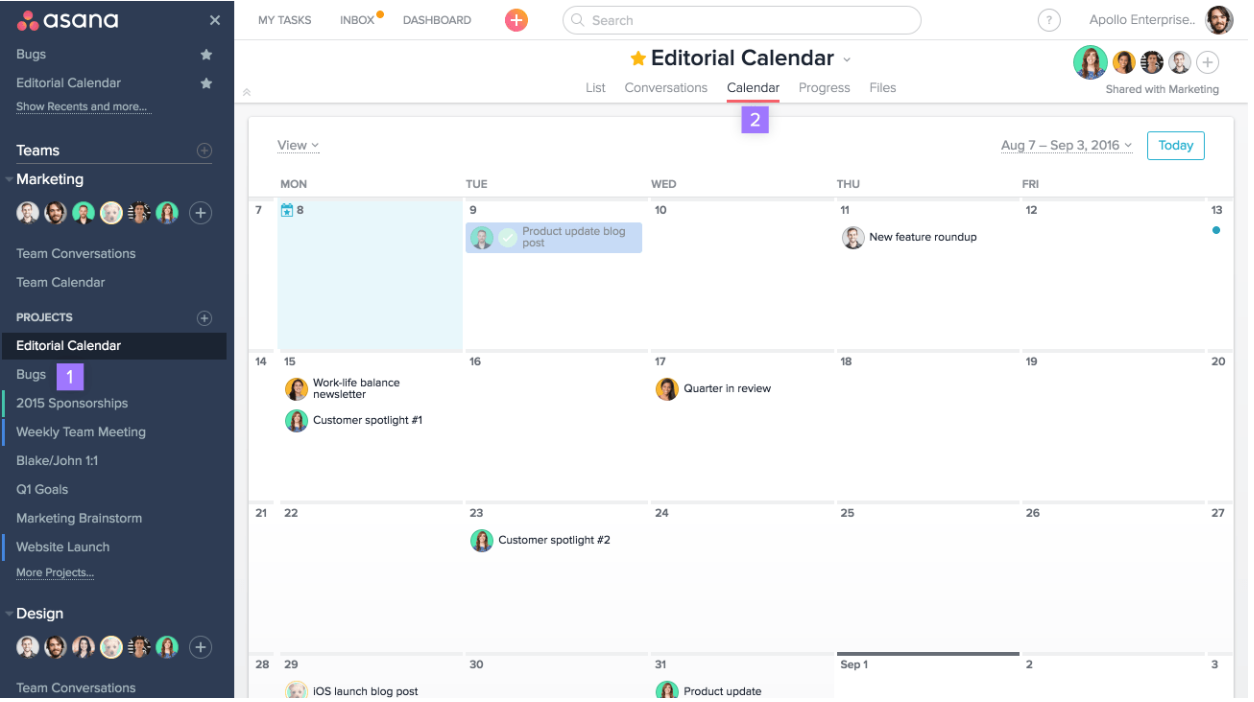 Advanced task planning
The main unit of work in Asana is a task. The platform provides great functionality for task design. When you need to provide more details in a task, Asana is second to none. To start, create a task card and assign a person to be in charge. You can assign one or more people to the task. You can also link a task to multiple projects if different departments are working on it. Don't forget to specify an end date for the task. If you don't plan to start working on the task right away, you can specify a start date. All information will be displayed on the calendar. 
Once you have created a card, assigned a responsible person, and set a deadline, you can move on to specifying the rest of the task details. For example, set a priority, add a task description, or add subtasks. 
Sub-tasks are mini-tasks that will depend on the main task in which you created them.  
You can also create co-dependencies between tasks. Co-dependency prevents you from doing other tasks until the higher priority task is done. The following is an example of how you can use this feature in your training process.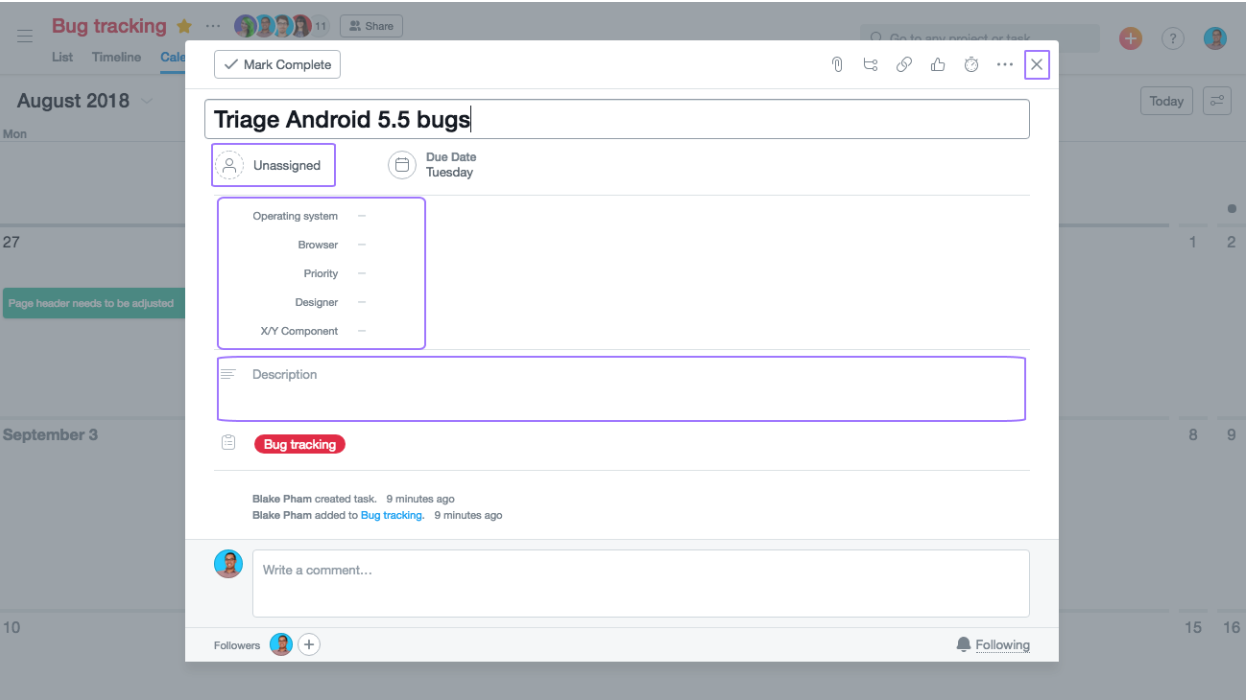 Another important advantage of tasks in Asana is that you will be able to leave your messages and see messages from your colleagues right at the bottom of the task. 
Don't forget about the Inbox tab 
As active users of Asana, we also want to advise you not to forget about the Inbox tab. If you use the platform frequently, have all the active communication there and keep track of many projects and even more tasks, then Inbox can save you a lot of time. In this tab, you can see all the latest updates on the tasks you are involved with. This is also where you can reply to messages and navigate to the right projects. This handy tab will let you stay up-to-date and won't let you get lost among the large number of boards.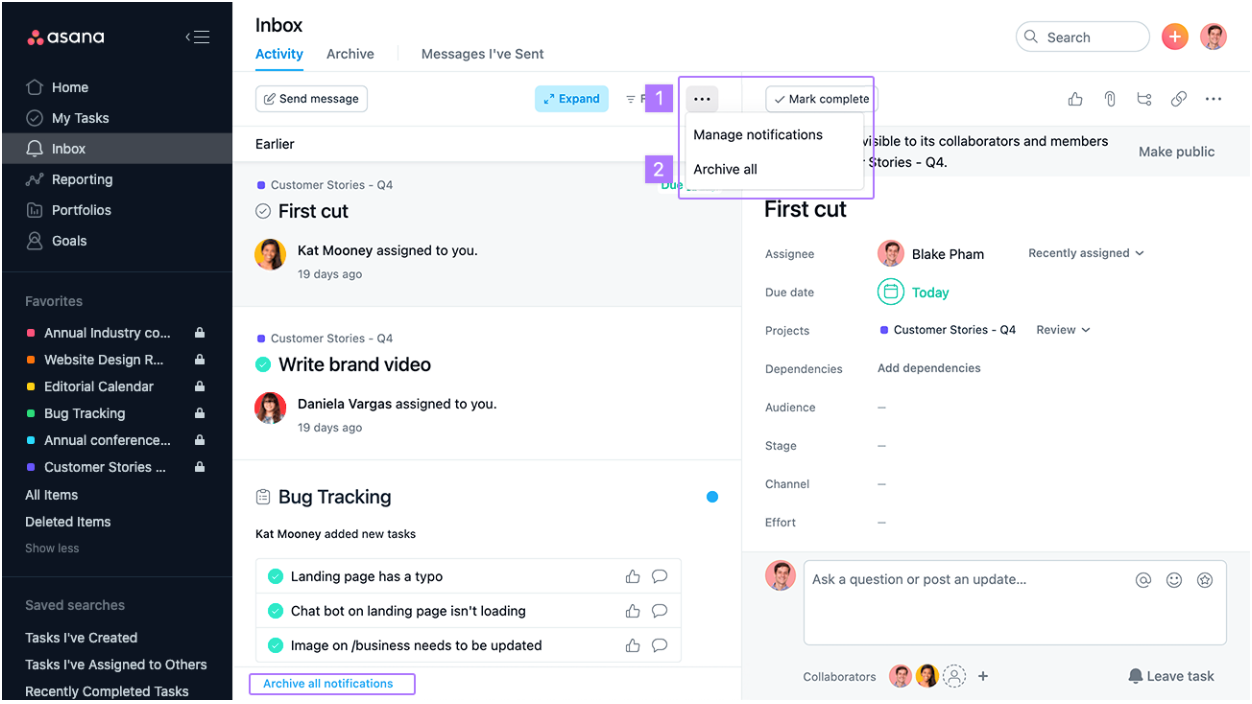 Here you can also send messages to your colleagues and check archived materials. 
How to use Asana for personal use
This may come as a bit of a surprise, but Asana also offers the option to use the platform for your own needs. By this we mean entering personal tasks into Asana that are not related to the workplace. 
In fact, you don't need to install Asana separately for your personal account in addition to your work account. You can easily create a board just for yourself. All tasks and updates in this board will be visible only to you. This is convenient if you, for example, are used to keeping an additional planner with personal tasks. The principle of use is the same as in the work account. The only difference is that the tasks are available only to you. 
Using Asana for personal task management allows individuals to organize their personal projects, set deadlines, and stay on top of their to-do lists effectively.
Several best Asana integrations for personal use that can enhance productivity. Some of the best integrations for personal use include Google Calendar for syncing Asana tasks with your calendar, Slack for seamless communication, Zapier for automating tasks between Asana and other apps, and Harvest for time tracking and invoicing.
How to use Asana effectively for education
Let us tell you another secret – is just as easy to use Asana goals for education. Let's look at a couple of examples where you can use the project management platform Asana for education.
For example, you are preparing a collaborative project with your team on a certain subject. Just as with project management, you can add multiple collaborators to a single task and distribute responsibilities using subtasks. For example, you are working on a large report on astrophysics. A couple of people on your team will be working on the visual part of the report and you can set up a subtask for them with the details. Other participants will do the analytical part: they can easily attach tables or other documents to the task. The entire task is allocated a certain amount of time to complete. 
You can also use Asana for more than just one specific project. Transfer your entire learning process to this platform. Allocate a separate board for each subject and mark each day your learning progress or homework assignments. 
Using Asana for education facilitates student collaborative projects, manages assignments and homework, coordinates schedules, and enables effective communication and organization within the learning process.
In the same way, Asana will also be useful for teachers who can prepare presentations for lectures or even whole semester plans. Imagine if all teachers kept their notes on this platform. Then it would be very convenient and easy to coordinate schedules, borrow materials for teaching, or just be aware of students' workload. 
Start distributing your tasks correctly 
Asana is designed to simplify your workflow and make it easier to work in large companies. All you have to do is try it once to see for yourself. When the time you spend on sending out emails, creating work plans, etc. is spent on really important work, your efficiency will immediately increase. Also, you can learn about systematic approach that empowers project teams to make well-informed decisions in our article "Decision matrix: 7 steps to make a decision" and explore decision matrix example.
It's difficult to start working with the platform on your own, so our specialists will help you not only to install, but also to set up Asana best practices for further work.
The Cloudfresh team is a unique center of expertise for Google Cloud, Zendesk, Asana, GitLab, and Microsoft. For these best-in-class cloud solutions, we can provide you with implementation, migration, integration, audit, administration, support, and training services.
Our experts will help you optimize your IT infrastructure, develop integrations for better system interoperability, and create completely new structures and processes for your teams, while our support center will provide you with the best customer experience!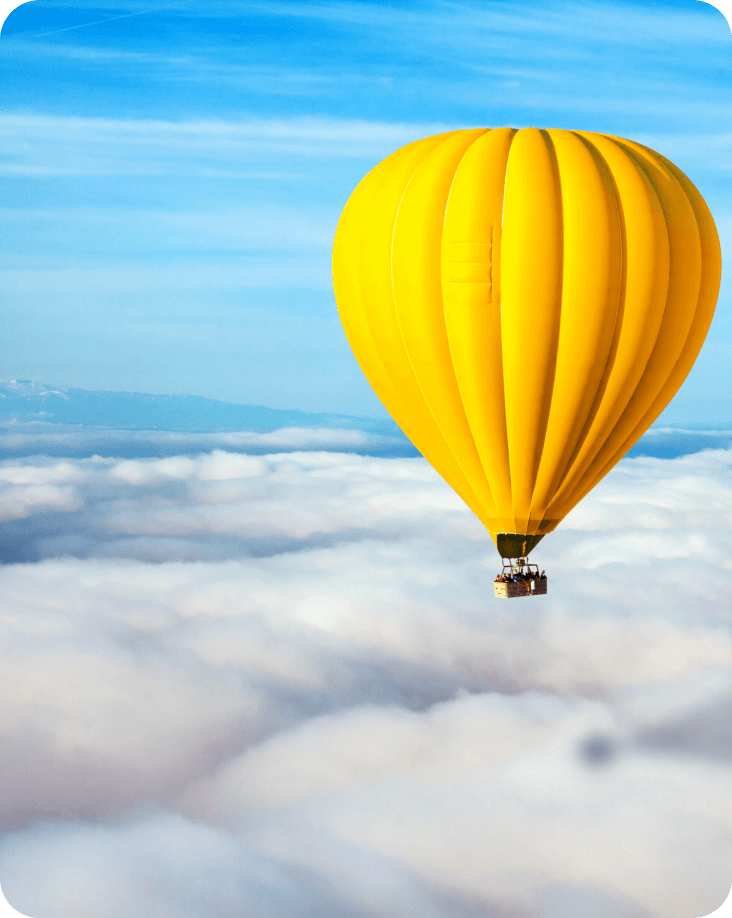 Get in touch with Сloudfresh