Asana
11.02.2021
2 new features in Asana to help your team gain clarity and context in the new year
With the shift to remote work, many teams are feeling the pain of having to search through documents and apps to find the information they need to get work done. While we could once tap colleagues on the shoulder for a quick question or help finding an important project document, we're now spending more time digging through documents, spreadsheets, and wikis.
Switching between apps is not only time-consuming—it's also hampering team agility. According to the Anatomy of Work Index 2021, knowledge workers use 10 apps per day, and switch between them up to 25 times daily.
That's why Asana is launching two new ways to improve team alignment. Today, we're excited to introduce Project Overview and Project Brief to help your team gain clarity, share context, and ultimately get great work done.
Clarity from the get-go with Project Overview
With Project Overview, share your vision for a project directly where you're tracking that project's work. Instead of storing information in another tool, keep your team aligned with a one-stop shop for important links, documents, updates, and more. Then, as the project progresses, team members and stakeholders can stay up to date with ongoing project status and activity.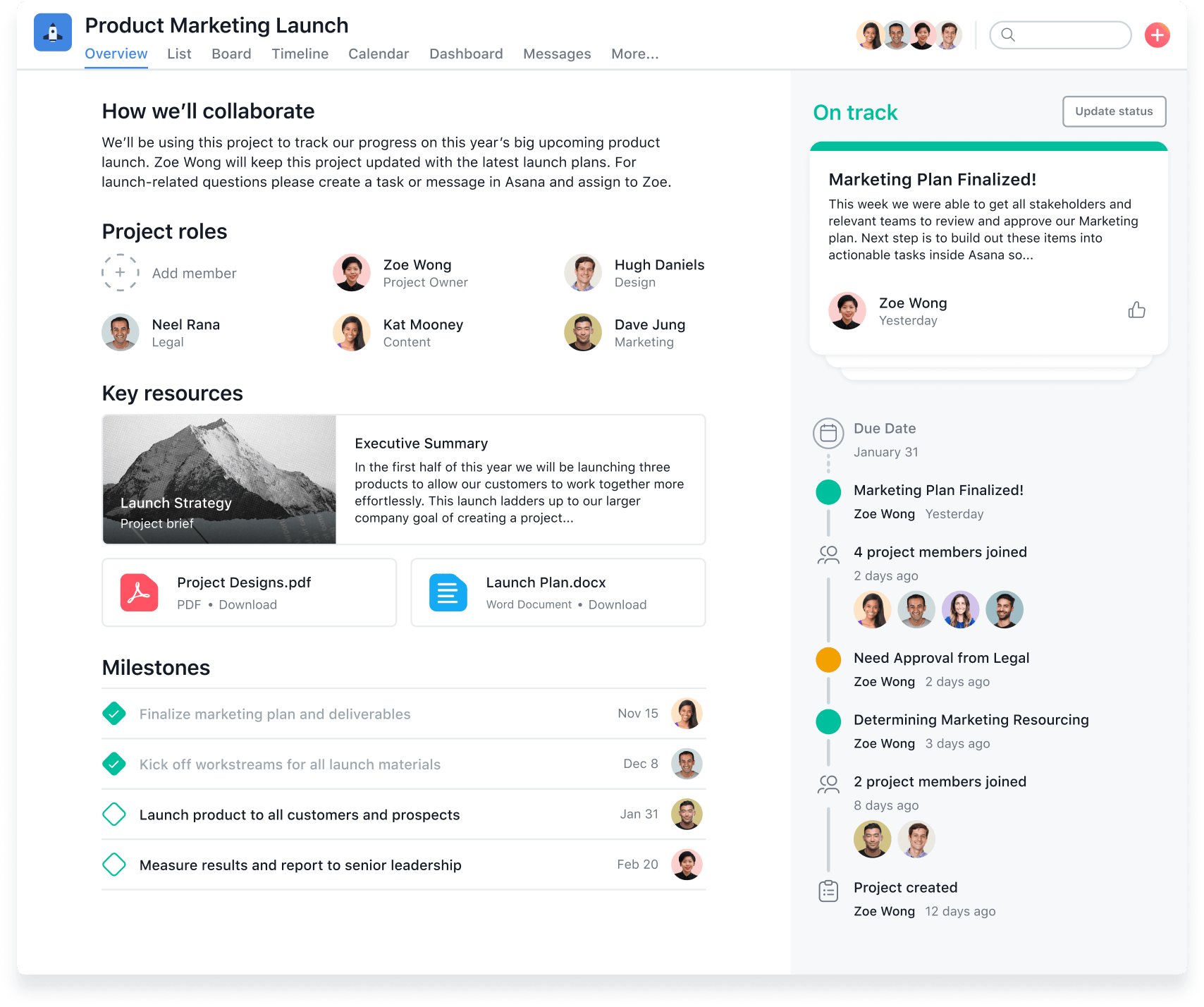 For team members who have been following the project from the get-go or for those who are just getting up to speed, Project Overview provides clarity into important milestones and visibility into project details. Accessing key project resources has never been easier.
Share details and context with Project Brief
From Project Overview, you can also draft a Project Brief directly in Asana. Create beautiful documents with rich-text formatting or use drag-and-drop suggested content to get started. Then, add in-line embeds so team members can see a preview of work being created in apps like Figma, Miro, Vimeo, or YouTube without leaving Asana.
By storing important project context and information in Project Brief, your team can quickly start working on tasks with confidence. If at any point team members need to realign on priorities or check the project brief for details, they can easily access it from Project Overview.
Share clarity through conversations
Keep your work, communication, and context in the same tool with Asana. Unlike email, conversations that happen in Asana are connected to your work. Send individual, project-level, or Team-level messages directly where work happens.
Have a question related to a task, but don't want to bug the whole thread? Send an individual message. Want to update two different projects on relevant work? Send a single message to both projects. Want to share an exciting development with your Team and a few additional collaborators? Send one message to your Team and collaborators. And, because your communication lives in Asana, you can @-mention tasks, collaborators, or goals without switching tools.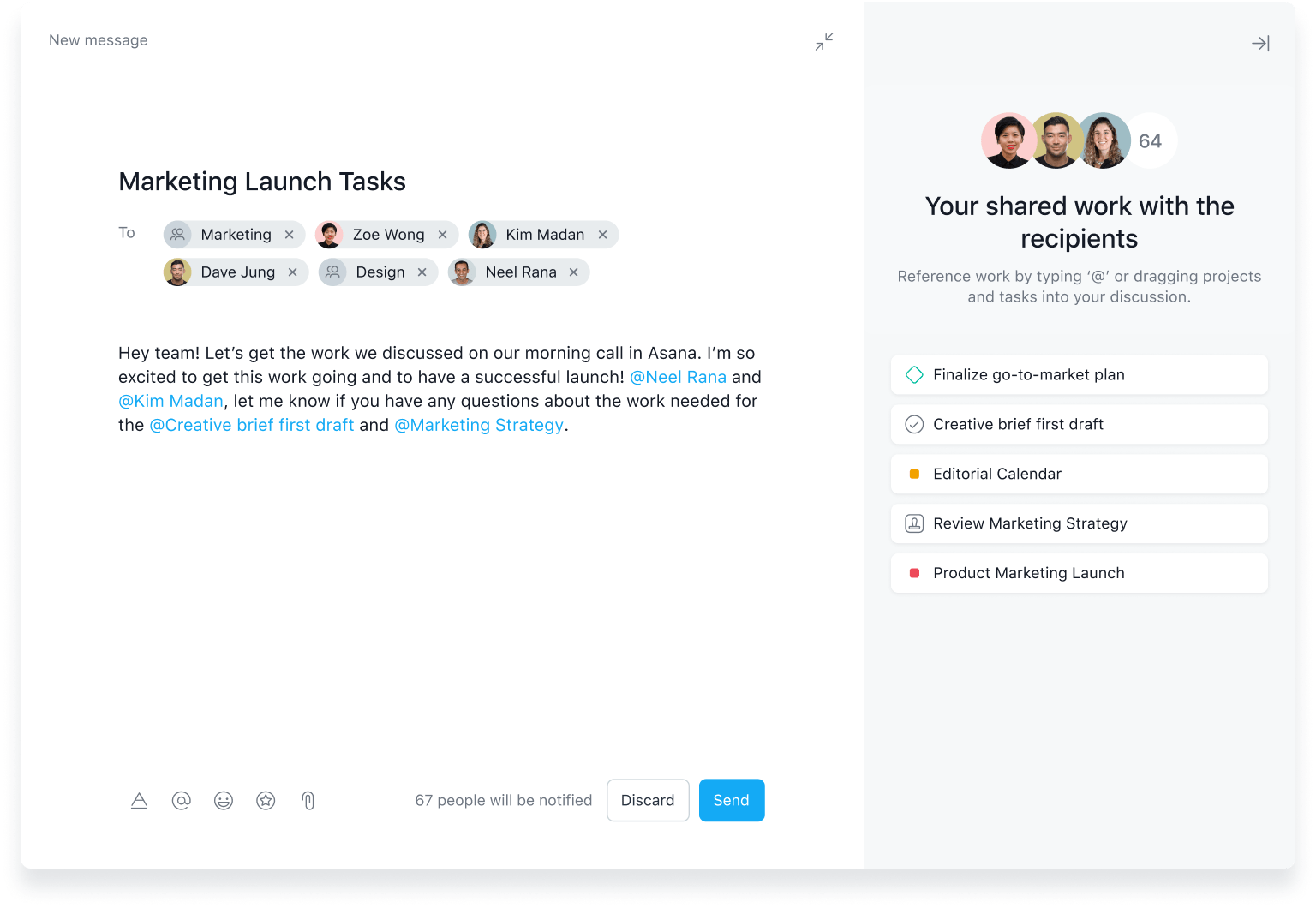 Shared vision, shared success
Instead of switching between apps and digging through spreadsheets, share clarity and context in one place. When your team shares the same vision, it's easier to stay on the same page and achieve more, together.
As of today, all Asana customers have access to Project Overview and Project Brief. Ready to try them out? Use Asana to keep your team more connected and aligned than ever before.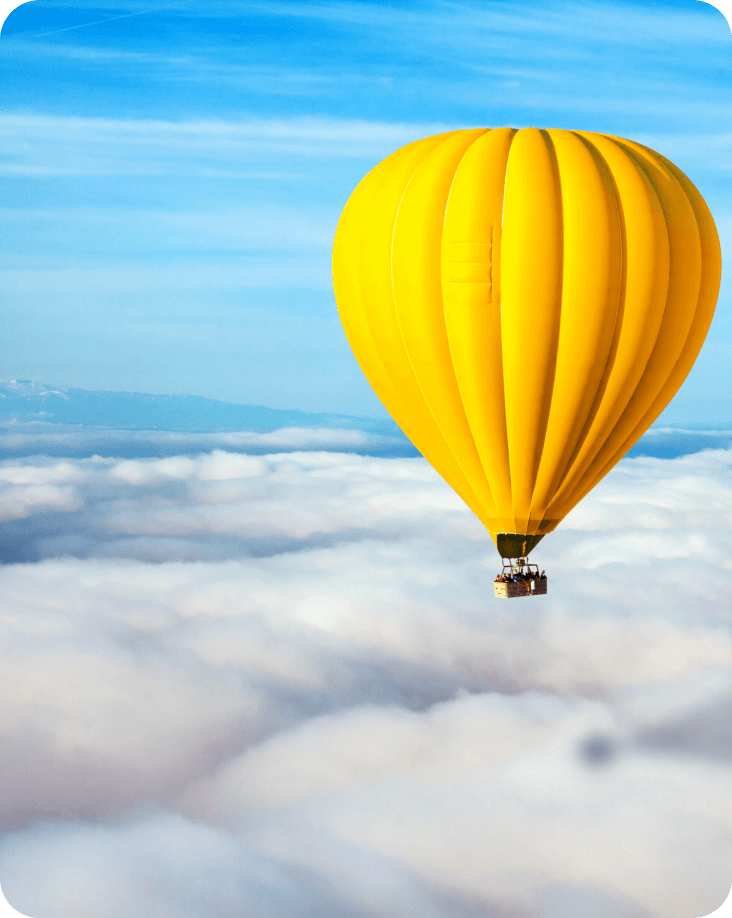 Get in touch with Сloudfresh