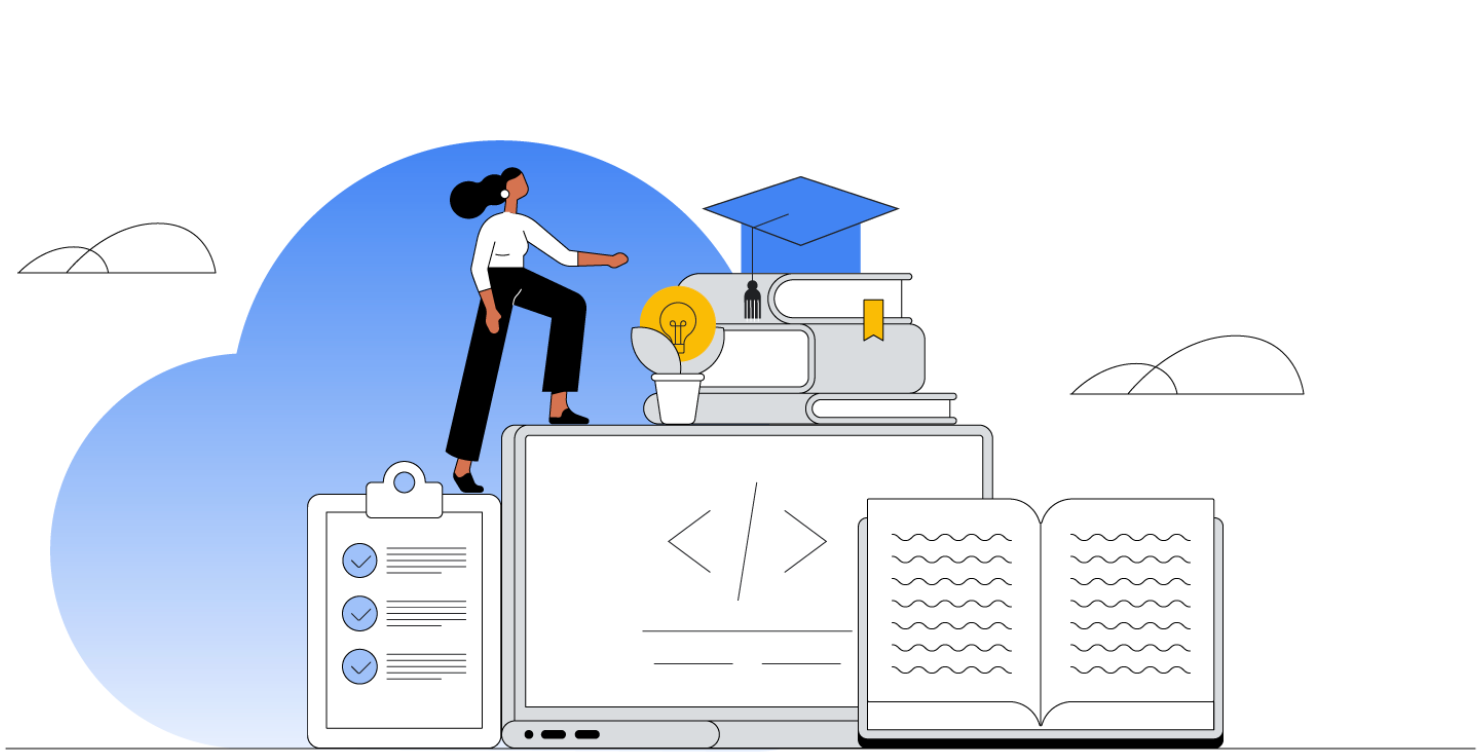 Google Workspace tools help individuals and teams of all sizes worldwide to easily collaborate and get quick access to the information they need.
In this blog, we would like to look closely at how Google Workspace's apps can boost your business development.
Gmail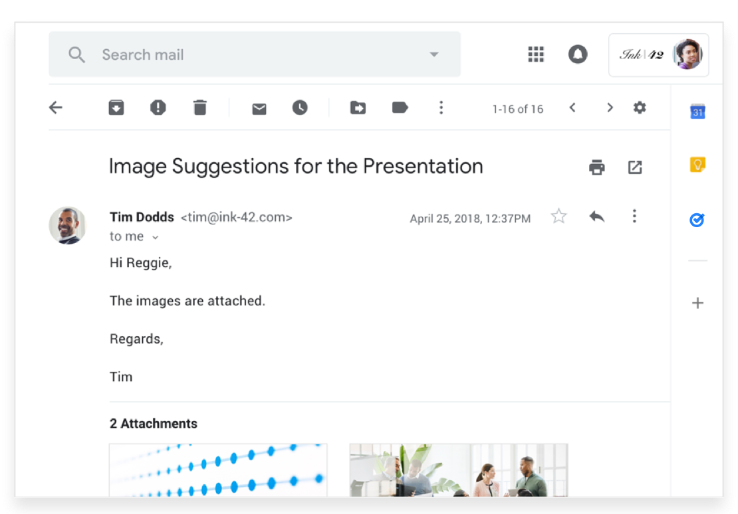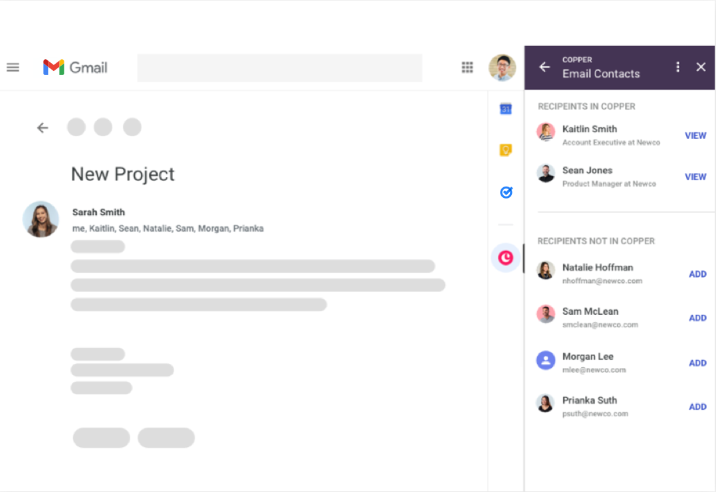 Gmail is a secure, ad-free email where you can chat, make voice or video calls, and stay on top of project work with shared files and tasks.
Custom email 
With a professional email address at your domain @yourcompany, it's possible to build customer trust.
Robust integrations
Integrating with other Google apps, Gmail allows you to connect with coworkers via Google Meet or Google Chat, send an invite in Calendar, add an action to your task list — you can do all that and more without leaving Gmail.
Smart suggestions 
To help you stay on top of your work and take care of simple tasks, Gmail provides its users with suggested actions — like Smart Reply, Smart Compose, grammar suggestions, and nudges, so you can be more efficient with your time.
Threats protection
Gmail's machine learning models block more than 99.9% of spam, phishing, and malware from reaching our users.
Calendar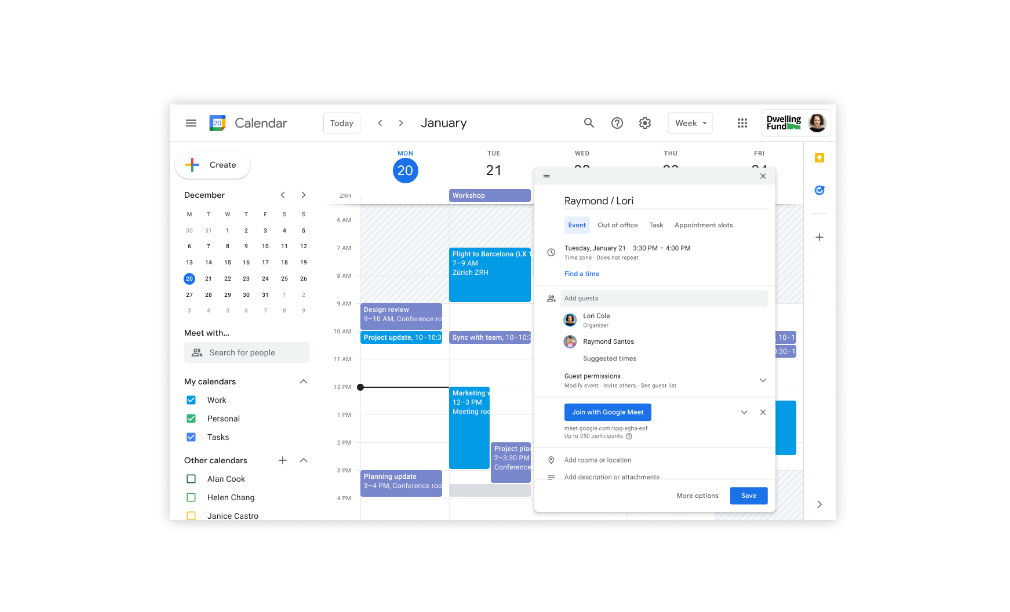 Calendar enables you to spend less time planning with shareable calendars that integrate seamlessly with Gmail, Drive, Contacts, Sites, and Meet.
Smart scheduling for meetings
You can quickly check your coworkers' availability to arrange a meeting smartly.
Access from your laptop, tablet, or phone
With Calendar, you can use GWS-optimized mobile apps or sync with your phone's built-in Calendar and view and edit your schedule from your phone or tablet.
Drive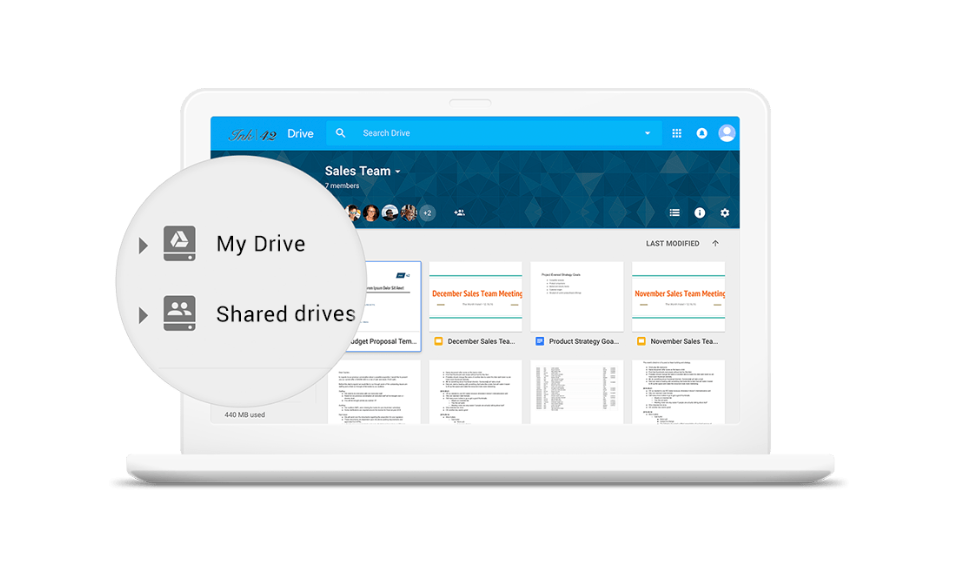 Store files, access them every time you want from any device, and share your files in one secure place.
Flexible storage options
With centralized administration, data loss prevention, and Vault for Drive, you can easily manage users and file sharing to help meet data compliance needs. Use shared drives to store your team's work in secure, easy-to-manage shared spaces to keep everyone from your team with the up to date information.
Google AI predictions
Google AI predicts and surfaces what's essential for you in real time by recognizing important content, collaborators, and events, using features like Quick Access and ML-based search enhancements.
Use less of your PC/Mac disk space
Drive for desktop gives you access to files directly from your computer without impacting your disk space, so you can now use less disk space and stream from the cloud.
Google Meet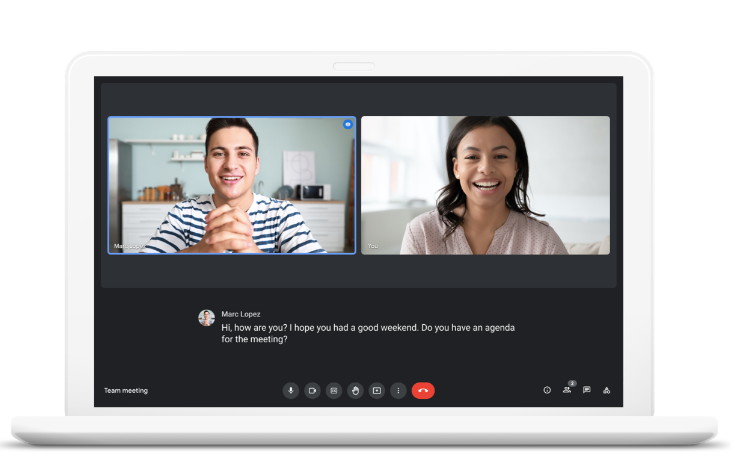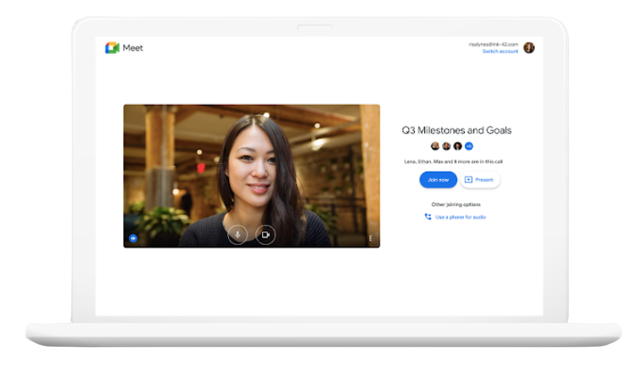 Google Meet app, included with Google Workspace, Google Workspace Essentials, and Google Workspace for Education, provides you with a secure connection with enterprise-grade video conferencing. You can seamlessly jump into a video call from Chat or take document collaboration via Docs to the next level by connecting over video.
Helpful design
With Google Meet, you can join meetings directly from a Calendar event, an email invite, or directly from Gmail, whether you're joining from a computer, phone, or conference room. Helpful features like live captions, low-light mode, and noise cancellation make meetings more productive.
Easily view and schedule your meetings
It is possible to view all your scheduled meetings for the day and join the meeting with just a tap, directly from the Gmail mobile app or the dedicated Meet app.
High level of security and protection
Google Meet is trusted by enterprises around the world. It provides users with a secure-by-design infrastructure, built-in protection, and a global network that Google uses to secure your information and safeguard your privacy.
Meet Hardware
Meet hardware is a simple-to-use, manage, and deploy at-scale hardware solution for Google Meet. You can connect to any meeting room or space with a single click.
Docs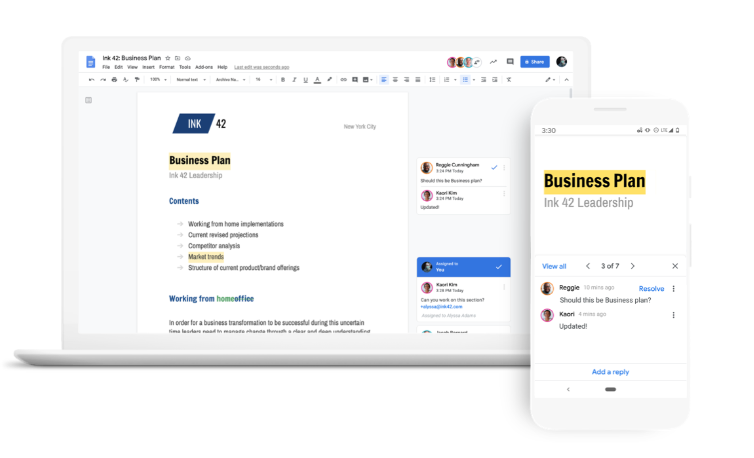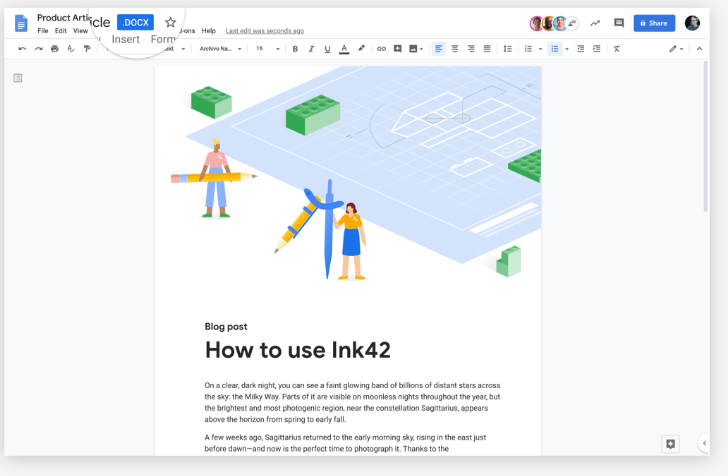 Docs is the perfect solution to create and edit documents in real-time with automatic saving for the best team collaboration or the most straightforward individual work.
Real-time collaboration
With Docs, it is easy to work with your teammate or partners in one single document, see edits, communicate through built-in chat, and ask questions through comments.
All popular file types included
You can import your documents to make them instantly editable into Docs, including Microsoft Word, PDF, .docx, .pdf, .odt, .rtf, .txt, or .html format files.
Unlimited revision history
You can track all changes made to your documents when the previous versions are saved but don't count toward your storage.
Sheets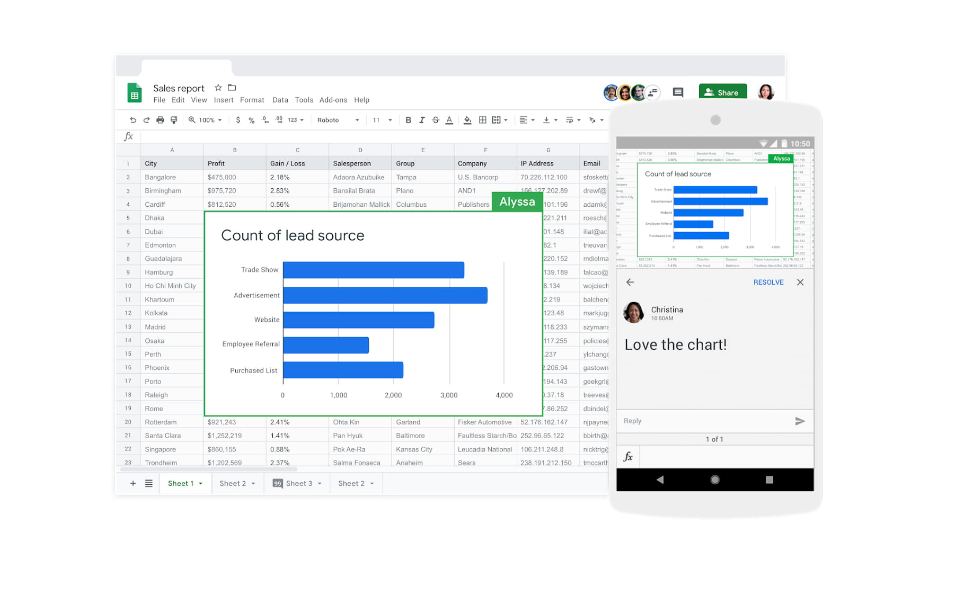 Google Sheets enable you to collaborate with anyone, anytime, anywhere, assuring the security of your information and giving indispensable features for the agility of your work.
The best way to collaborate
With Sheets easily add collaborators to projects, see changes as they occur, receive notifications for edits while you're away, and chat with colleagues in the same document. All changes are automatically saved as you make them, as in Docs. You should not also worry about the right file version because Sheets is entirely compatible with Microsoft files, so you can work simultaneously in Excel and Sheets.
Get insights fast
Sheets empowers everyone across the organization to uncover valuable data insights, providing all the tools you need to analyze and visualize your data. Formula acceleration saves time and mitigates errors by surfacing relevant formulas as you type, powered by Google AI. Connected Sheets enables you to analyze billions of rows of BigQuery data in Sheets without requiring SQL knowledge. So, you can easily analyze data from multiple sources.
Enterprise-grade security
With Sheets, your content is continuously protected by one of the world's most advanced security infrastructures. It is possible to manage permissions through individual-level, group-level, or domain-level access and Use Data Loss Prevention controls to keep sensitive data safe.
Slides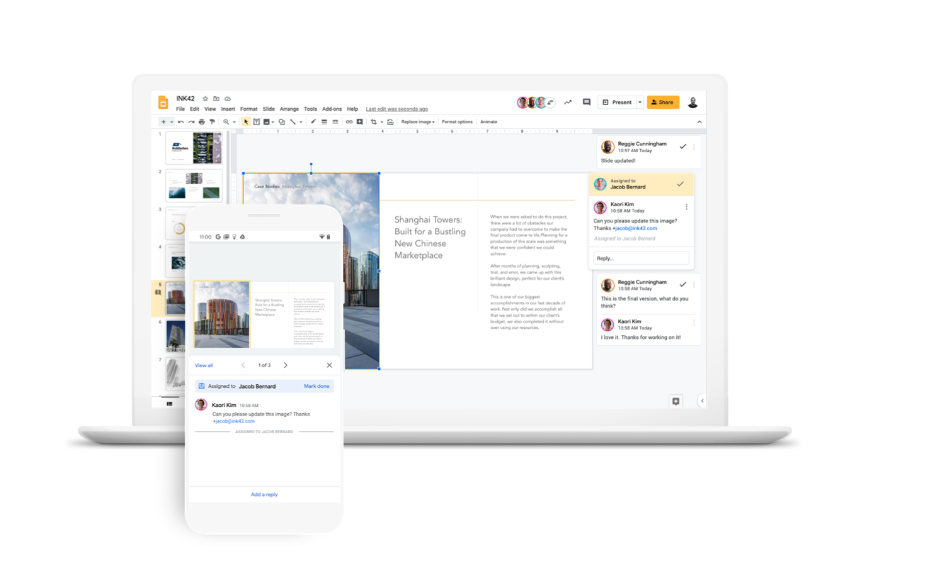 With this tool, you can collaborate with your teammates on creating presentations with automatic save and simultaneous work for an unlimited group of people.
Real-time editing
As we already said, working together on a single presentation in real time is possible. Moreover, you can control who gets permission to edit, view, or add comments.
Easy-to-design slides
You can enhance your presentations with videos, images, drawings, and smooth transitions, and choose a template that you want from the proposals of Slides.
Google Chat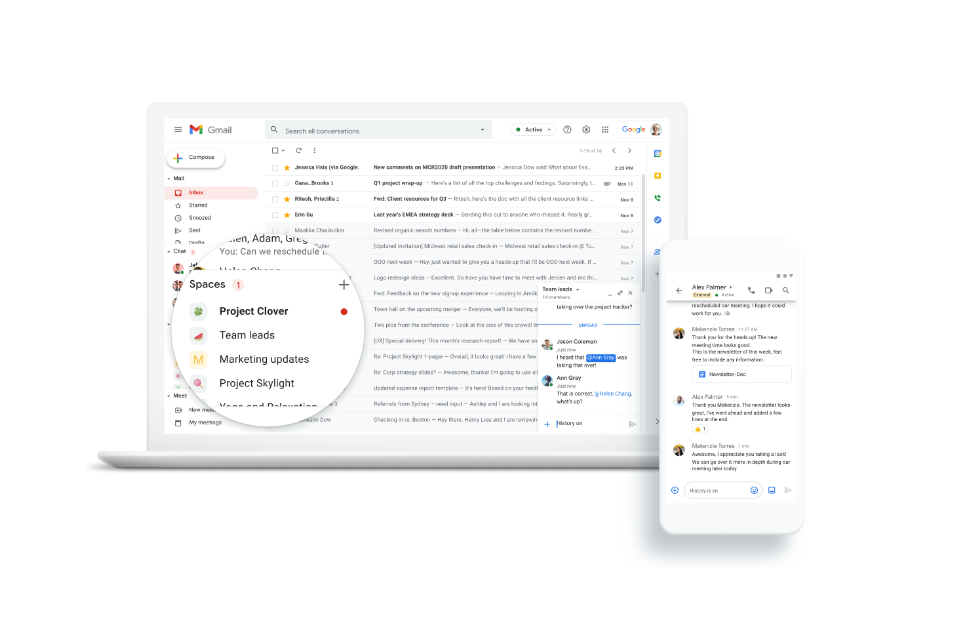 Google Chat and Spaces help teams collaborate efficiently, from direct messages to group conversations. Securely connect with anyone you work with, and take group work to the next level with shared Chat, files, and tasks.
All of your messages in one place
You can use Chat right in Gmail or as a standalone app so you can goose one conversation channel and keep all your communication there. You can also create a Space for your teammates to start a topic-based discussion and share ideas about some project.
Get the most from Google Workspace
You can use Chat and Spaces to collaborate seamlessly on content with Google Docs, Sheets, and Slides. Easily find past conversations or files with Google's powerful search, and let bots and smart suggestions help you connect with meeting participants and get more done faster.
You can use Google Workspace tools both for personal and enterprise needs. These apps will definitely accelerate and make your work processes and boost your productivity.
Find out more about Google Workspace pricing and additional features that will suit your business needs from our specialists.
Cloudfresh team is a unique center of expertise for Google Cloud, Zendesk, and Asana. For these products, we can provide you with the following services:
Customization;
Development;
Integration;
Training;
License;
Support.
Our specialists will help you optimize your IT infrastructure, develop integrations for better system interoperability, and help create completely new structures and processes for your teams, while our support center will provide you with the best customer experience!