In our previous blog, we have already told you about the change in work concept and the prevalence of hybrid work that has become a sustainable norm in our modern world. A hybrid model provides employees with the flexibility to deliver their best from anywhere and, at the same time, encourages in-person collaboration.
Today, we would like to talk about the new Google Workspace features that facilitate work anywhere the employee stays.
New hybrid meetings features to meet up with your needs
To make hybrid format meetings unified and productive, Google continues to make enhancements to its services.
Self-expression with in-meeting reactions
This Google Meet update enables users to give immediate feedback to all the attendees by letting them express themselves with different kinds of smiles.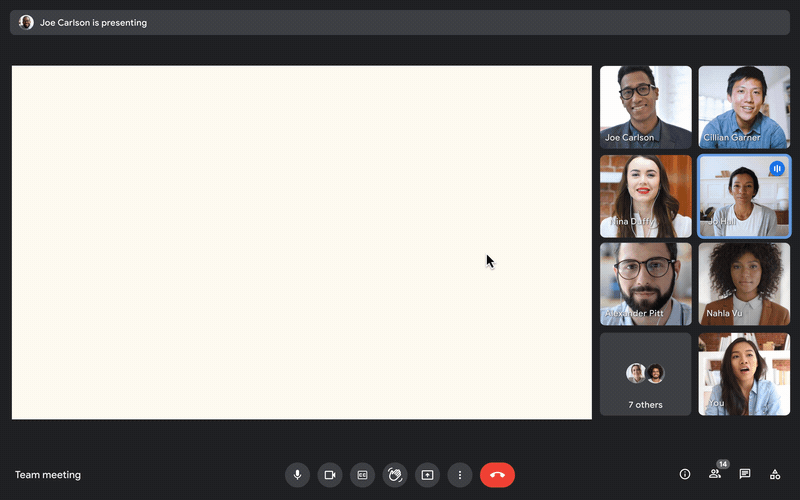 2. Collaboration on content during your meeting
Google brings Meet directly to Docs, Sheets, and Slides to boost hybrid real-time collaboration. Users will be able to quickly start a meeting and get it to a document, spreadsheet, or presentation to present this content to all of their colleagues.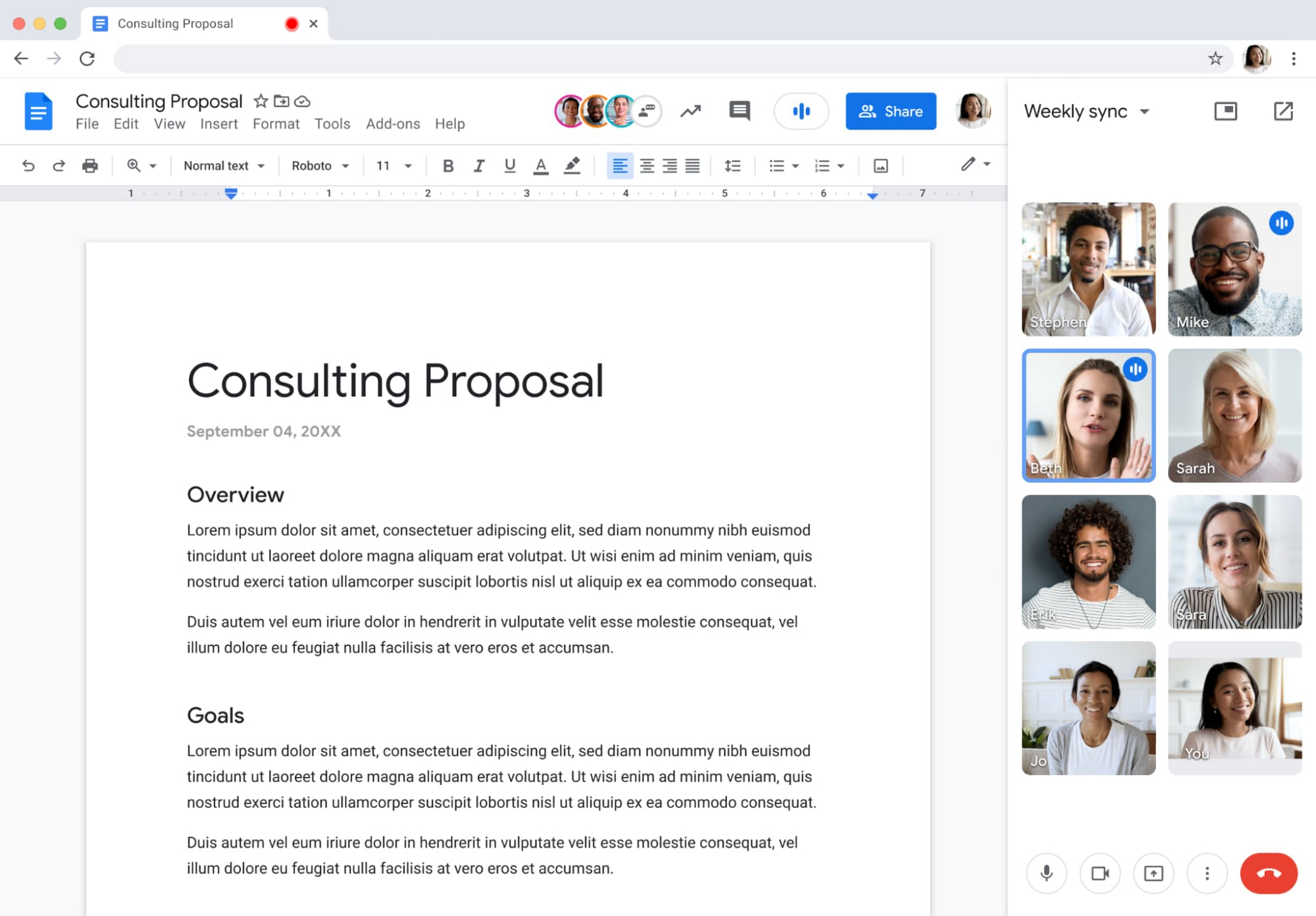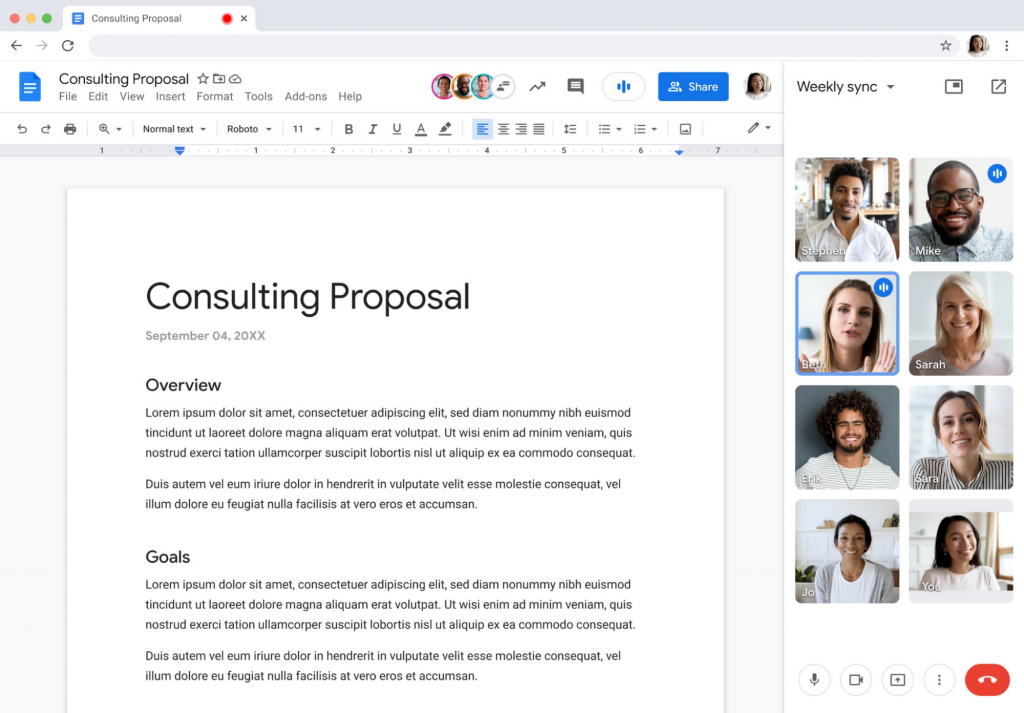 3. Picture-in-picture across your tabs and windows
With picture-in-picture tools, the presenters or multitaskers could see their audience navigating different tabs. So, all the participants can work on various tasks simultaneously, seeing each other in a floating window on top of other applications.
4. Companion mode with your personal video tile
Google started rolling out automatic noise cancellation on all Google Meet hardware, like Logitech, Acer, and Asus hardware that helps to avoid background noises. It could definitely improve your in-room experience. People in conference rooms will also have the opportunity to add their video tile from Companion mode and their laptop camera, and it will make it easier for others to see their expressions and gestures.
5. Live Streaming meetings to YouTube
The live streaming experience is making progress as well, helping you to Reach a larger audience. Today, Google Meet users can host meetings of up to 500 active attendees with the ability to Livestream to audiences of up to 100,000, but only across trusted Google Workspace domains. Livestream attendees will be able to participate in Q&A and polls, and meeting hosts will also be able to stream meetings directly to YouTube from the Meet activities tab.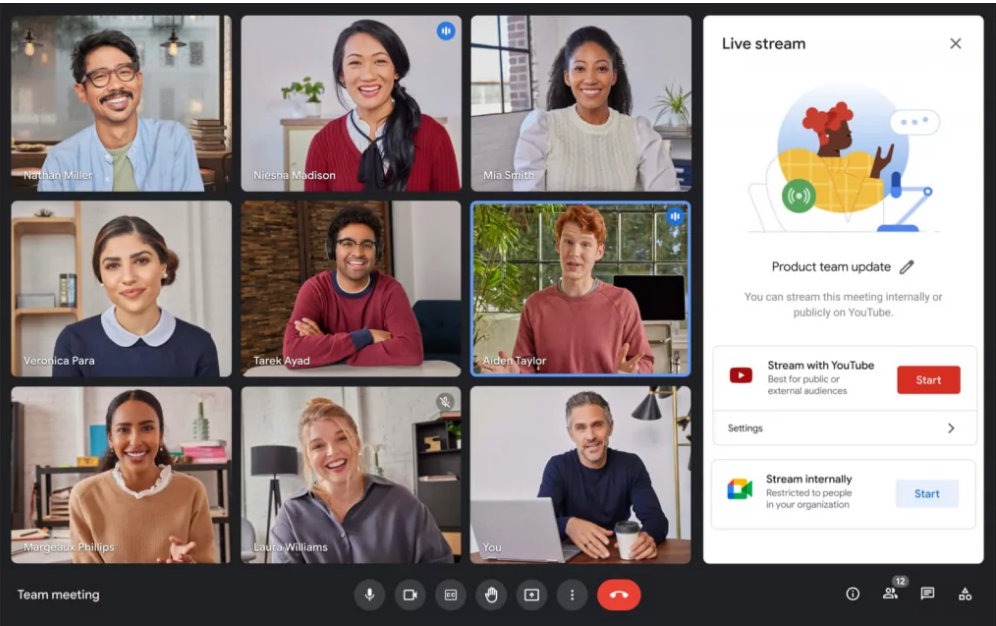 6. Client-side encryption in Google Meet
This feature gives our customers direct control of the encryption keys and identity provider used to access those keys. This year, Google is also planning to introduce optional end-to-end encryption for all meetings.
Bringing Google Voice to more customers
Google Voice keeps colleagues and customers connected across different devices, having a considerable cloud telephony experience and integrating with Google Workspace.
To boost Google Voice for their European customers, Google declared that calls from European Google Voice numbers to mobile and landline numbers in many European countries would be a part of their Google Voice license. It will enable customers who previously had operations outside of Google's current coverage areas to move to Google Voice.
Google is also planning to introduce a SIP link that will allow customers to connect SIP trunks from their chosen telecommunications carrier via certified session border controllers from Audiocodes, Cisco, Oracle, and Ribbon. All that will enlarge customers' possibilities using Google Voice.
Collaboration for large and small teams at any moment
To let high-performing teams stay connected with the correct information at the right time, Google has improved the collaboration, having provided the changes about how the conversations are displayed in Spaces with inline threading.
With inline threading, members of the space will be able to respond to specific comments and create side conversations while, at the same time, keeping the dialogue organized and contextual. Users can also invite other team members or outer colleagues to join a Space via a shared link, search and join Spaces across an organization, and easily search for the information within Chat and Spaces.
What should we do with all this?
Google Workspace is evolving along with a change in our work needs. With all these new features, your organization can benefit from a strategy that can help rationalize your costs and reduce the security risks associated with maintaining various platforms.
It is essential to provide your employees with the most efficient work instrument and give your customers high-quality service in order to adapt to all the changes and boost your organization's productivity.
Cloudfresh is a unique center of expertise for Google Cloud, Zendesk, and Asana. For these products, we can provide you with the following services:
Customization;
Development;
Integration;
Training;
License;
Support.
Our specialists will help you optimize your IT infrastructure, develop integrations for better system interoperability, and help create completely new structures and processes for your teams, while our support center will provide you with the best customer experience!