Not only does Google allow you to start Meet sessions from Android, iOS, or Chrome, but it also allows you to access Meet from other apps.
Google Meet started as a video conferencing solution for organizations using Google Workspace (ex. G Suite). Then, at the end of April 2020, Google announced that Meet would soon be available for free to anyone with an email address and internet access. This change brings a modern, scalable, stable, and secures Google Meetings app to everyone.
But Google is also weaving Meet into other apps like Gmail, Google Chat, and Google Classroom. These relationships provide a wide range of collaboration opportunities for people who use Google tools. They can choose whichever device best helps them complete the task, then move from typing to Google Meet when needed, with all the emotion a video can convey.
The many ways to access Google Meet are detailed below, suggesting that Meet video conferencing will continue to be a critical Google application for many years.
Note. If you use an organizational account, your Google Workspace (ex. G Suite) administrator can control or restrict some settings for the below-mentioned apps. Contact your Google Workspace (ex. G Suite) administrator if you can't access the features you need.
How to video conference using Google Meet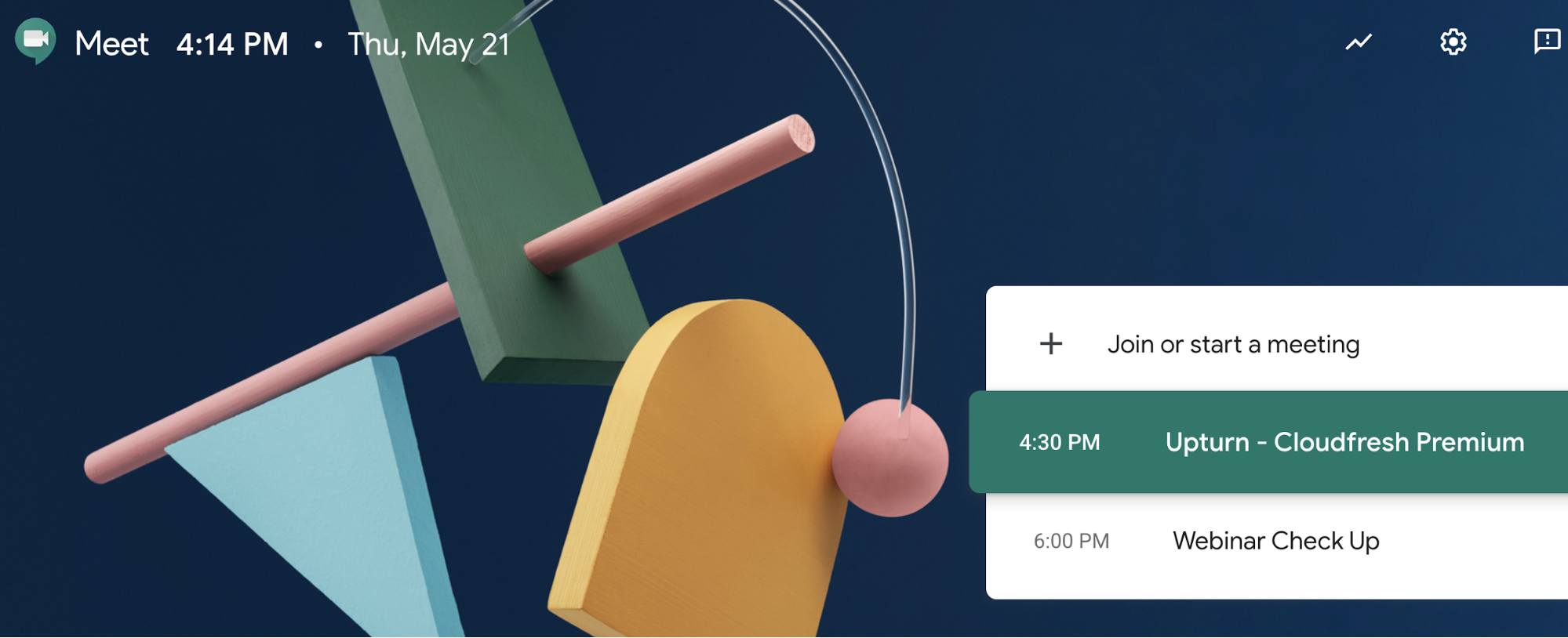 In Chrome on your computer, go to meet.google.com, sign in (if necessary), then select + Join or start a meeting. Or install the Meet app on your Android or iOS mobile device. If you want to create a video meeting, open the app and tap + New meeting to start the session. You can then share the meeting details with the people you want to join.
How to access Google Meet through Google Calendar
When you create a new event using Google Calendar in the browser or calendar apps on Android or iOS, you can also add a video conference using Google Meet.
In Chrome on your desktop, go to calendar.google.com, sign in, then select + New to create a new event. Select "Add Google Meet Video Conferencing," then add other details about the Event, or select "More Options," then enter the details and select "Save." In the Google calendar apps on mobile devices, click the + button, click Event, click Add Video Conference, add event details, and click Save.

How to Access Google Meet Through Gmail
Sometimes it's better to have a conversation than to continue exchanging emails. It's fantastic that Gmail (in the web browser) includes access to Meet as part of the Chat. To enable Chat, open mail.google.com in Chrome, select the star (upper right), Settings, Chat, and Chat Enabled, then Save. The "Start Meeting" or "Join Meeting" options will appear next to the chat box.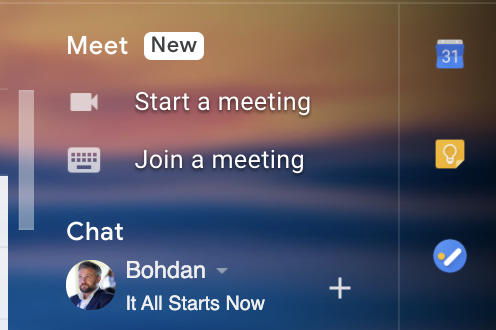 How to access Google Meet through Google Classroom
A teacher – or anyone who has created a class with Google Classroom – can create a single, reusable Google Meet link for them. The link will only work for students when the teacher in the class is in an active Meet session. Once activated, the teacher can also make the Meet link visible to students. If this option is enabled, the link will be displayed in two places: on the Classwork tab, to the left of the Google Calendar and Class Drive links, and on the Flow tab next to the class name and class code at the top of the page.
To enable meeting links in Google Classroom, the teacher must select the star (in the upper right corner), click the Generate Meeting Link button, then choose Save. If necessary, the teacher can also reset the link.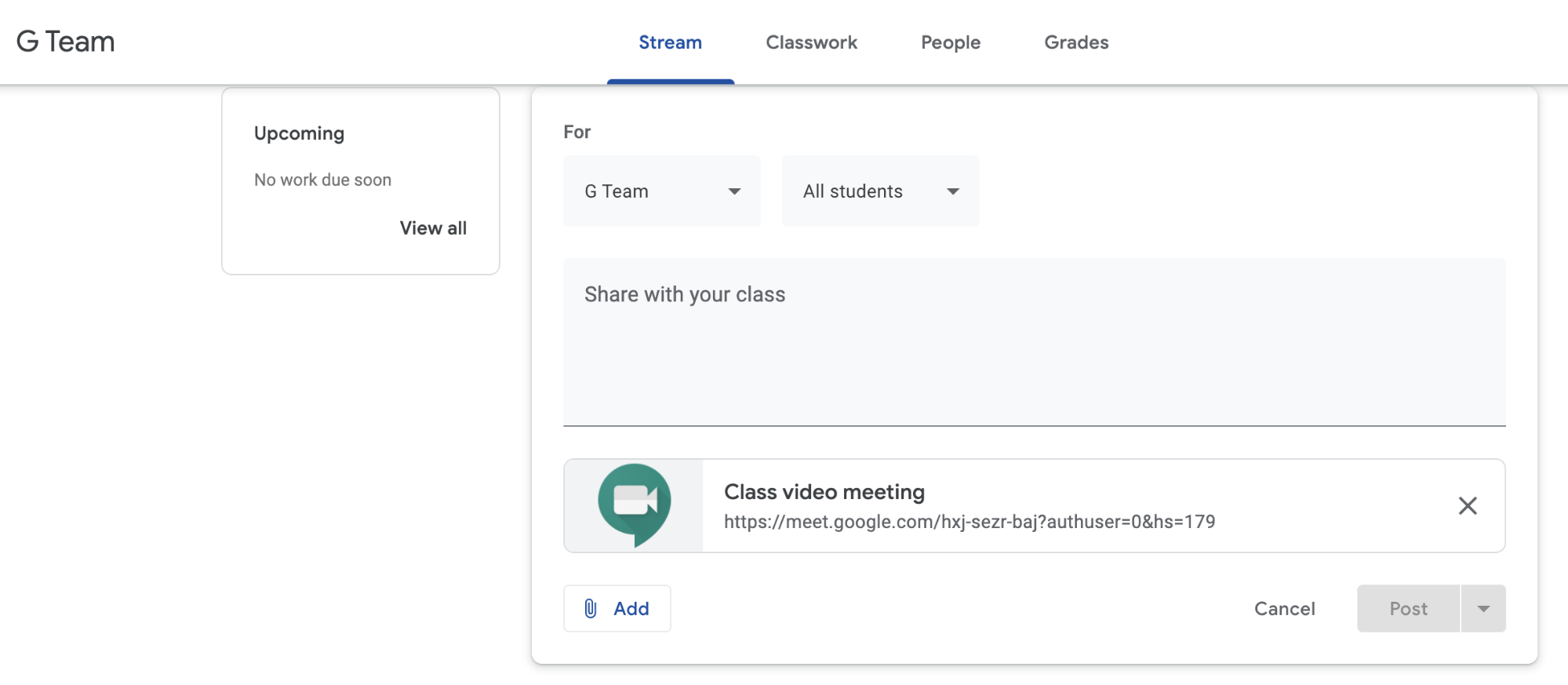 How to Access Google Meet Through Google Chat
In Google Chat (formerly known as Hangouts Chat), you can add a video conference that gives everyone in the room access to a Meet link. Select a person or room in the Chat (on the left). Then either select + New Theme or select an existing theme and navigate to it. Or click on the Google Meet icon to add a video conference. Select the Send icon (the triangle pointing to the right) to share your chat message.

How to access Google Meet via Google Slides
The Google Slides mobile apps for Android and iOS allow you to present your slides directly in any active Google Meet session. First, you will need to know the active conference ID. Once you've done that, run the slides on your device, open the presentation you want to show, then tap the "Present" icon (the right triangle) and then "Present in New or Existing Meet. Paste or type the meeting ID. This feature is helpful if you already have an active Meet conversation on another device.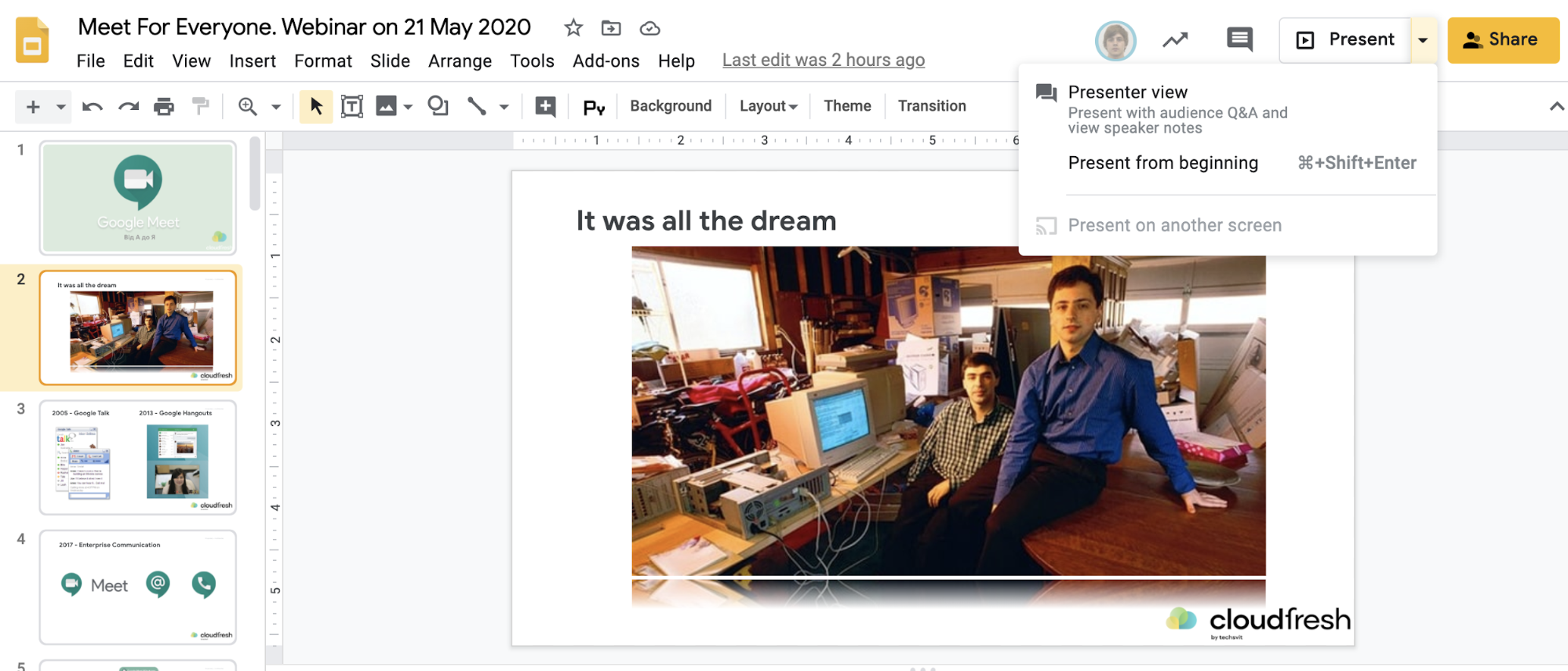 How to access Google Meet through your Jamboard device
Finally, if you have a Google Jamboard device, you can connect it to your Google Meet sessions. However, a Google Workspace (ex. G Suite) administrator must first set up and enable this capability. Jamboard shared with a Meet session allows your team to draw and discuss together.
Note. Even if you don't have access to Jamboard hardware, you can use Meet's presentation option to share a Chrome tab open for the Jamboard app in your browser.