Google Workspace
29.09.2023
Google Meet vs. Zoom vs. Microsoft Teams: What to choose?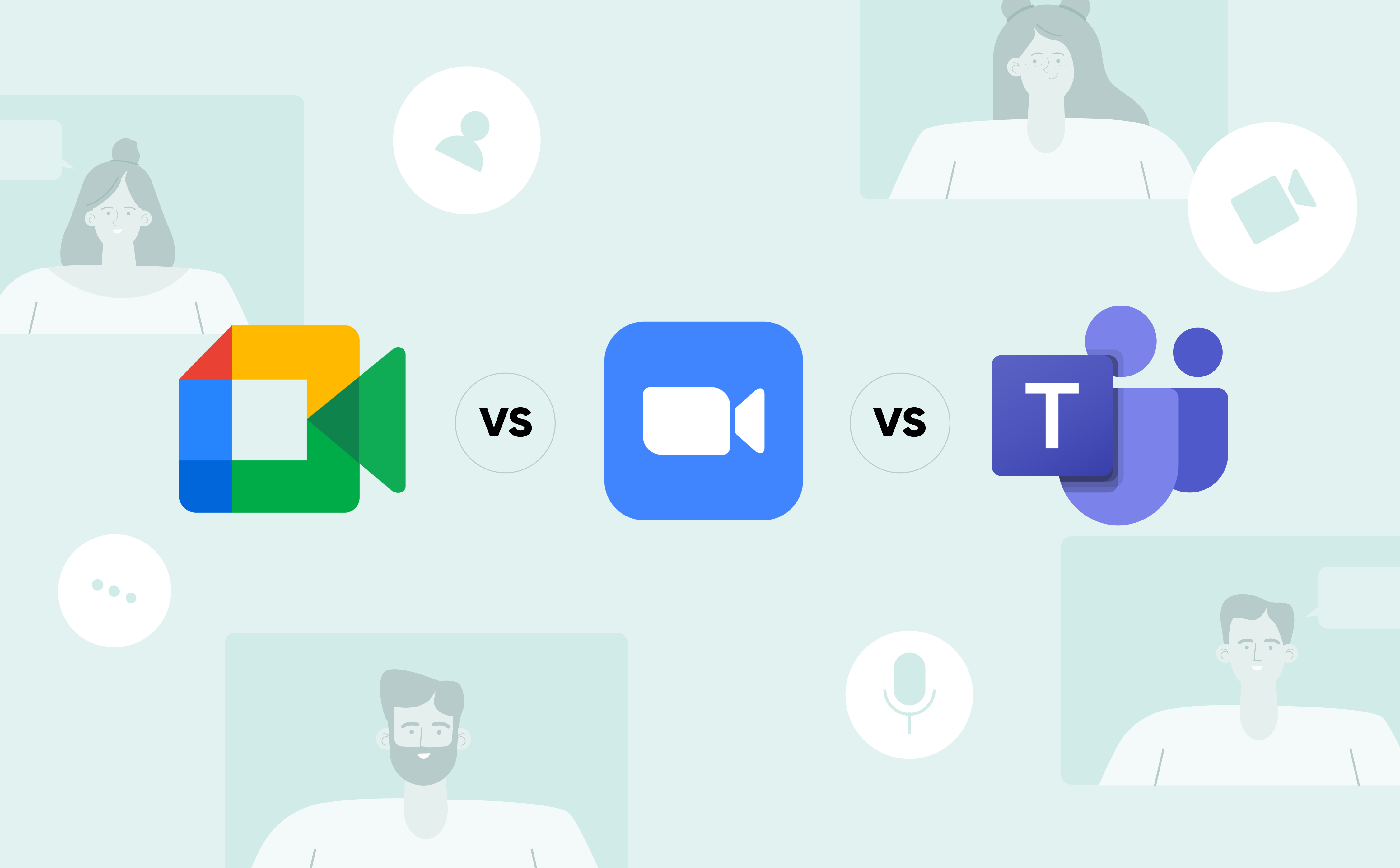 In this era of digital connectivity, we are fortunate to have many options for staying in touch with our colleagues, clients, or partners through video conferencing. Given the multitude of business video meeting tools at our disposal, we'd like to compare one of the most popular solutions in the modern video conferencing apps market: Zoom vs Google Meet vs Microsoft Teams.
Let's clarify that we're delving into video conferencing applications, specifically Google Meet and Microsoft Teams, within the Google Workspace and Microsoft 365 products. While Zoon is a completely autonomic application for video meetings.
In our quest to assist you in choosing the ideal solution for your specific needs, we'll first provide a concise overview of pricing and the additional features associated with each pricing plan. Afterward, we'll explore screen sharing and video quality options, which are the key points of the video conferencing platforms.
Pricing & Features
Let's kick off our exploration with perhaps the most pivotal aspect when considering a video conferencing platform: pricing. Each of these three video conferencing tools offers a range of plans to cater to diverse user needs. Among these offerings, you'll invariably encounter free plans tailored primarily for individuals outside the organization seeking a quality meeting experience. Alternatively, more advanced paid plans come brimming with various collaboration tools, supplementary features, and expanded limits concerning participants and meeting duration.
Now, let's examine these essential pricing plans, delving into their various features and advantages.
Let's start with Zoom
First, the Pro plan is priced at just $15.99 per month per host. This plan is perfect for small teams, offering the ability to host meetings with up to 100 participants. Moreover, you'll benefit from the flexibility of hosting meetings for up to 30 hours per meeting.
Additionally, for organizations seeking enhanced capabilities, the Business tier is available at $19.99 per host per month. This plan is designed for up to 300 attendees, making it ideal for growing teams. It has all the Pro plan features plus some extra goodies, such as managed domains, the possibility to add company branding, free premium apps for one year, and others. Plus, here you also have a Business Plus tier, which is slightly more expensive than a Business plan but offers additional translated captions and a global Zoom phone for business use only.
For larger organizations, the Enterprise plan stands out as an exceptional choice. Pricing for this plan is customized to your specific needs, so your first step would be to connect with the Zoom team to discuss your requirements. With the Enterprise plan, you can host meetings with an impressive capacity of up to 1,000 participants, which is especially advantageous for accommodating larger gatherings and conferences. Furthermore, you'll unlock many additional features, including enhanced security measures like encryption keys to safeguard your Zoom data and access to webinar and Zoom session functionality.
Microsoft Teams
In the realm of conferencing solutions, Microsoft Teams stands as one of the strong Zoom competitors because of its tight integration with the entire Microsoft business messaging suite. It means that it's effortlessly accessible for Microsoft Office 365 Business subscribers, making it a comprehensive and user-friendly choice for all your communication needs.
As Zoom, Microsoft Teams also caters to a wide range of users with both free and paid plans available, ensuring flexibility and accessibility for everyone. For more, this platform divides its pricing plans according to a user's needs, whether individual for home usage or professional from business.
Teams' free version from a "home" category offers users up to 100 meeting participants and 60-minute limits for a group calling. This plan also covers up to 5 GB of cloud storage, collaborative planning with tasks, and data encryption for your meetings and chats. In the home editions, you'll also meet Microsoft 365 Personal, starting at 5,99 USD per month, and Microsoft 365 Family editions for 7,99 USD per month. Both plans offer group calling for up to 30 hours and 300 participants, a premium version of Microsoft apps, ad-free email and calendar, creative tools for writing, and advanced support. But not that the Personal edition is for one person; you will have 1 TB of cloud storage, whereas the Family one is for six people with 6 TB of cloud storage, so also 1 TB per person.
Now, let's talk about business pricing. There are three Office 365 versions for your company video excellence:
Office 365 Business Essentials, one of the most popular ones: Priced at 4 USD per person per month for the annual commitment, this plan offers unlimited group meetings with up to 300 participants, 10 GB of cloud storage per user, comprehensive support, robust data encryption, collaborative apps, and live captions, making it ideal for seamless teamwork and secure communication.
Office 365 Business Basic: Available at 6 USD per person per month, this plan includes everything from the Essentials plus live captions in meetings in over 30 languages, web and mobile versions of Microsoft 365 apps, expanded 1 TB cloud storage per user, and business-class email for enhanced productivity and accessibility.
Office 365 Business Standard, last but not least: Priced at 12.50 USD per person per month, offers all included in the first two plans, but also provides desktop versions of Microsoft 365 apps with premium features, robust webinar hosting capabilities, attendee registration and reporting tools, and efficient customer appointment management.
These options ensure you can choose the plan that best aligns with your organization's requirements and budget. Comparing Microsoft Teams vs Zoom in terms of pricing and features, one of the primary advantages of the first platform is the seamless integration with other Office applications, ensuring a cohesive experience. Moreover, you'll have access to 24/7 support and a suite of business-grade tools for administration, security, and compliance.
Finally, Google Meet
Much like Microsoft Teams, Google Meet is a valued member of the integrated apps family. It comes seamlessly bundled with Google Workspace, providing an array of pricing options tailored to meet your specific requirements. One of the key advantages for Google Workspace, including Google Meet, is a completely free usage of most of their apps with some time or participant number limits. The Business Starter tier starts at $6 per user per month and includes Google Workspace apps along with 30 GB of cloud storage, up to 100 participants, and standard support. For $12 per user per month, the Business Standard tier steps up with up to 100 participants with a video recording option.
The last Business edition, starting from 18 USD, allows you to gather up to 500 participants, recording and attendance tracking features and enhanced security. If you're seeking top-tier features, the Enterprise tier provides 1000-participant video meetings, recording, attendance tracking, noise cancellation, in-domain live streaming, and enhanced security and management options.
Screen Sharing & Video Quality
While considering choosing teams video conferencing platform, it's crucial to keep a keen eye on screen-sharing capabilities and video quality. These factors play an essential role in ensuring effective and productive virtual meetings and also allow you to go beyond your standard meeting and seamlessly conduct online events or networking. If you're interested in discovering more about Google Meet opportunities or learning how to conduct webinars using Google Meet, check out our latest blog post.
All three platforms offer screen sharing, but their capabilities vary:
Google Meet lets you share your entire screen, a window, or a tab. Plus, with Google Meet, you can also present Slides directly in the meeting without switching between tabs.
Zoom offers the same options and goes further, allowing you to share a phone or tablet screen, specific apps, part of your screen, content from another camera, a whiteboard, locally stored videos, and device-played audio.
Microsoft Teams, whether desktop or mobile, enables you to present your whole screen, a specific window, a PowerPoint file, or a whiteboard.
When it comes to video quality it's influenced by various factors like your internet connection and device.
Google Meet offers three send-and-receive resolution options: standard (360p), high definition (720p), and full high definition (1080p). For receiving, you can also choose the audio-only option. Google Meet offers various options for better video experience, such as lighting adjustments, custom backgrounds, and different visual effects. While using the recently released Duet AI for Workspace, you can also generate your background and use a Studio Look feature.
Zoom also provides good video quality, with 720p available for Pro accounts and higher (limited to two participants). They offer 1080p for specific use cases and options to enhance video in low light, apply filters, use virtual backgrounds, and add studio effects.
Microsoft Teams shines in this aspect, boasting full HD 1080p support with AI-driven video optimization.
What platform to choose?
When it comes to choosing between Google Meet vs Zoom or  Zoom vs Teams, the decision-making process can be quite challenging. Many factors are at play, ranging from aligning with your company's specific needs to evaluating pricing plans and feature sets. Moreover, the interface, video quality, and many other options further complicate the decision.
Selecting the best video conferencing app requires careful consideration, as these solutions are constantly evolving, continually enhancing their feature offerings and adapting pricing plans to cater to customer requirements.
When weighing your options among these three apps, it's crucial to remember that Zoom operates as a standalone video-conferencing solution. On the flip side, Google Meet and Microsoft Teams are tightly integrated within their respective product portfolios, offering a comprehensive suite of features, including video conferencing.
The two options often shine for organizations seeking an all-in-one solution with an extensive array of collaboration tools. They provide a broader scope of functionality compared to Zoom, making them a compelling choice.
So, which platform is better? It ultimately boils down to the unique needs and dynamics of your business. We're here to help you navigate this decision and tailor the best solution to your requirements.
Connect with our team, and we'd be delighted to assess your requirements and provide expert guidance on many video conferencing solutions. We are ready to empower you to make a well-informed choice from the vast array of options at your disposal.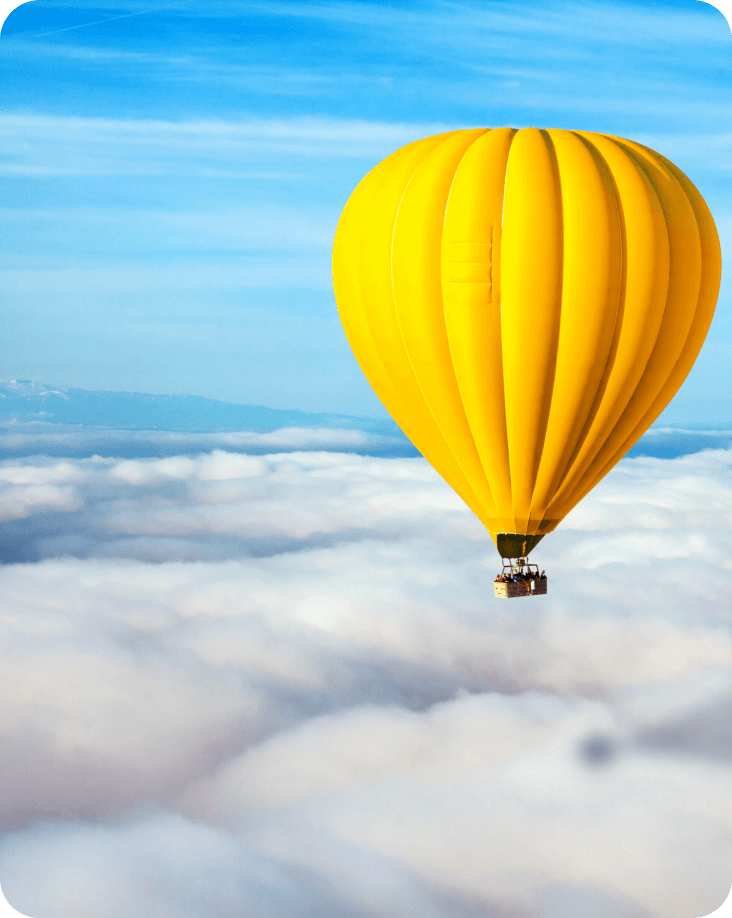 Get in touch with Сloudfresh