Notify your coworkers of your vacation plans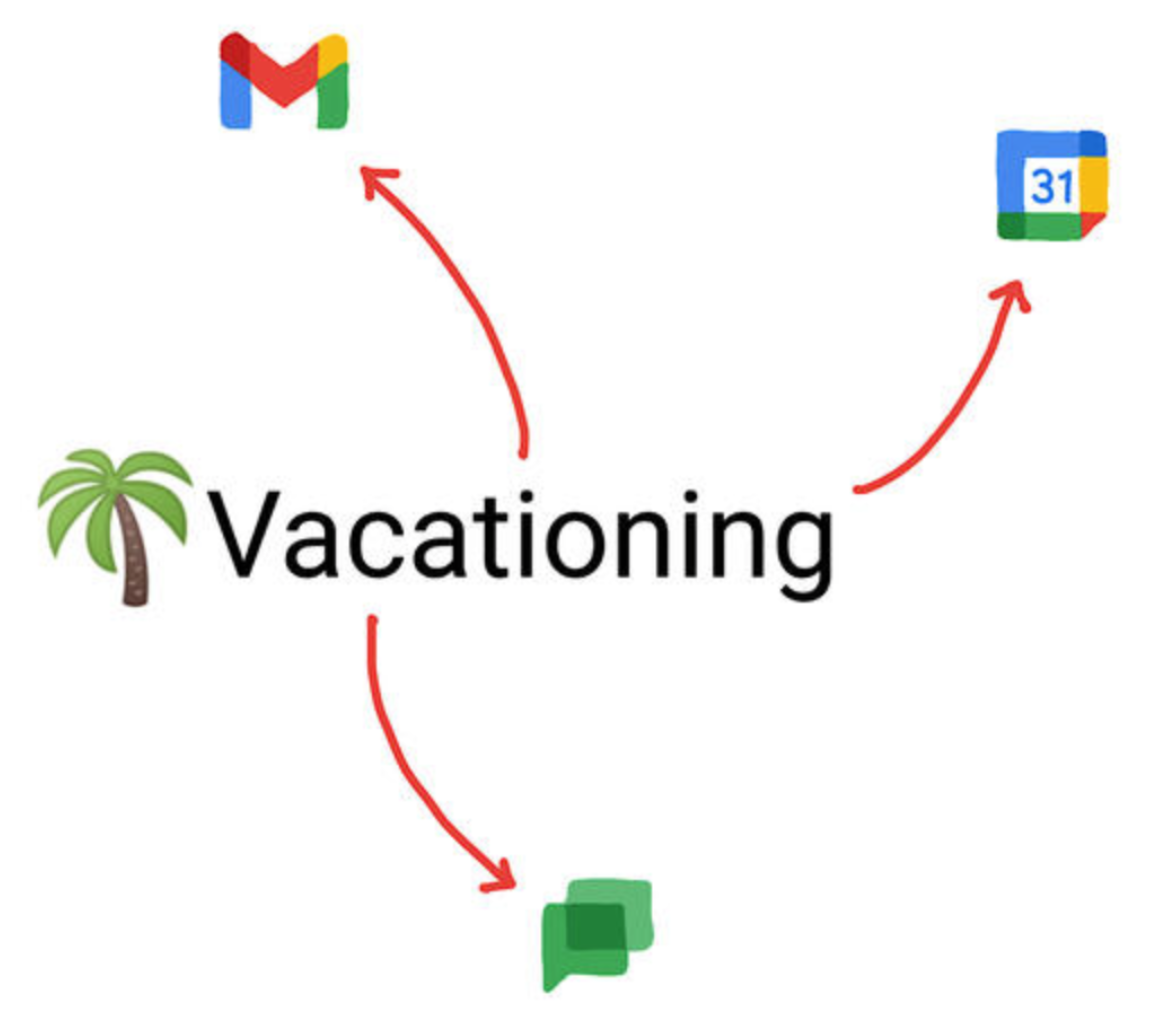 Google offers three ways to let your coworkers at work know that you're going on vacation. To do this, you can use just three apps that you can set up for a specific status. Figure out for yourself which app you use most often and edit its settings so that your location or status can tell them that you're out of work mode.
You can specify when you go on vacation using three apps – Gmail, Google Chat, and with Google Calendar. To use any of these apps, first make sure you're logged into your Google Workspace account. If you're just planning a vacation, we recommend setting up in Gmail or Google Calendar, as Google Chat sets up its update at the time of setup. 
Plan your vacation with Google Calendar 
The first way to set the date of the vacation is through Google Calendar. Now we will describe the detailed instructions on how to do it via PC or cell phone. 
Open Google Calendar in a new tab or on your phone in the Google Calendar app. 

Press + to add a new event. 

Select the "Out of office" event.

Enter a name for the event. It can be something like "On vacation" or just "Out of the office". 

Specify the dates of the vacation. An important detail – you need to check the "All Day" setting. Then you will be able to specify not only the hours of employment, but also several days at once. 

Once you set this as an event, all other events at the time of your vacation will be automatically canceled.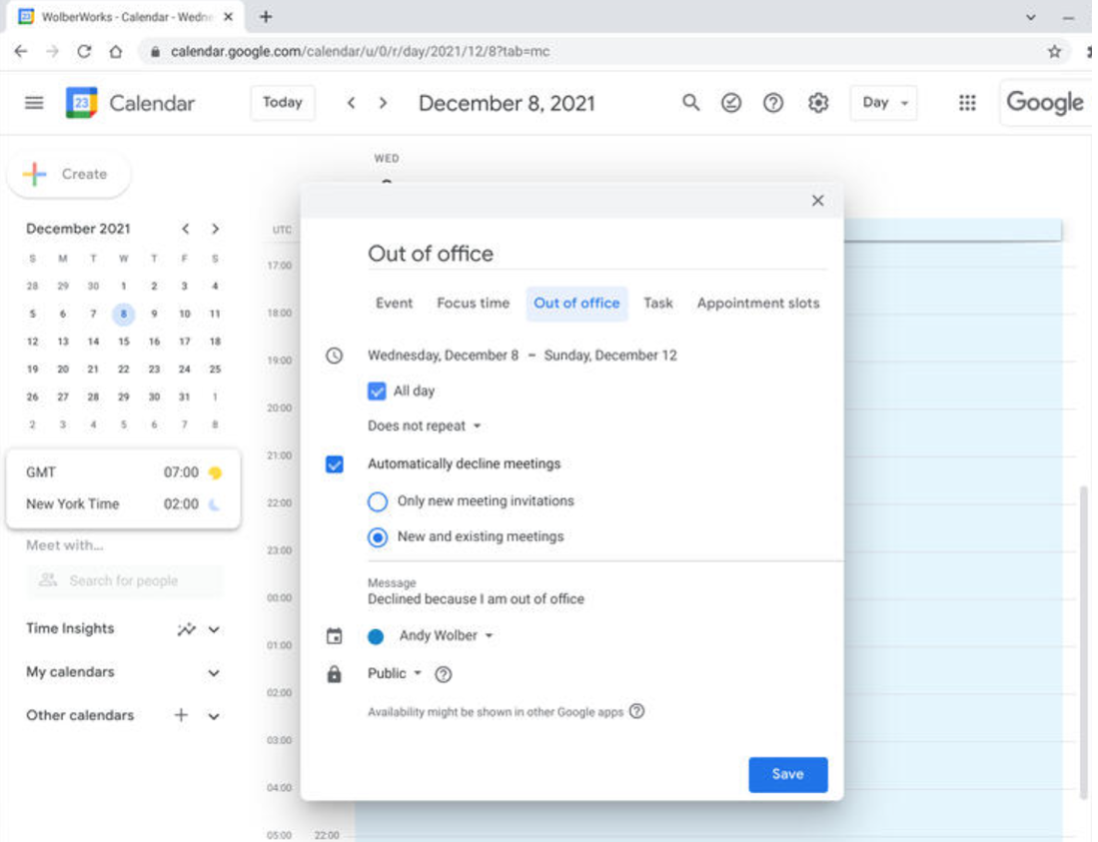 6. You can change the message that will be displayed to your colleagues if they want to send you a message. In the case that  you do not enter any text, "I'm not available" will automatically pop up. 
7. Remember to save your changes so that they appear in your calendar. 
How to set vacation dates via Gmail
You can also set up a reply to work emails in Gmail. After someone sends you a message via email, they'll be able to see a response in the form of a pre-set message. We will now tell you how to configure and set up this prepared message.
Open the Gmail platform. 

Click the settings option in the upper right corner in the form of a gear and then select "All settings".

In the General tab, go down to the bottom of the Vacation responder section. 

Set the dates for which you want your responder to work. 

Select the subject and context that will be in the email to be sent. 

Once you've set the Vacation text, Google will send it out to anyone who decides to email you. But note that we recommend that you check the "Send to people from my organization" or "To people from my contacts" box. This will help you to avoid telling people that you're on vacation for every email from the mailing list.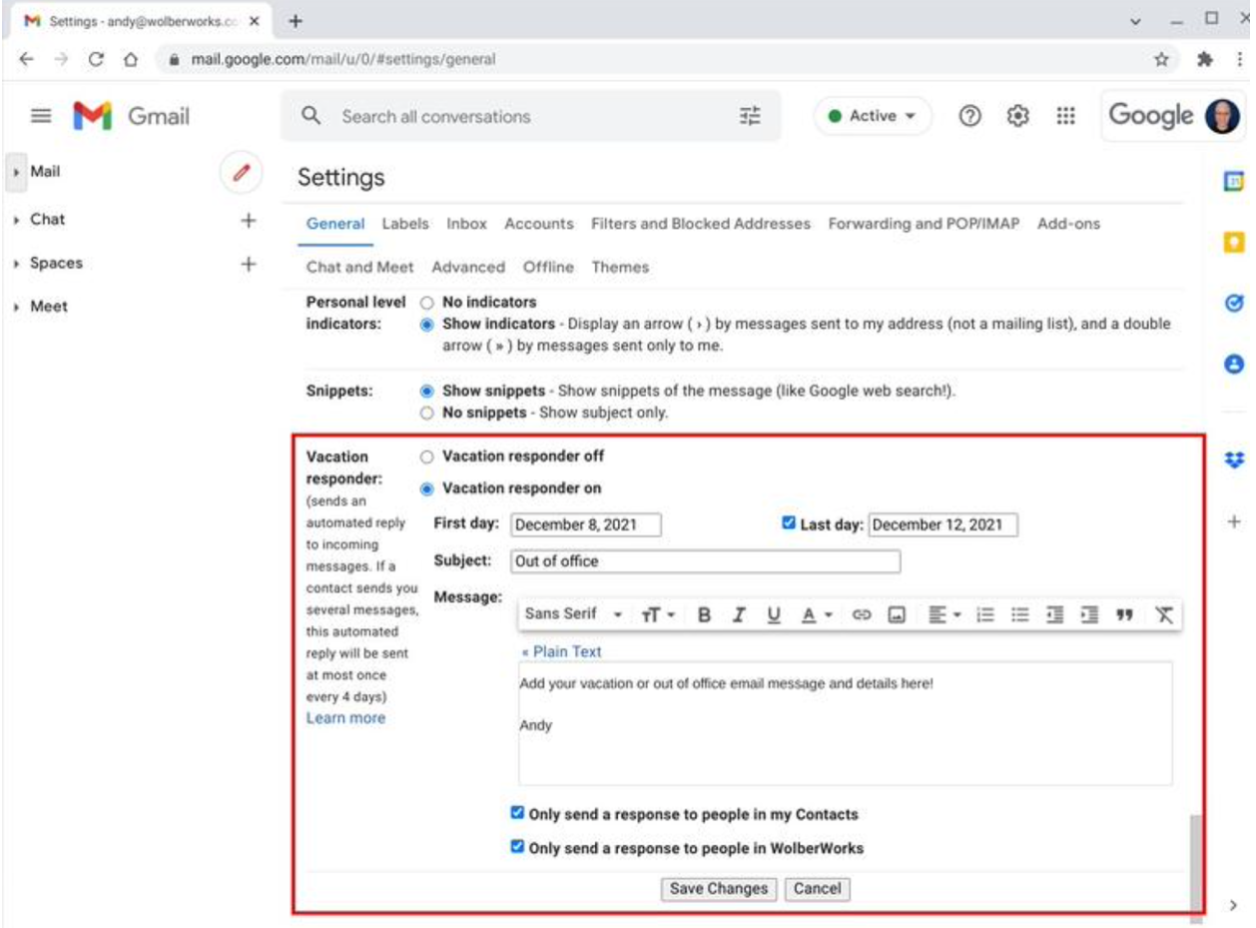 In order to set up such a responder on your mobile device, you need to tap the three horizontal lines in the Gmail app to go to settings. There you need to go to your account and click on "Vacation Responders. This looks like the following: 
Vacation status for Google Chat 
The last thing you can do is to set a status in Google Chat. Do it last, because the  Chat status starts working immediately after installation. To do this, you need to complete the following steps: 
In the upper right corner, set your status. You can select several functions at once, one of which is on vacation. 

Select the date and time when you plan to be available again and then click "Set". Your vacation status will be removed at the date and time you specify.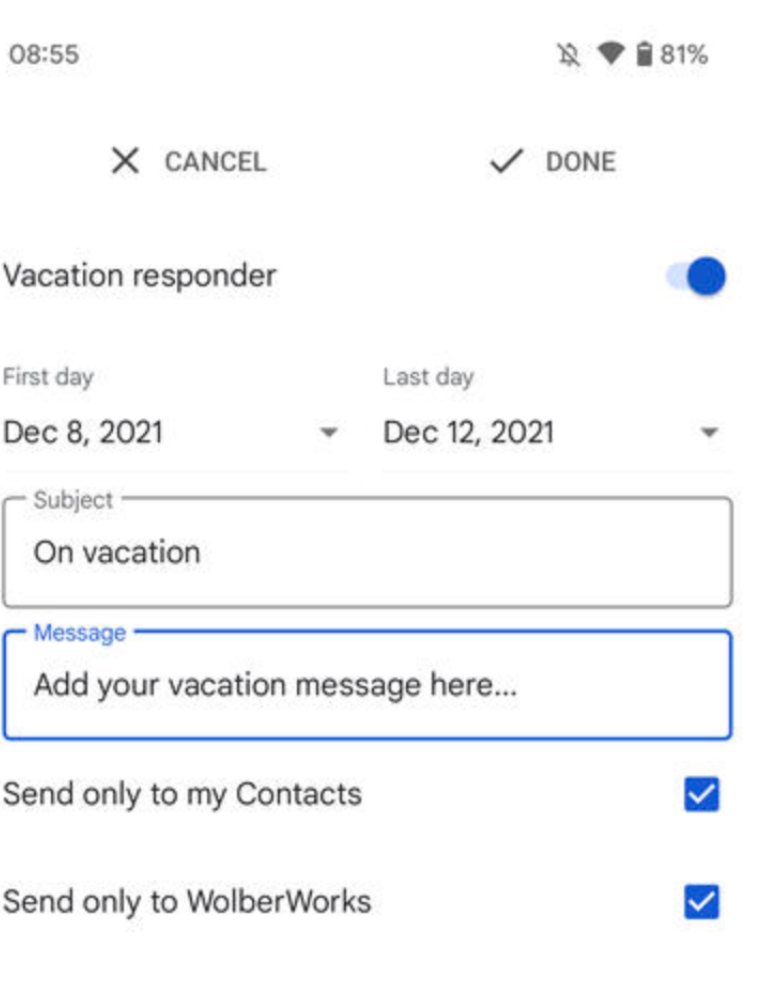 To set this status through your phone, you need to download the Gmail or Google Chat app. 
Being able to set your vacation status on your calendar or work email makes communicating with coworkers a lot easier. So it's a good idea to give this feature a try as soon as you have a vacation planned. If you still haven't figured out how to do it, then go ahead and  get help from the experts at Cloudfresh. The Cloudfresh team is a unique center of expertise for Google Cloud, Zendesk, and Asana. For these products, we can provide you with the following services: 
Customization;

Development;

Integration;

Training;

License;

Support.
Our specialists will help you optimize your IT infrastructure, develop integrations for better system interoperability, and help create completely new structures and processes for your teams, while our support center will provide you with the best customer experience!