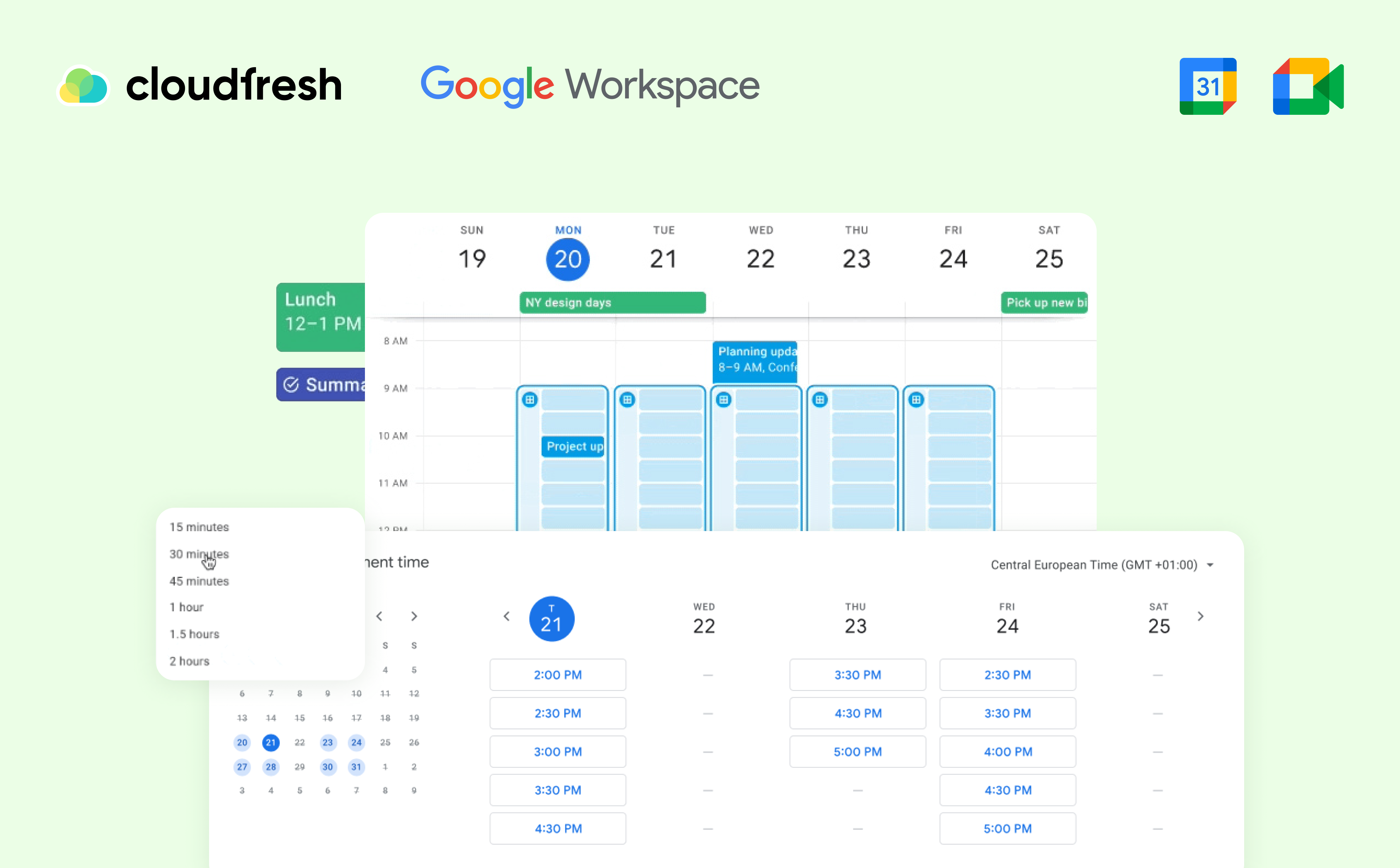 While scheduling with Google Calendar, how often did you worry that the timing could be more convenient for your guest? And how many messages do you send to be sure that the time slot and the meeting duration are great for your participants? We suspect that with your answer, some large number will come up. If yes, we have some excellent news for you.
Google Workspace (further, GWS) made an appointment scheduling feature available for most of its plans. From now, you can avoid trying to gather the person's availability and save the hours in the work month spent on unnecessary communication. So, you can forget about Calendly, Acuity Scheduling, or Bookafy if you are a GWS user. Everything that you need is built-in Google Calendar without extra required costs.
In this blog, we would like to plunge into appointment scheduling in detail, figure out which users are eligible for this functionality, how to set it up in the Google Calendar, what essential benefits you will get, and when to use the old appointment slots functionality.
Google Calendar appointments scheduling
From June 2021, the online appointment scheduling in Google Calendar was available only for individual GWS users. It's an outstanding possibility to share your availability via the professional booking page, most importantly available for your clients, partners, and external stakeholders just with an email address. Whether they have a Google account or not, they can choose a convenient slot depending on their preferred time and workload.
Starting from March 2023, this functionality has become a part of the selected GWS licenses such as Business and Enterprise (except for Business Starter), EDU, and Nonprofits customers.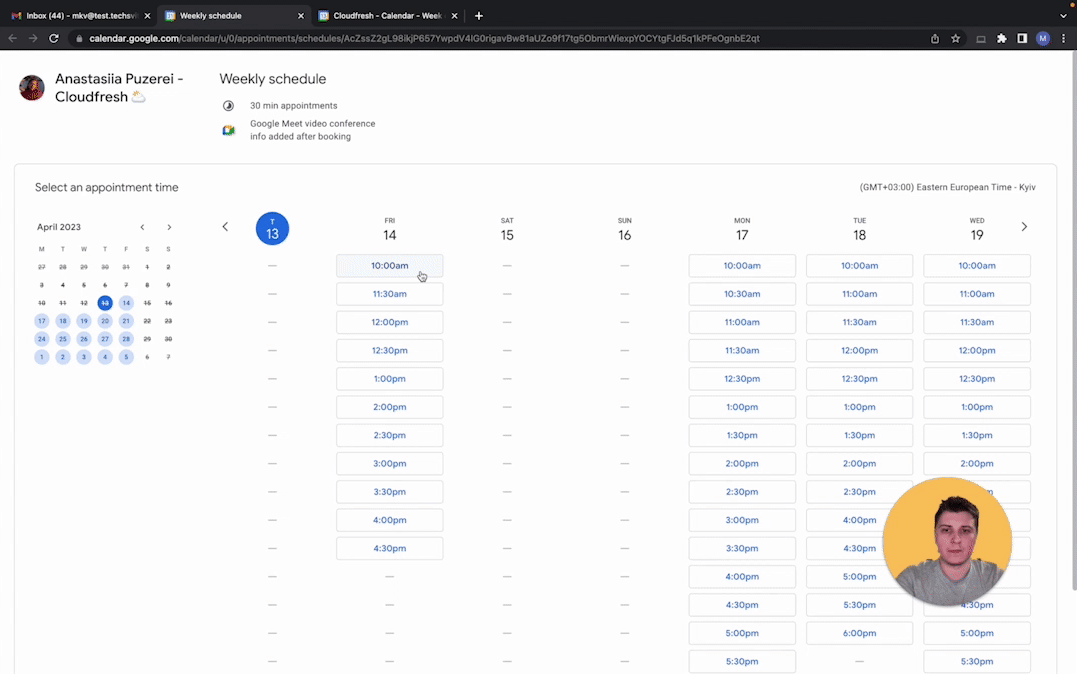 How to set up the appointment scheduling?
Activating appointments schedule is an easy-to-follow and intuitive process. Let's see how it can be done.
Firstly, go to your Google Calendar, select any time slot, or click the Plus button. Here, you need to choose "Appointment schedule" and give it a name.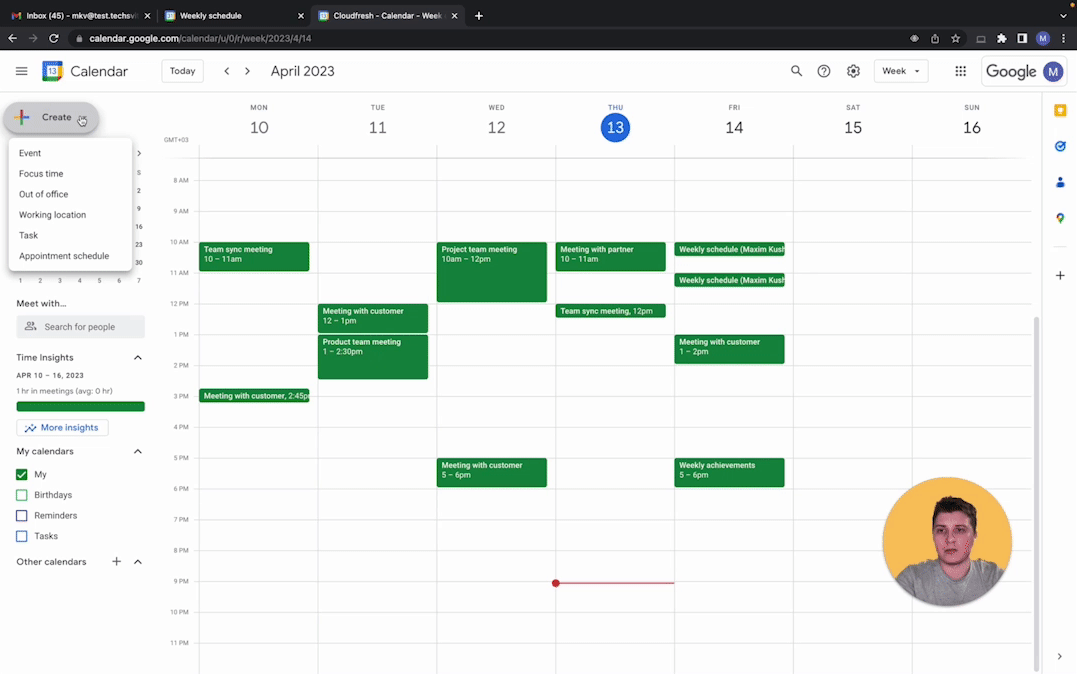 Then, follow the next steps: 
1. Сhoose for how long you want your meeting to continue. Remember that the minimum amount is 15 minutes.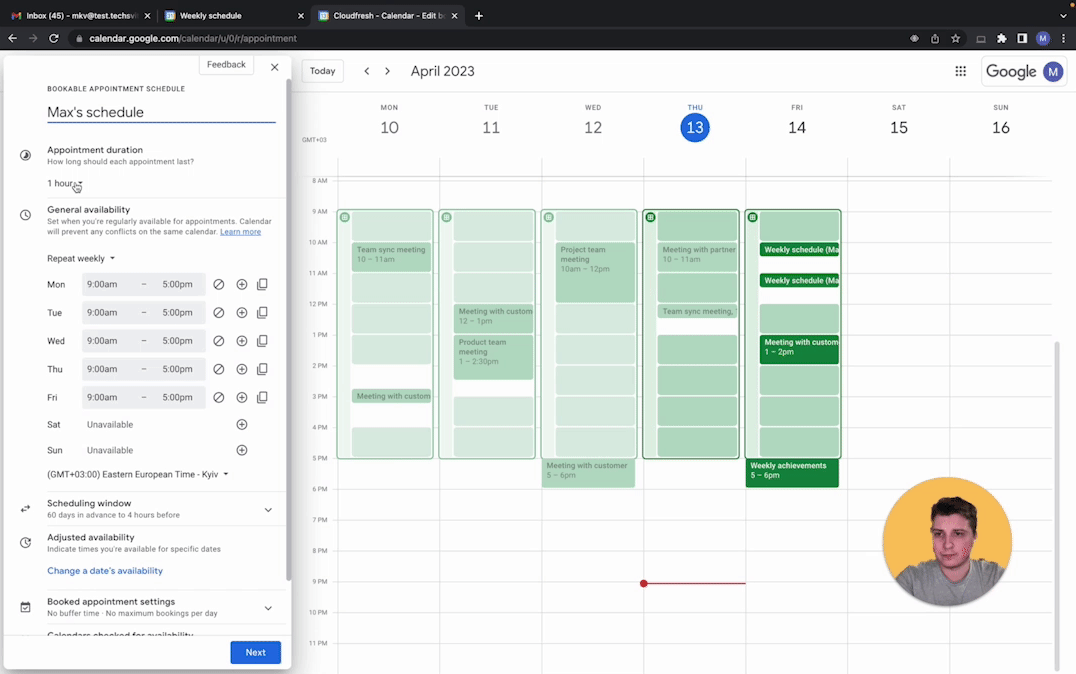 2. Set up your work time, or at the time interval, you can participate in the meeting during the day.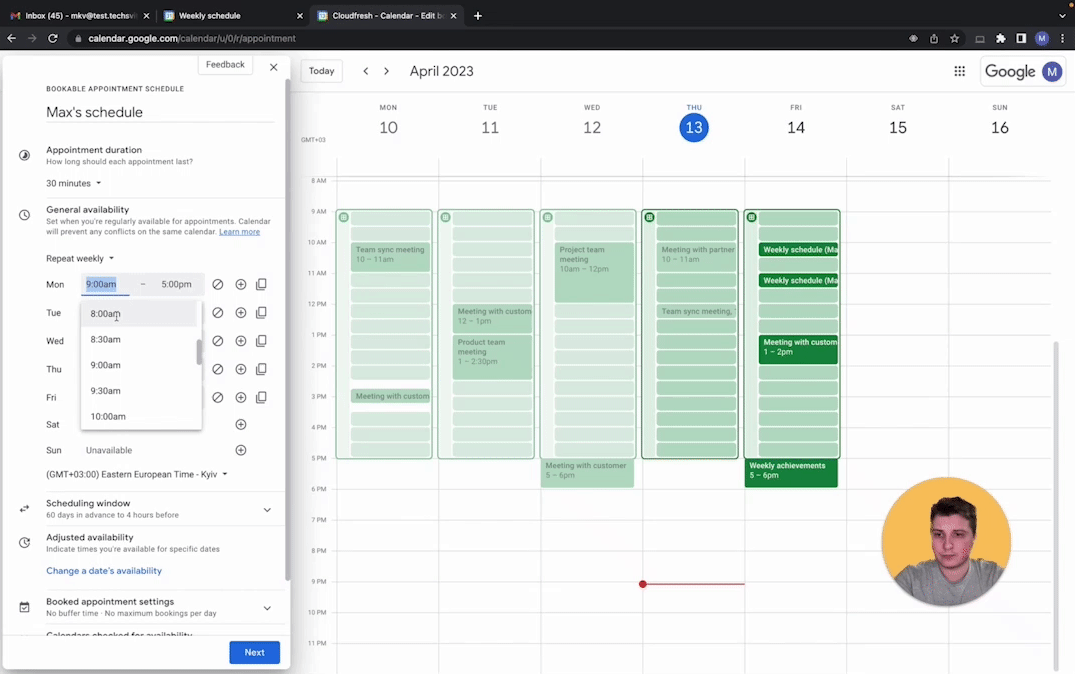 3. Select the availability of your work schedule. Here you should decide how long before the meeting someone can make an appointment with you and how many days in advance somebody can book your time
4. Click on the "Next button."
5. Select where to hold meetings in the location and conference section. If you choose Google Meet, the link to the virtual meeting will be automatically created. But you can also choose Zoom integration or offline meeting.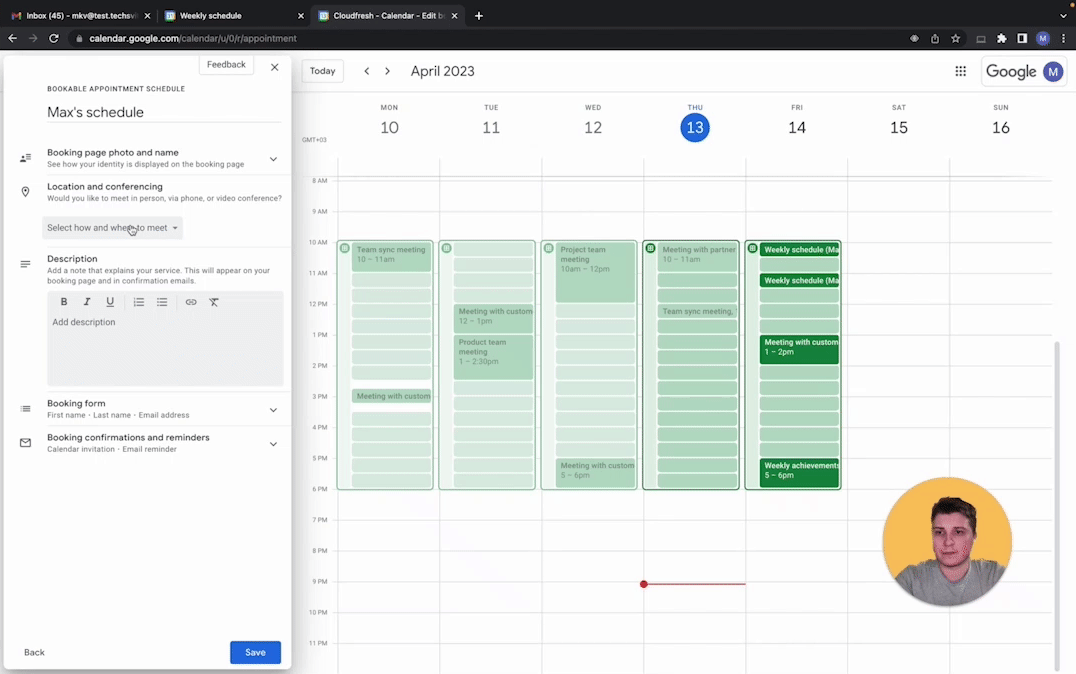 6. As a last step, you can personalize your Calendar: add a required field and description or set up notifications.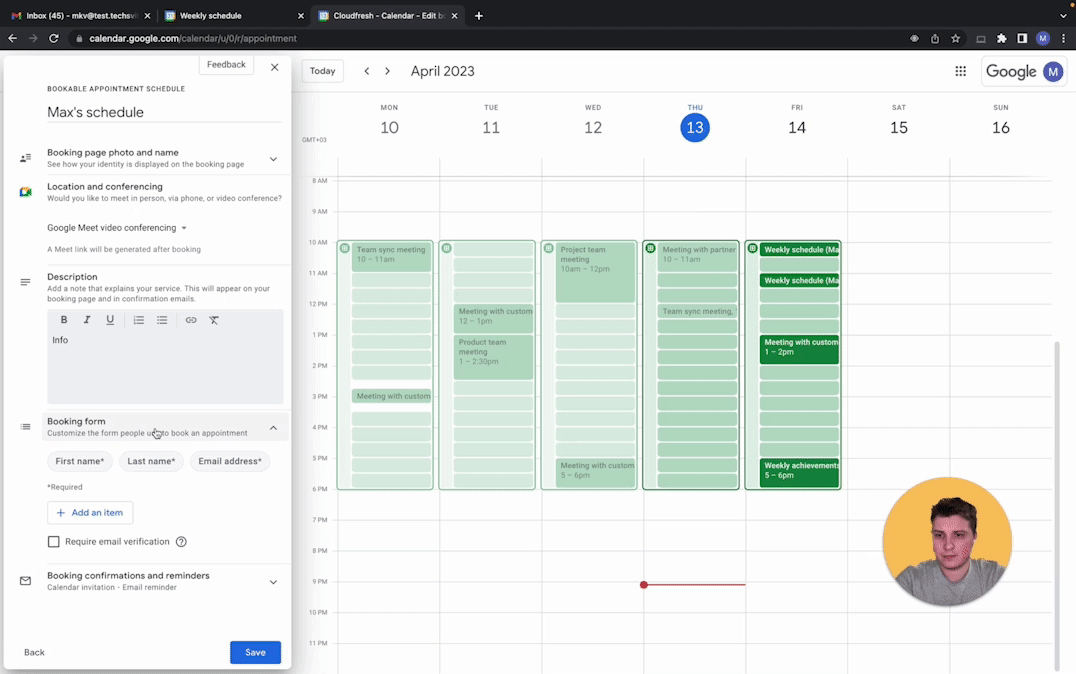 7. Finally, click on the Save button, and here it is.
One of the other crucial steps in starting to work with the appointment schedule would be adding this function to your email signature. For this, you should do the following:
Once you have created your booking page, click the share button and copy the link.
2. Go to Gmail-> Settings -> All settings -> Scroll to the bottom and find the signature item.
3. Write the text, for example, "Book a meeting with me," and paste the link we copied earlier.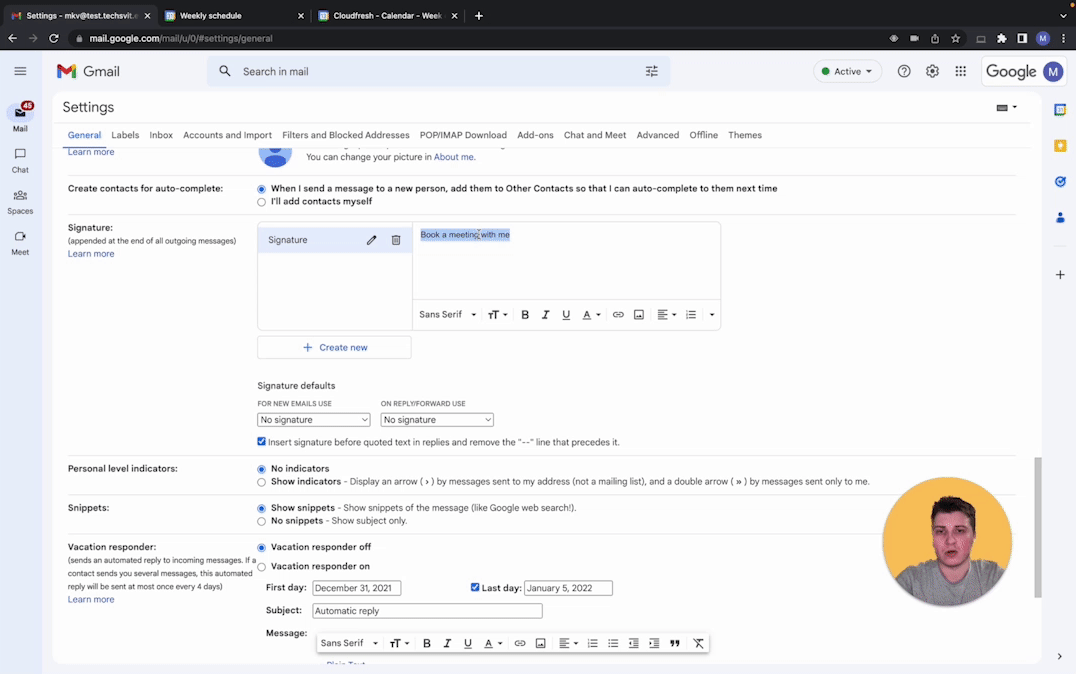 4. Remember to click on the save button.
Voilà, from now you are an owner of a professional booking page, and everyone, even from outside of your company, can book a meeting with you according to your input.
What are the essential benefits of this feature?
Being easy to set up and convenient to use, scheduling appointments with Google Calendar has some more advantages. Let's see what you can benefit from using this feature.
1. All you need to book an appointment is a valid email address.
Compared with the previous way to schedule meetings with Google Calendar – the appointment slots, anyone outside the company can book a meeting with you from now without a Google account which is more convenient for clients or partners who are not current Google Workspace users.
2. Automatic sync with your Google Calendar to prevent meeting overlap
You can still arrange some meetings directly in Google Calendar with appointment slots with your coworkers. The changes from your booking page will dynamically visualize in your Calendar, and you can eliminate any overlapping meetings.
3. Booking confirmation and emails
Once you get a booking, you will get email notifications. Moreover, the person who arranges a meeting with you will also get an email reminder before the meeting.
4. Faster meeting appointments and less time-consuming communication
The appointments could be made in one click and accessed directly from the emails. You save time and eliminate useless communication before the meeting with your external stakeholders so that you can concentrate more on strategic and other expertise work than meeting scheduling.
5. Highly customizable appointment availability
As an owner of your booking page, you create rules for how people interact with your time availability. The appointment scheduling enables users with highly customizable options:
You can set the minimum time for which someone can make an appointment.
You can limit the maximum number of meetings per day.
You can customize your appointment window.
You can add custom time between appointments.
You can collect information about people who booked the appointments via the particular booking form.
When to use Google Calendar appointment slots?
And what to do with the old function appointment slots? Do you have to forget about it? Well, no. Sometimes, scheduling a meeting directly via Google Calendar using slots remains more convenient than through the professional booking page. What are they?
If you want to arrange a meeting and know who your meeting guests should be, you can create an event in Google Calendar and simultaneously invite each participant. Whereas with appointment scheduling, you can add additional team members manually to your meeting only when someone books an appointment.
You can not set up appointments on the secondary, team, or coworker's Calendar you manage with appointment scheduling; you should also use the slots.
Via appointment scheduling, it's impossible to pre-reserve a particular conference room; you can only add a meeting room to the already booked appointment. Setting up an appointment using slots here is also more convenient.
As we see, Google Calendar is an easy-to-use, intuitive tool for the most productive meeting experience for GWS's users that regularly enriches them with new features. However, these functionalities are not mutually exclusive, and you can continue using each depending on the case. Google Meet also goes far beyond its traditional functionalities. Discover via this link how we use this solution as a perfect tool to hold our webinar.
As Google Cloud Premium Partner, we will help you to configure the most suitable plan, provide training for your administrators, grow your adoption of Google Workspace services, implement solutions into your business operations, and enable you with advanced support on each stage of your cloud transformation.
If you want to learn more about new functionalities, their eligibility, and how to work with them, don't hesitate to contact our team.
Empower your workflows' productivity with the advanced Google Workspace functionalities, and benefit from the fresh updates to build seamless collaboration!