If you don't already know, Jamboard is a new interactive whiteboard developed by Google. It is built on the idea of maximum cooperation and the principles of joint work. We've compiled a list of six ways to improve meetings using Google Jamboard in three main areas: connection, collaboration, and productivity.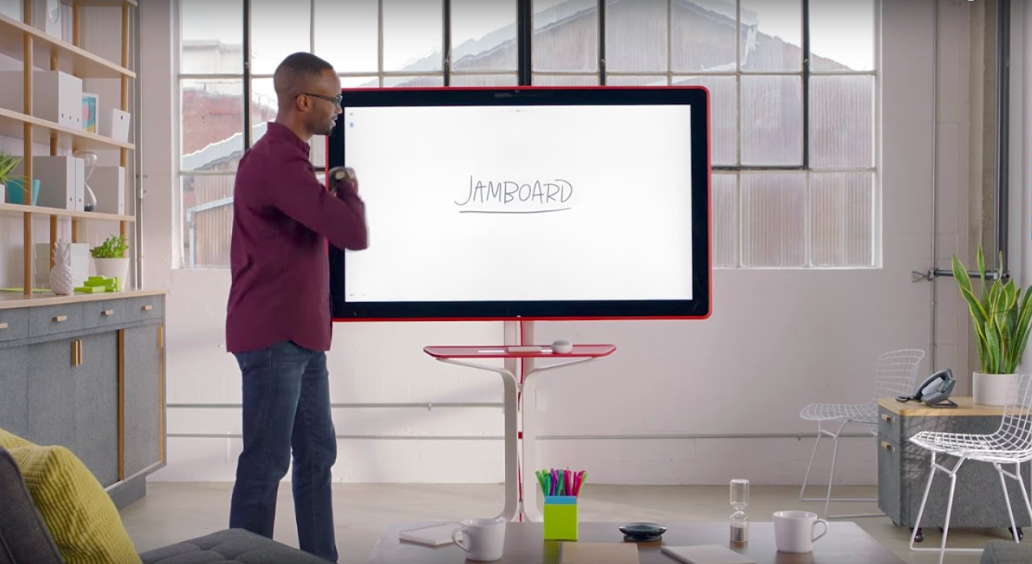 1. Integration with Hangouts Meet
Google Jamboard integrates with Hangouts Meet so you can interact and work with anyone, no matter where they are. The Jamboard is equipped with a wide-angle camera, a built-in microphone, and loud dual speakers for high-quality calls.
Google also recently announced that Google Workspace (ex. G Suite) users who set up Hangouts Meet will be able to add up to 50 users simultaneously on a single conference call, allowing even more participants to join the discussion.
2. Facilitate brainstorming from any device
Have you ever sat in a meeting with a brilliant idea but couldn't express it because the topic was already off the agenda? Or did you attend a meeting remotely and feel it was difficult to express your thoughts because you didn't want to interrupt the flow of the meeting?
You can now express yourself on the board using the Jamboard app. Your ideas will be added to the Jamboard Idea Email in real-time.
To do this, download the application from the AppStore or Play Market on mobile devices, tablets, or desktop computers.
3. Part of Google Workspace (ex. G Suite) Family
Google Jamboard is a new tool in the Google Workspace (ex. G Suite) family, which means you can sync your boards with presentations, documents, spreadsheets, and Google Drive. You can also save your jams to Google Drive to quickly refresh your memory by reviewing notes from previous meetings.
4. Up to 16 simultaneous touch points
Jamboard perceives up to 16 points of contact at the same time. The 55-inch screen allows it! Come up with ideas together with the team together on one gadget.
5. Search the web from your Google board
You do not need a phone or laptop nearby to find the information you need. You can search directly from the Jamboard and save the information you need to the board you're working on.
You can also pin a part of a web page and save it to disk or use images from the Google database, which are not protected by copyright and are entirely available to visualize your thoughts.
6. Record your appointments
As mentioned above, Google has announced an increase in its Hangouts video rooms. At the same time, two more exciting features await us – the ability to record meetings and save them to Google Drive and participate as viewers. You can join the session from any device, regardless of the geographic location at the time of the call.
We have been to several meetings where a colleague would take time off from work to attend a meeting where only a few minutes mattered to him. This is what an outdated and unproductive approach to organizing meetings looks like. Updates to Google Meet that allow you to record meetings and integration with Jamboard will help you save a lot of time on discussions and generating creative ideas.
Conclusion
Virtually every step of the interaction can be enhanced with an interactive Jamboard that is fully competitive in the Market. However, we still use sticky notes and whiteboards for work. Meetings are a time of co-creation and innovation, but why are such outdated and inefficient methods used for such valuable activities?
Glassdoor recently named Google the best place to work in the UK. Not only is Google gaining this recognition because of the many benefits for employees, but employees also appreciate the technology-based way of working together, which is much more efficient and productive than most companies.
Want to bring your meetings to the next level? Learn more about the Google Meet hardware license.