Zendesk
03.11.2023
Zendesk vs Salesforce: Which Fits Your Organization best?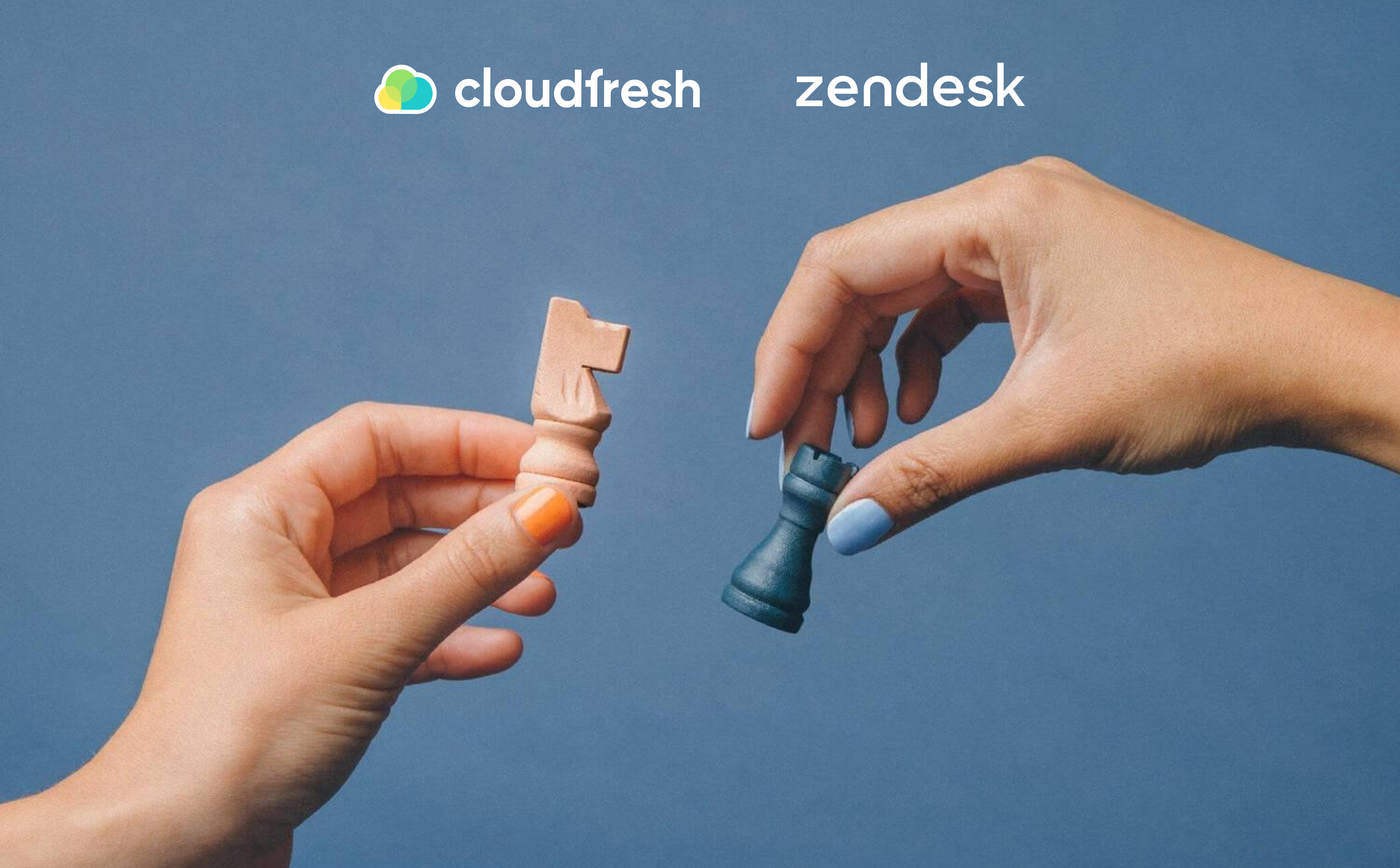 Zendesk and Salesforce are two of the biggest industry leaders in offering customer support in the market. Both platforms provide everything you need to ensure a high-quality customer experience, but don't forget that our initial goal is not only to entice customers, but also to retain them for future deals. That's why we decided to find out which service cloud data is better and which one is right for your growing business.
Zendesk is driven by simplicity, ease of use, and customer focus. Salesforce envisions a comprehensive customer ecosystem. Understanding their core ethos provides key insights for selecting your ideal platform. Answering the question of who is better is not easy. It's not like answering the question of what is better, Fanta or Coca-Cola. It's a matter of taste, but in our discussion, we need to consider several factors at once.
So before writing this material, we studied various reputable sources, interviewed those who themselves have used both platforms and came to our own conclusion. Now, let's figure out which of the tools is more suitable for high-quality work with clients.
Zendesk Philosophy
Zendesk believes customer service software should eliminate friction. Its design principles center on:
Simplicity – The interface and workflows aim to be intuitive, with minimal learning needed. Agents can quickly locate tools.
User-friendliness – The platform is purpose-built to make agents' jobs easier, not impose new hurdles.
Customer-centricity – Customer needs and convenience remain front and center in all aspects of the product.
These philosophies manifest through capabilities like simplified ticket management, automation to reduce repetitive tasks and omnichannel support. Zendesk strives to let service teams provide magical experiences.
Salesforce's Vision
While Zendesk's core focus is customer service, Salesforce aims to support the entire customer lifecycle, from marketing and sales to customer success. Salesforce aspires to be an:
Integrated Ecosystem – Unlike point solutions, Salesforce combines sales, service, marketing, commerce and more on one platform.
Intelligence Engine – With artificial intelligence and predictive analytics, Salesforce derives insights across customer interactions.
Innovation Driver – Regular major releases rapidly expand platform capabilities to new areas.
Partner Marketplace – Third-party apps and integrated technologies augment Salesforce's expanding features.
This ambitious vision seeks to make Salesforce essential for managing ongoing customer relationships and business growth.
The User Experience
Ease of use is where the two philosophies diverge. Zendesk prioritizes agent productivity and simplicity:
Clean, intuitive interface allowing agents to quickly find what they need
Support channels like email, chat, and self-service are organized conveniently
Low learning curve gets new agents productive faster
Salesforce enables vast customization and cross-team processes – but increased complexity can impact user-friendliness:
Highly customizable but layered menus and many configuration options
Steeper learning curve, especially for non-technical users
Significant ramp-up time needed to unlock full capabilities
For quick agent onboarding and platform adoption, Zendesk's simplicity shines. Salesforce offers greater tailoring potential once mastered.
Key Zendesk and Salesforce features
To determine which customer service software is best for your needs, it's helpful to compare Zendesk and Salesforce Service Cloud.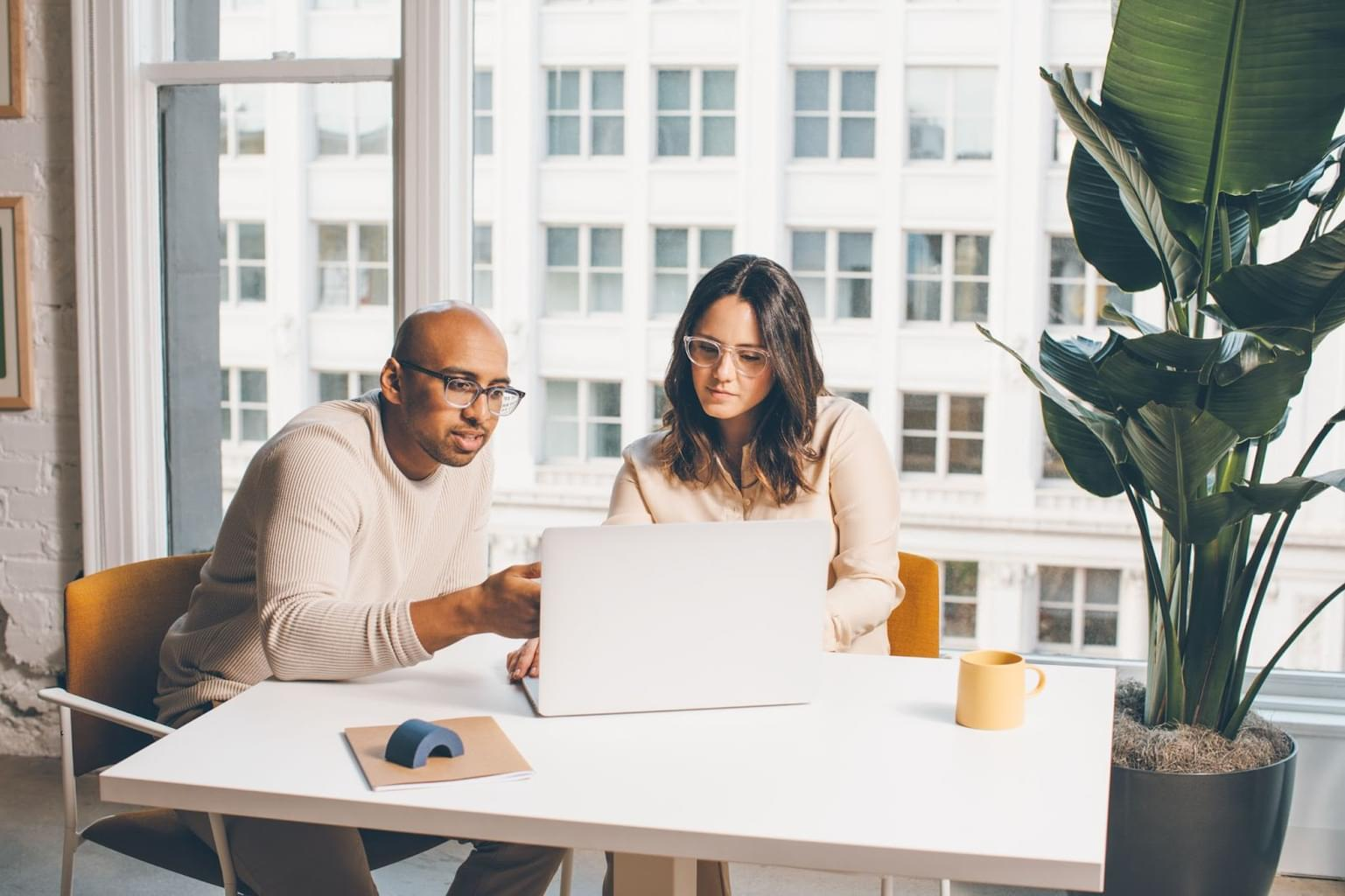 Zendesk is a leading customer service and engagement platform. It provides ticketing, help desk, and customer support tools for managing customer queries and requests. Zendesk offers omni-channel support, knowledge base, community forums, analytics, and robust customization.
Salesforce Service Cloud is a complete CRM and customer service solution. It includes case/ticket management, knowledge base, communities, live chat, call center capabilities, and more. Service Cloud is deeply integrated with the broader Salesforce platform.
As you may have already noticed, both systems are very similar to each other and yet have some differences. To better understand how the two systems differ, you need to move to the technical level and look at the two platforms in terms of functionality.
Salesforce vs Zendesk: Feature Face-Off
Zendesk and Salesforce Service Cloud provide extensive features with differing areas of focus:
Customer Support
Zendesk
Omnichannel – Email, live chat, talk, social, self-service
Advanced ticketing – Automation, SLAs, macros, views
Knowledge base and community forums
Salesforce Service Cloud
Cases for support tickets
Knowledge base for self-service
LiveAgent for real-time chat
Call center capabilities
Verdict: Zendesk has more specialized features tailored for dedicated customer support teams.
Sales Automation
Zendesk
Light lead capture and sales tools
CRM integration to bring data into Zendesk
Recently launched native CRM (Zendesk Sell)
Salesforce Service Cloud
Leads, opportunities, and pipeline management
Account history and contact management
Forecasting, productivity tools
Native CRM capabilities
Verdict: While Salesforce excels in full sales automation, Zendesk's primary focus is on enhancing customer service productivity.
Analytics and Reporting
Zendesk
200+ out-of-the-box reports
Customizable dashboards
Explore data tool
Salesforce Service Cloud
Custom reports designer
Einstein analytics and AI
Embedded dashboard designer
Verdict: Salesforce may have a strong advantage in smart analytics, but it's important to note that Zendesk offers robust and highly customizable reporting capabilities.
Zendesk pricing
Zendesk provides four main types of multiple products – Zendesk for service, Zendesk for sales, Sunshine platform and marketplace.
Zendesk Support – Omnichannel customer service platform with email, chat, talk, and self-service capabilities.
Zendesk Guide – Knowledge base and help center software for documentation, self-service, and community forums.
Zendesk Explore – Analytics tool to report on support metrics and customer data.
Zendesk Sell – Sales force automation and CRM including lead and deal tracking.
One of the main advantages of Zendesk is that agents can transparently see the entire history of customer interaction. There are unique tabs for each tool, making it easier for the agent to get used to the functionality.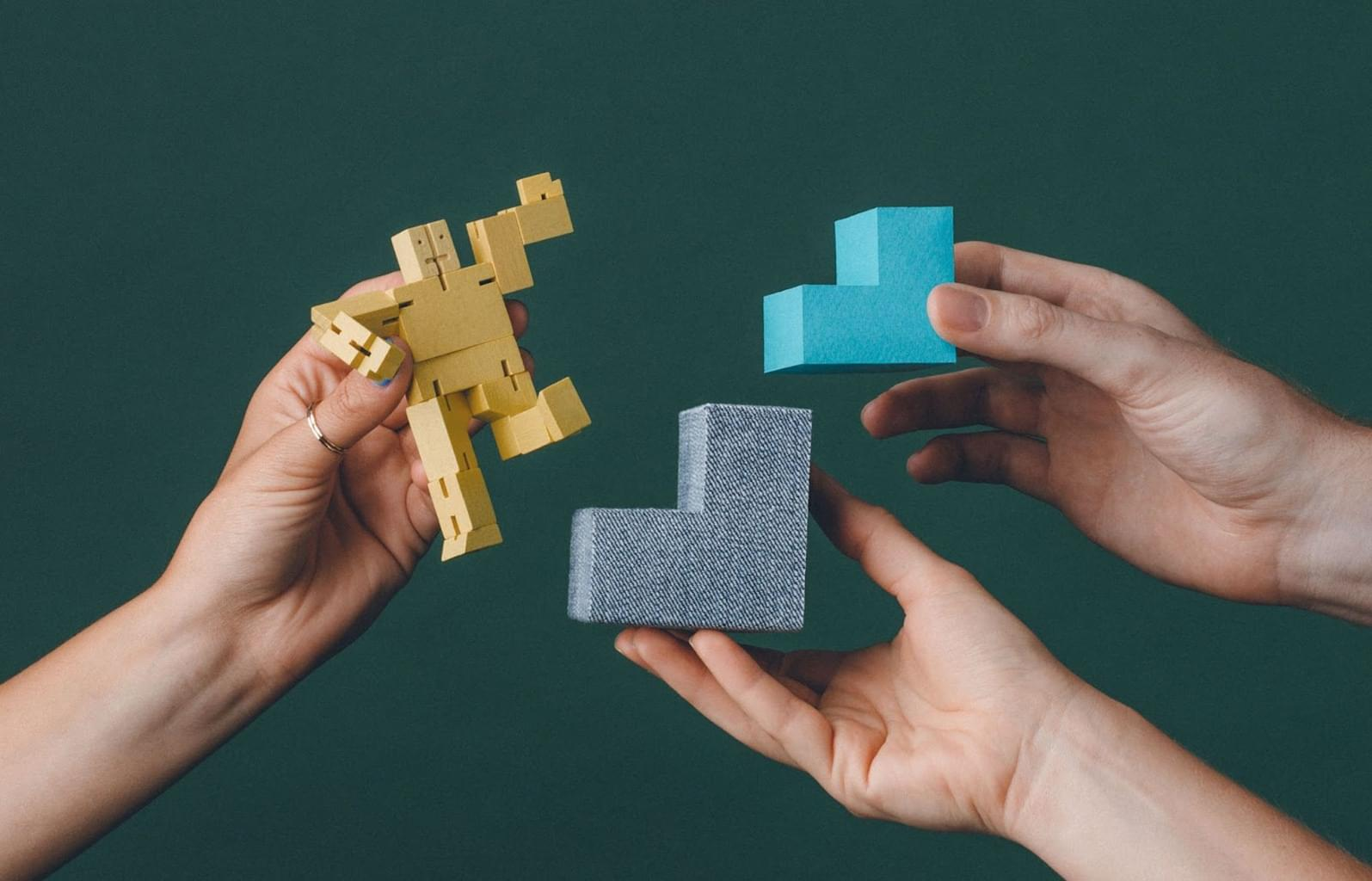 Zendesk pricing is based on the number of users and your needed features. Zendesk offers four pricing plans:
Suite Team: This plan is designed for small businesses with up to 5 users. It starts at $55 per user per month.
Suite Growth: This plan is designed for growing businesses with up to 100 users. It starts at $89 per user per month.
Suite Professional: This plan is designed for large businesses with over 100 users. It starts at $115 per user per month.
Suite Enterprise: This plan is designed for very large businesses with custom needs. It requires a custom quote.
Zendesk also offers an Advanced AI plan that adds several key features powered by artificial intelligence:
Answers Bot – AI-powered virtual agent for self-service
AI-powered topic modeling – understands customer needs
AI-powered intent and sentiment analysis – categorizes and tags customer interactions
AI-powered data enrichment – extracts and structures data from conversations
The Advanced AI plan builds on the Suite Enterprise level and is priced based on number of customer conversations per month. This provides advanced automation and insights beyond the core Zendesk capabilities.
Zendesk provides a 14-day free trial for all its products, allowing you to explore them before making a commitment to a paid plan.
It's worth saying that it won't be easy to choose a pricing plan for your business on your own, as each one is significantly different. That is why we advise you to seek help of Zendesk consultants from the Cloudfresh team, so that our experts can introduce you in detail and familiarize you with all the functionality.
Salesforce pricing
Salesforce Service Cloud has four basic plans: Essentials, Professional, Enterprise, and Unlimited. With Zendesk, you need to pay once a month but sign up for services a year in advance. Salesforce Service Cloud plans are billed annually, regardless of whether you pay monthly or annually.
Also, the Essentials plan already offers all the basic functionality.
Salesforce's pricing is based on the number of users and your needed features. Salesforce offers four pricing plans for each product:
Essentials: This plan is designed for small businesses with up to 10 users. It starts at $25 per user per month.
Professional: This plan is designed for growing businesses with up to 100 users. It starts at $105 per user per month.
Enterprise: This plan is designed for large businesses with over 100 users. It starts at $190 per user per month.
Unlimited: This plan is designed for very large businesses with custom needs. It requires a custom quote.
Salesforce also offers a free trial of all of its products, so you can try them out before you commit to a paid plan.
But a simple plan is not enough if you need to assign roles to your agents and fully manage the software solutions. In general, the pricing policy is slightly different from that of Zendesk. But to choose which plan is right for your business, again, it is better to consult with experts first.
Overall look and user-friendliness Zendesk vs Salesforce
After we've discussed the technical specifications, let's move on to the design of the platforms. Now, we will consider both platforms more from a usability point of view, because when a new employee comes to work at your company, you would definitely not want to spend weeks training him. The interface should be simple and intuitive.
This section of the article will not have a purely objective opinion, because "convenience" is subjective for most people. So in order for you to understand which tool Zendesk vs Salesforce, suits you better, we advise you to try both of them. Especially if you have the opportunity to try both of them for free.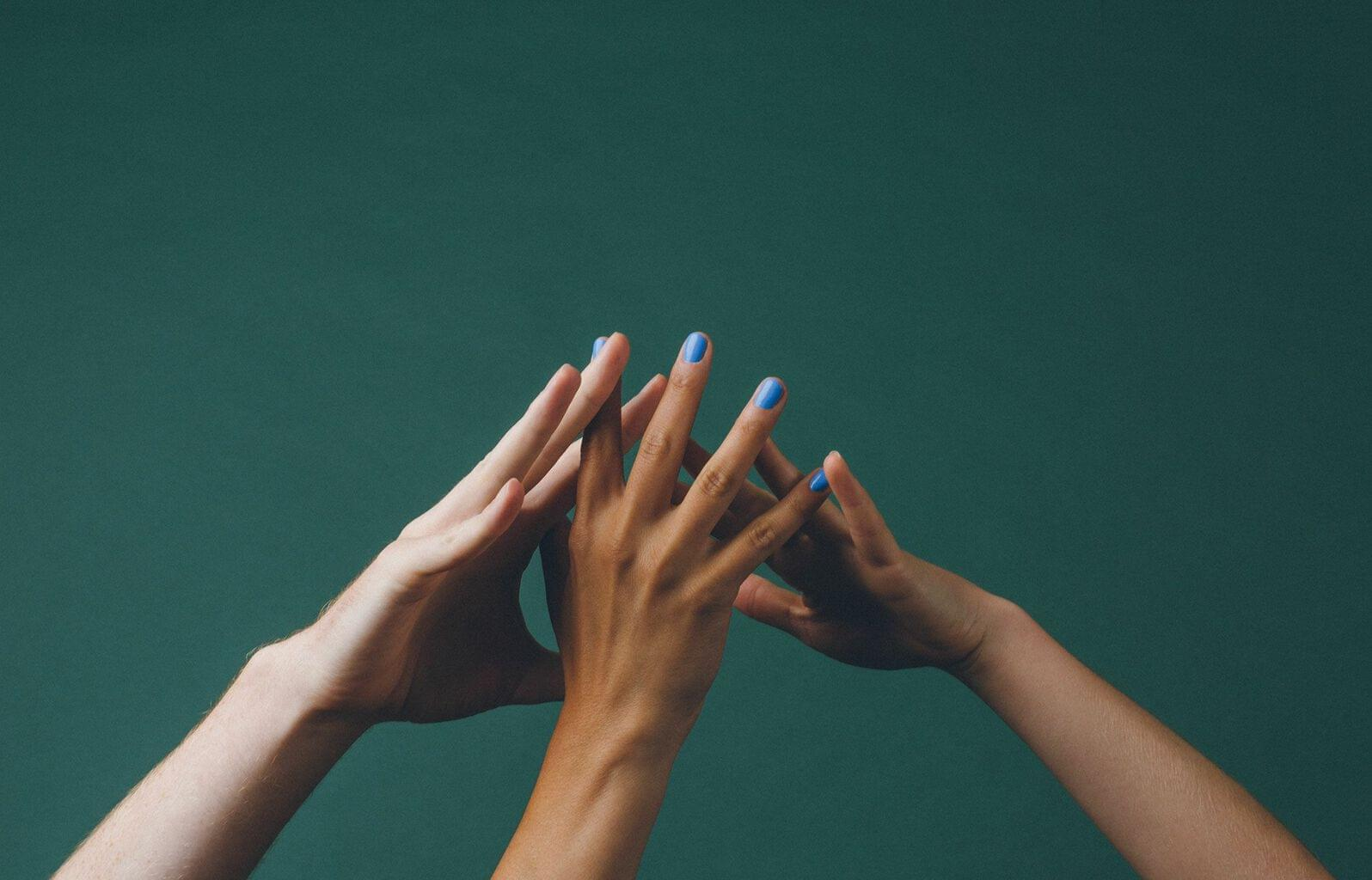 Zendesk
Zendesk is actually easy to use and implement. As mentioned earlier, there are separate sections for each tool on the site, which makes it much easier to find them.
Another consideration when starting to work with Zendesk is that you don't feel lost. Right away, when you first use the platform, you will probably know what to do.
The easiest and most convenient panel is the ticketing section. Since your agents will be working in this area, it looks as simple and uncluttered as possible. Also, to make it easier to start using Zendesk, the platform offers certain instructions that will get a novice user up to speed.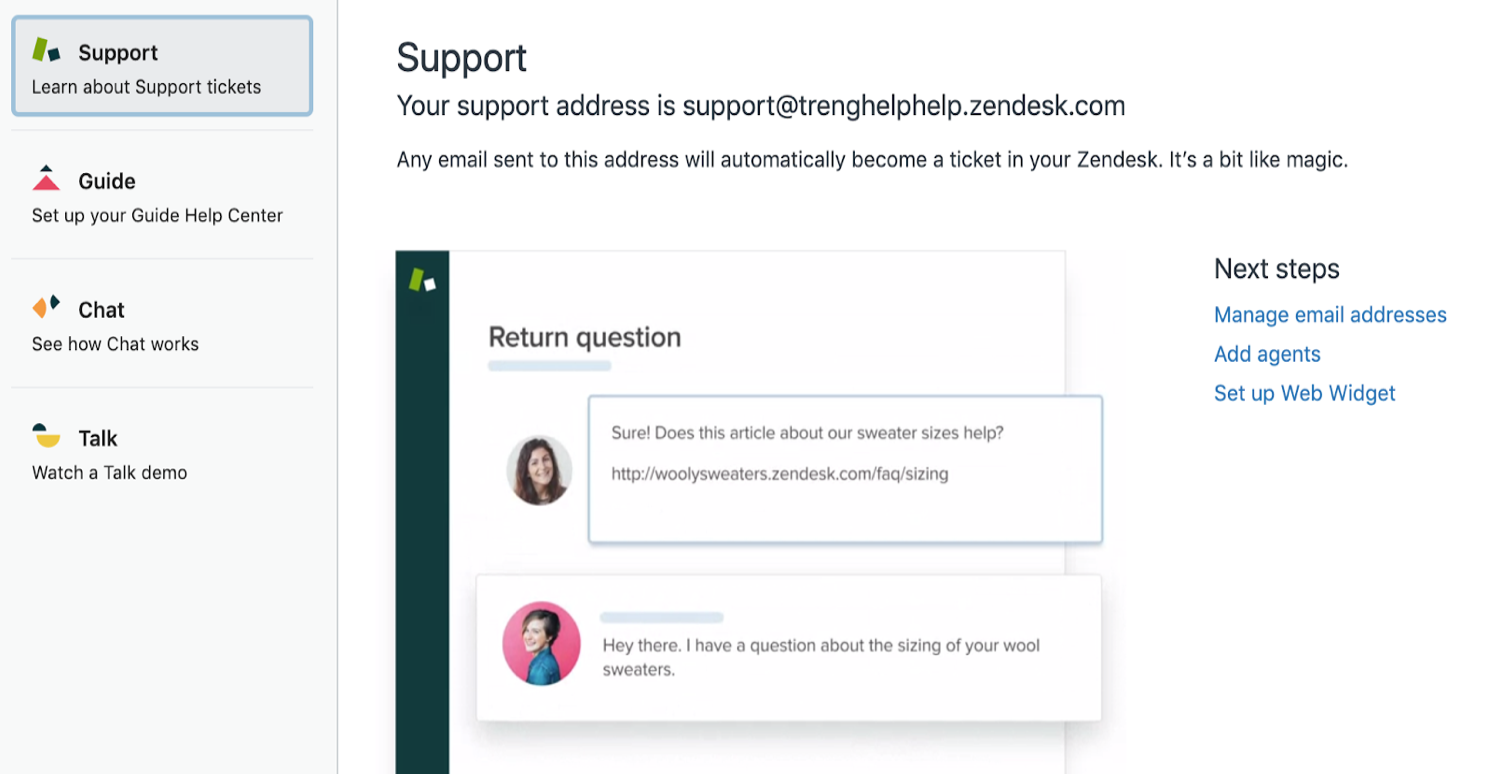 Salesforce
The initial experience with Salesforce Service Cloud features differs from Zendesk. Upon commencing usage of the platform, a proliferation of buttons and tabs presented itself. Consequently, the deduction is that the software exhibits some dated design aspects. The absence of a "Start" button on the main screen at the outset would have simplified matters. Regrettably, such a button was not present.
Certainly, one can allocate time to decipher the functionality, but is one prepared to invest an equivalent amount of time for each fresh employee joining your organization? A visual representation of the interface is attached below for reference.
While this functionality may appear convenient to many, our initial encounter with Salesforce primarily conveyed a sense of complexity. Should you opt to employ this platform, the assistance of a developer will assuredly be requisite.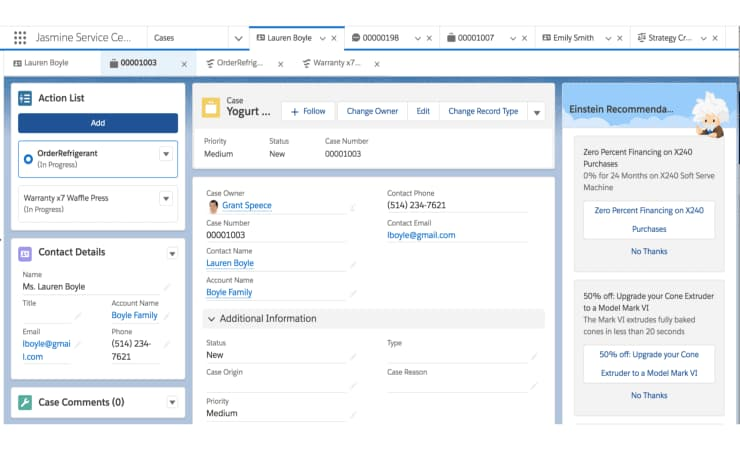 Zendesk and Salesforce AI features
Zendesk Support Suite and Salesforce Service Cloud both offer a variety of AI features to help customer support teams improve their efficiency and effectiveness. Here is a comparison of some of the key AI features offered by each platform:
Intelligent triage: Both Zendesk and Salesforce offer intelligent triage capabilities that can help teams to prioritize and route tickets to the right agents more efficiently.
Knowledge base recommendations: Both Zendesk and Salesforce offer knowledge base recommendations that can help agents to quickly and easily find the information they need to resolve customer issues.
Next-best action suggestions: Both Zendesk and Salesforce offer next-best action suggestions that can help agents to take the right next step to resolve customer issues more quickly and efficiently.
Predictive ticket routing: Both Zendesk and Salesforce offer predictive ticket routing capabilities that can help teams to route tickets to the right agents based on their expertise and availability.
Sentiment analysis: Both Zendesk and Salesforce offer sentiment analysis capabilities that can help teams to understand the sentiment of customer interactions.
Chatbots: Both Zendesk and Salesforce offer chatbots that can help teams to provide 24/7 customer support and automate repetitive tasks.
Case management AI: Both Zendesk and Salesforce offer case management AI capabilities that can help teams to improve the efficiency and effectiveness of their case management processes.
Zendesk and Salesforce Support
Now that we have evaluated the visual, technical, and price components of the two products, it remains to evaluate the platforms in terms of support team quality. Here, we must admit that both products can provide the best support and provide clients with a first-class productive customer communication experience.
The only nuance that shows Salesforce integration is not in the best light is the two-day response process, which can lead to significant inconvenience when working with the platform.
Zendesk Support and Community:
Robust knowledge base with setup guides, tips, and troubleshooting
Active community forums to connect with other users
Online and phone support with experienced customer service experts
Proactive monitoring to identify issues before customers
Customers praise Zendesk support for being highly responsive.
Salesforce Support and Community:
Trailhead online learning platform with extensive training resources
Vibrant Success Community forums with peer sharing
Multiple support tiers – web, chat, phone, premier for enterprises
Advisory services for complex deployments and growth
Customers highlight Salesforce's active community and breadth of self-service content.
Both providers offer sufficient training materials and responsive expert assistance. They earn strong customer satisfaction for enabling user success.
How to make a choice?
We suggest summarizing all of the above and weighing the pros and cons. In order to make sure you decide for yourself which support system suits your business best, we have compiled a brief summary of the advantages of the two platforms. All you have to do is compare them and make your final decision.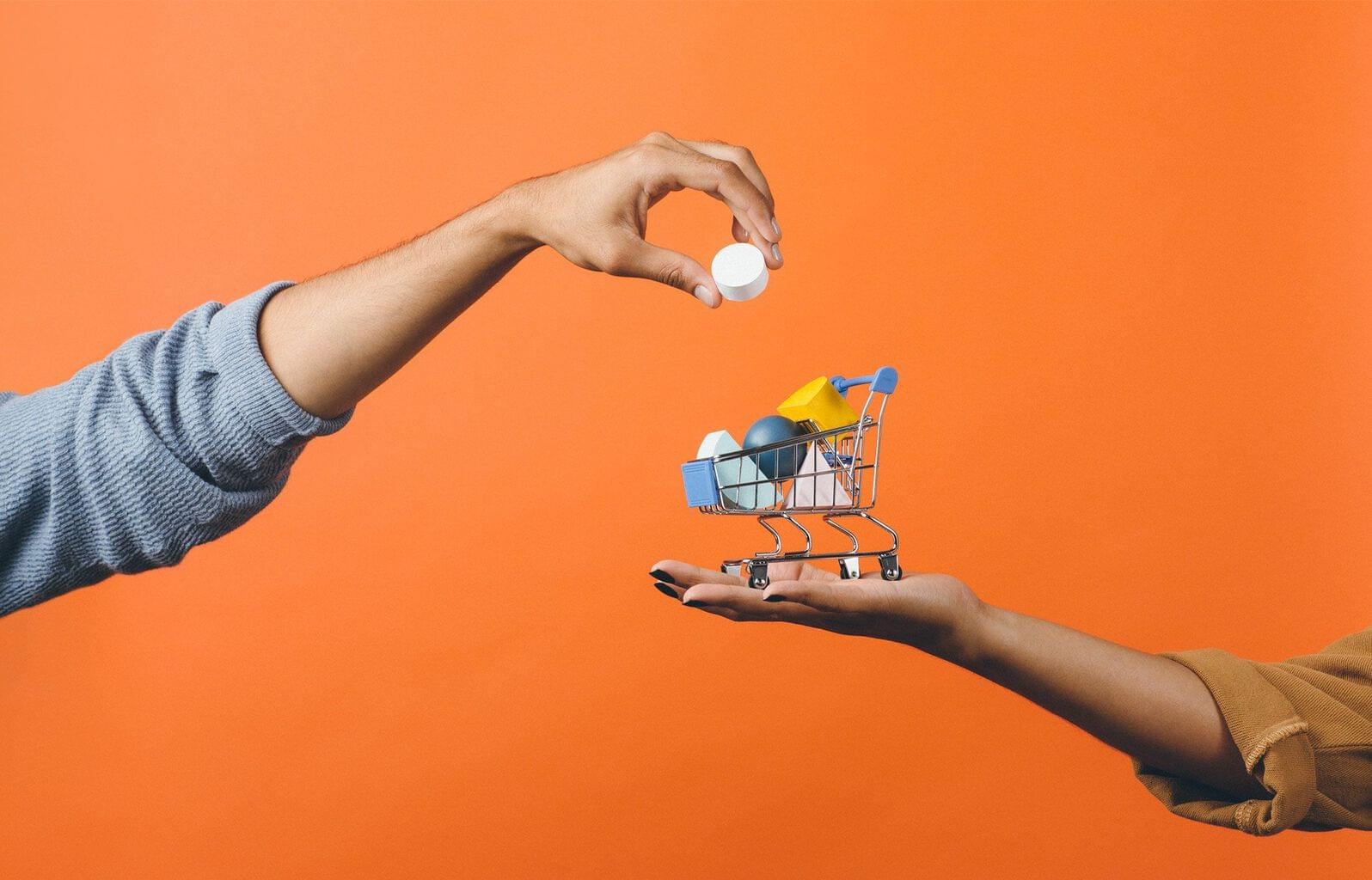 Advantages of using Zendesk:
Simple and easy interface;
Multiple features for comfortable collaboration;
Easy to integrate and customize the platform;
Ability to combine telephone, chat and support in one system.
Advantages of using Salesforce:
Provides full access to customer communication;
Can integrate with other applications, including Zendesk;
Quick support for customers.
Rather than making a choice based on high-level perception or brand reputation, organizations should take an objective, methodical approach based on their specific requirements.
Critical factors to consider when choosing between Zendesk and Salesforce include:
User Personas: Who are the key user profiles? Evaluate personas across service agents, sales reps, community users, administrators etc.
Use Cases: What are the primary scenarios for platform usage? Service, sales, or both? Which channels – email, social, chat etc?
Team Size and Growth: Consider current team size and 3-5 year growth plans. How easily can the platform scale with your expansion?
Existing Tech Stack: Will the platform need to integrate with other enterprise apps? Is it a heterogeneous or native stack?
Customization Requirements: Do you need simple or highly complex processes and workflows?
Budget Availability: Assess multi-year budget based on licensing, implementation, training and ongoing costs.
Deployment Timeline: Do you need a phased rollout over months or rapid deployment in weeks?
While weighing the pros and cons of Zendesk vs Salesforce, don't overlook the foundational aspects of customer loyalty. Dive into our insightful article that provides a thorough examination of customer loyalty indicators, ensuring you make an informed choice aligned with your organization's goals.
You're now well-informed about both platforms, as we've discussed not only their benefits but also their drawbacks. The final call is yours to make. If you're still wavering and seek reassurance about your decision, our team is here to lend a helping hand. Get started on your Zendesk journey with Cloudfresh's Professional Services:
Implementation
Audit and consulting
Integrations development
Essentials setup
Training and demo sessions
AI-powered customer support and chatbot solutions
At Cloudfresh, we're dedicated to creating top-tier customer experiences while ensuring compliance support (GDPR, HIPAA, etc.) across the entire range of Zendesk products: Support, Sell, Sunshine Platform, Marketplace apps, and integrations.
For a seamless experience, our team is here to assist you with AI functionalities, various communication channels, phone systems, CRM platforms, databases, and more.
Ready to enhance your customer support journey? Reach out to our team for Zendesk Professional Services today.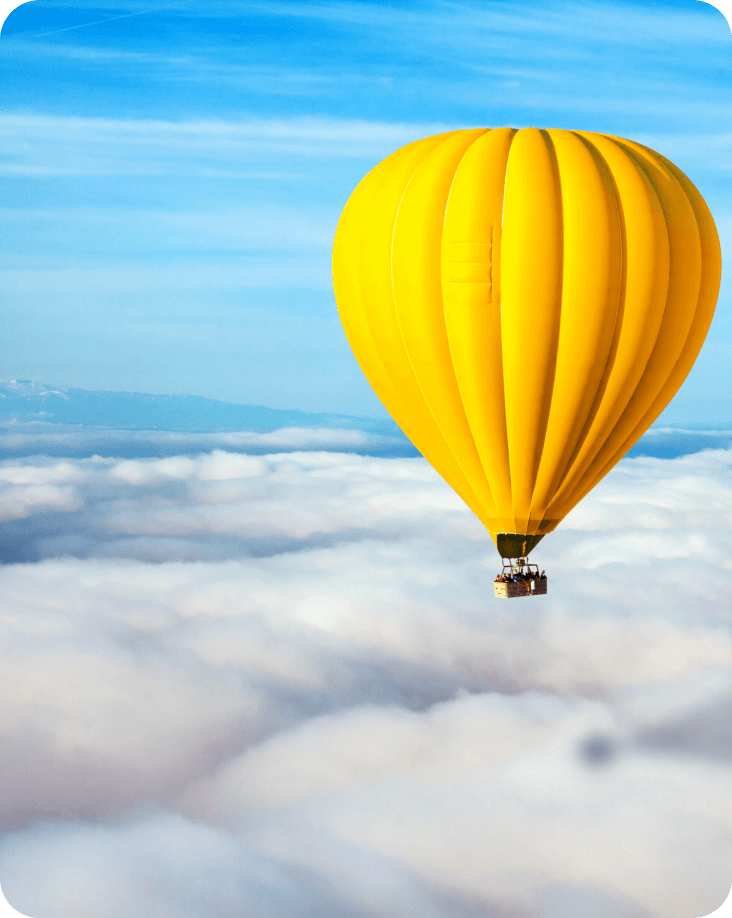 Get in touch with Сloudfresh