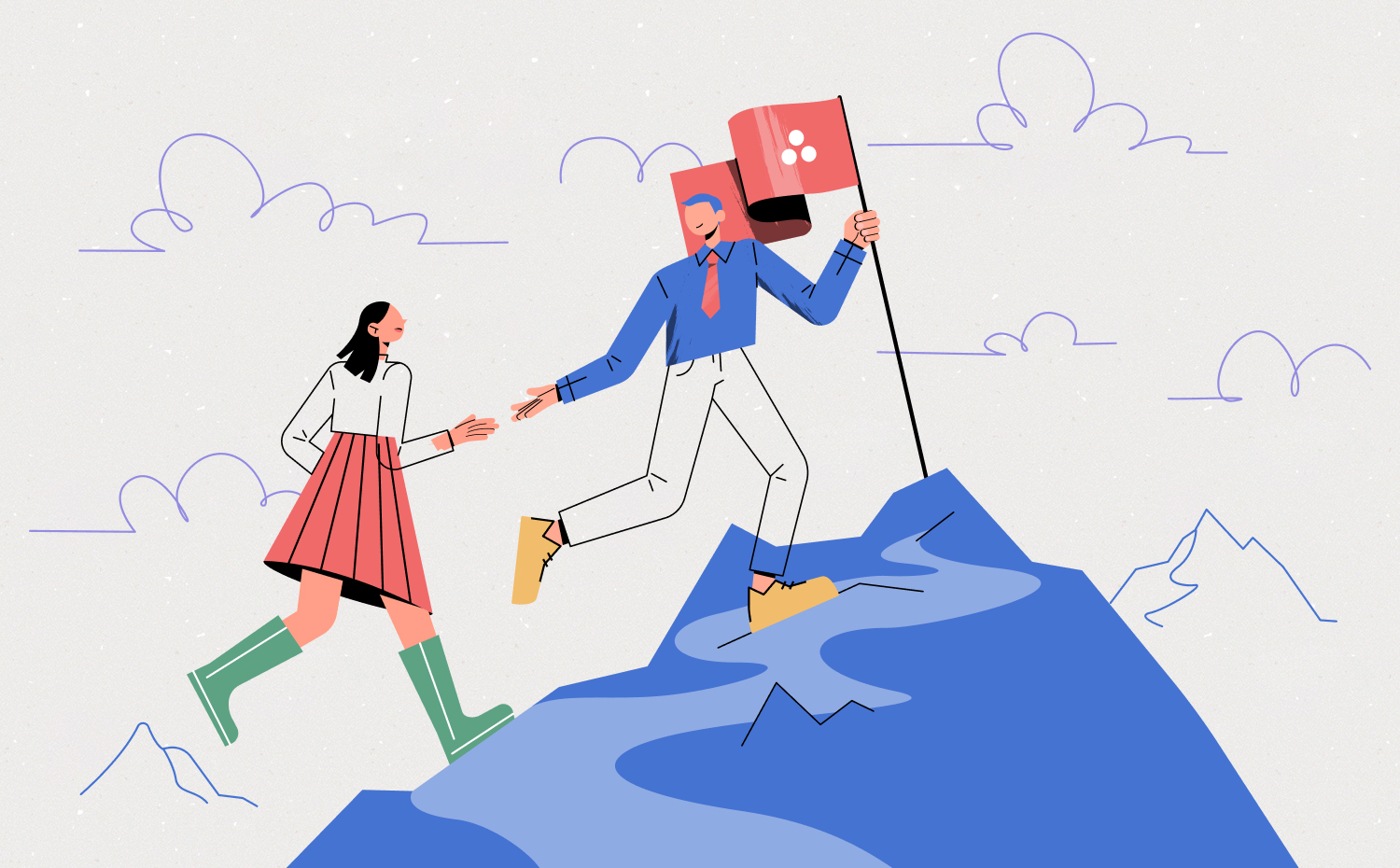 You already know Asana as a powerful project management platform that enables your team with valuable tools to build effective work processes around your company's goals. However, Asana's opportunities go way further and can cover many organizational processes that must be maintained, controlled, and tracked.
In this blog, we want to dive deeper into how Asana can help you cover your onboarding process to get the most out of the first impressions of your company's newcomers. Having hired many new employees to different teams' departments, we believe employee onboarding is more than a routine training period. One of the significant values of this process is building and sharing your company culture, giving the new people sufficient time to get to know their future colleagues, functions, and responsibilities. And get the most out of the onboarding process to set up every new team member for success.
What are the first steps to begin with?
We recommend you start with some helpful dashboards. You can use one internal board before the new workers begin and the new hire boards when their work process is started.
The internal board will enable you to track candidates who accept an offer and analyze your progress in routine but necessary organizational paperwork. On this board, you can cover such processes as signing the proposal, completing setup with credentials, giving all essential access, and other tasks you should perform until the end of onboarding.
The new hire teams' boards will cover everything the newcomer needs in the first stage of the onboarding process. This board depends a lot on a particular position and concrete job functions. Each manager or team member can create an onboarding template with the specific tasks for this role.
Whereas the internal board will guide and track the progress of the hosting process for the person responsible, the second board could serve as a training tool or a knowledge base for a new hire. This board is beneficial for the company that works in a hybrid mode or remote format, where there are only sometimes the right people to ask about some issues.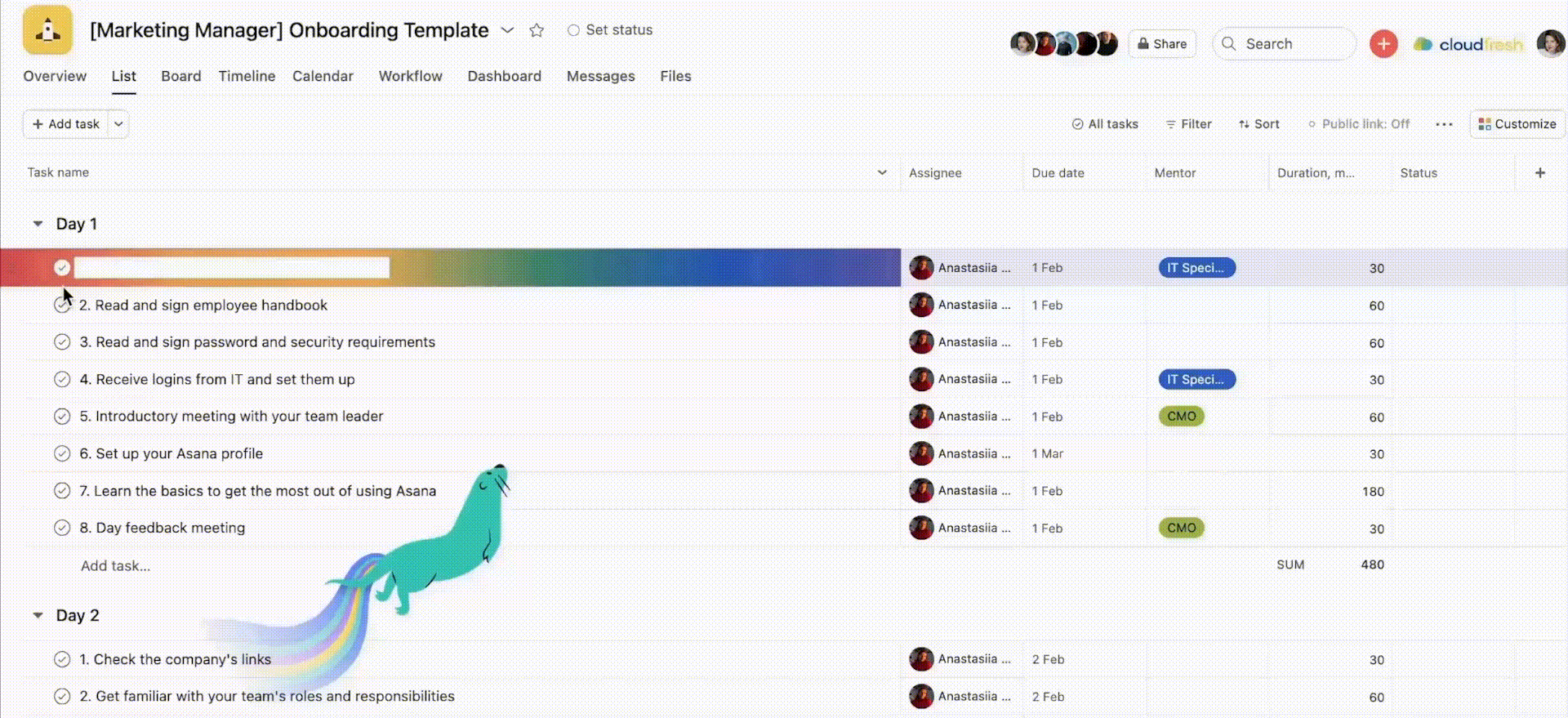 How to create your custom onboarding template?
Creating your board in Asana is easy and convenient. For this, you should follow the six following steps:
Create a project to use as your template, so you can duplicate this template for your new employee every time you need to start the onboarding process. For example, you can name this project "[Jot Title] Onboarding Template."
Organize your project by adding sections that will make the onboarding process more smooth, for example, such as "Day 1," "Day 2," "Day 3", etc. It will help you divide tasks by day and track each day's progress.
Then, you can add tasks to each section according to your onboarding plan, and by completing them, the new employee can go step by step toward the new necessary stages. You can use precise instructions in the task descriptions for the worker on what should be done, put the assignment, mentor, and deadline, attach all necessary files and use @mentions to reference other tasks or projects.
Once you've finished your project template, you can save it and copy the new hire anytime. You can constantly improve your template to establish the best hiring process by analyzing the newcomers' feedback about the onboarding process.
Invite any team members you want to be involved in the onboarding process.
In this way, they will be able to see the actual progress of a new employee, and the new worker will have an opportunity to ask questions directly in tasks.
What to include in your сustom sections and fields?
In Asana, you can use custom fields and sections to add additional data to tasks in your projects. It allows individuals to have clarity on work happening across their organization and will help categorize onboarding tasks by priority or type. You can create drop-down, number, or text boxes to collect specific information in the field values. You can also emphasize with some essential tasks using a drop-down priority. In this way, your new worker will know what to do first.
To add custom sections to your project, you should click on three dots at the left of the project and then on the Add section option.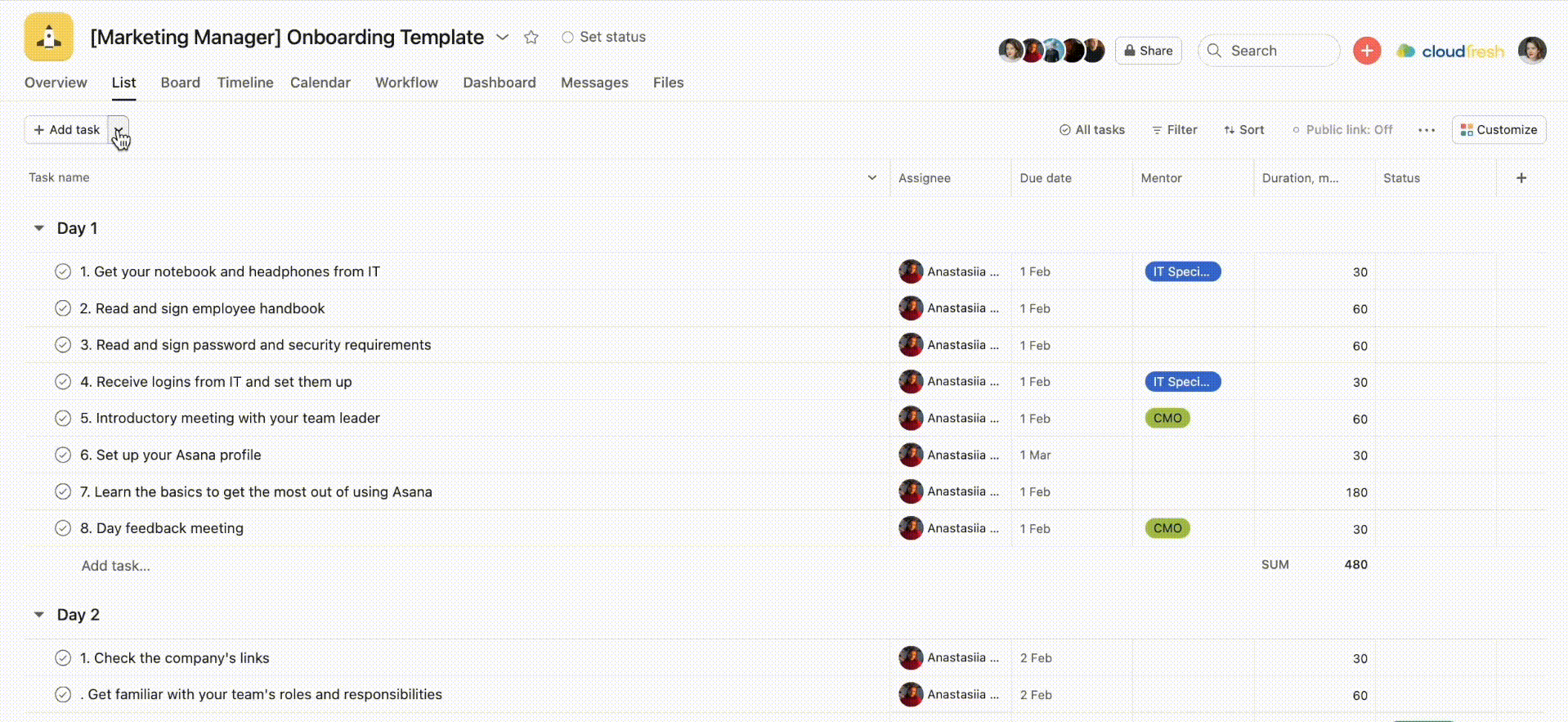 To add custom fields to your project, you should click at the top right on the project's blue Add Custom Fields link. From now on, you can manage your custom fields according to the data you need for tracking.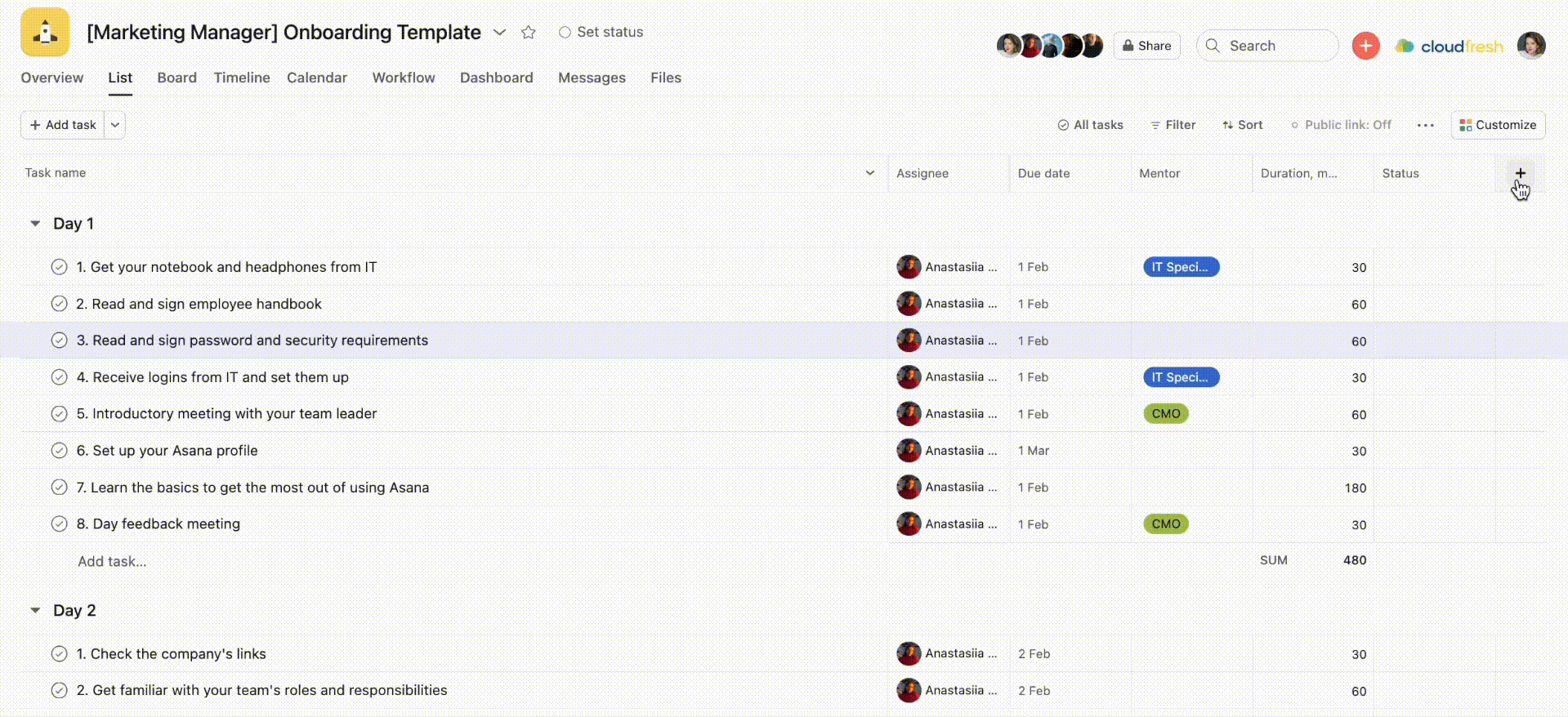 We can advise you to use the following customed filled-in the onboarding process in your company:
Mentor: you can add a mentor to the new employee to enable him with support during his onboarding period
Due date: make clear what should be done for a newcomer and by when.
Duration: highlight the suggested time duration to make your day's plan more precise and convenient for the new hire.
Status: make clear the stage of the task's progress.
Some of the following customed sections can also be helpful for your team:
"Day 1", "Day 2," Day 3″:  helps you to keep your onboarding process on track each day.
Extra mile: Some additional materials go beyond the onboarding process, such as different courses or certifications.
Resources: A knowledge base for the new employees that help to guide them through the company's politics, workflows, rules, etc.
Tools: Summarizes the person's tools in the role, what he should use them for, how and where to get the accesses, etc
Notes: This custom section could be added to the board to remind the employee that this is his own board and to make him comfortable to write anything he needs here.
There are many ways of using Asana for project management, but we want to tell you about the most important points of using the application and what you should pay attention to.
As we have seen, Asana can cover not only the familiar for us team's processes and inner company workflows but also help you to maintain a high-quality organization within your hiring processes and make the journey of your newcomers more comprehensive, straightforward, and convenient.

You can contact our Asana experts if you want to learn more about Asana features or get some help in implementation, advanced support, or team training. Feel free to discover more information about our Professional Session, which we prepared according to our clients' often requests via the link.
Transform your company's processes, and reach a new level of project organization with Asana!