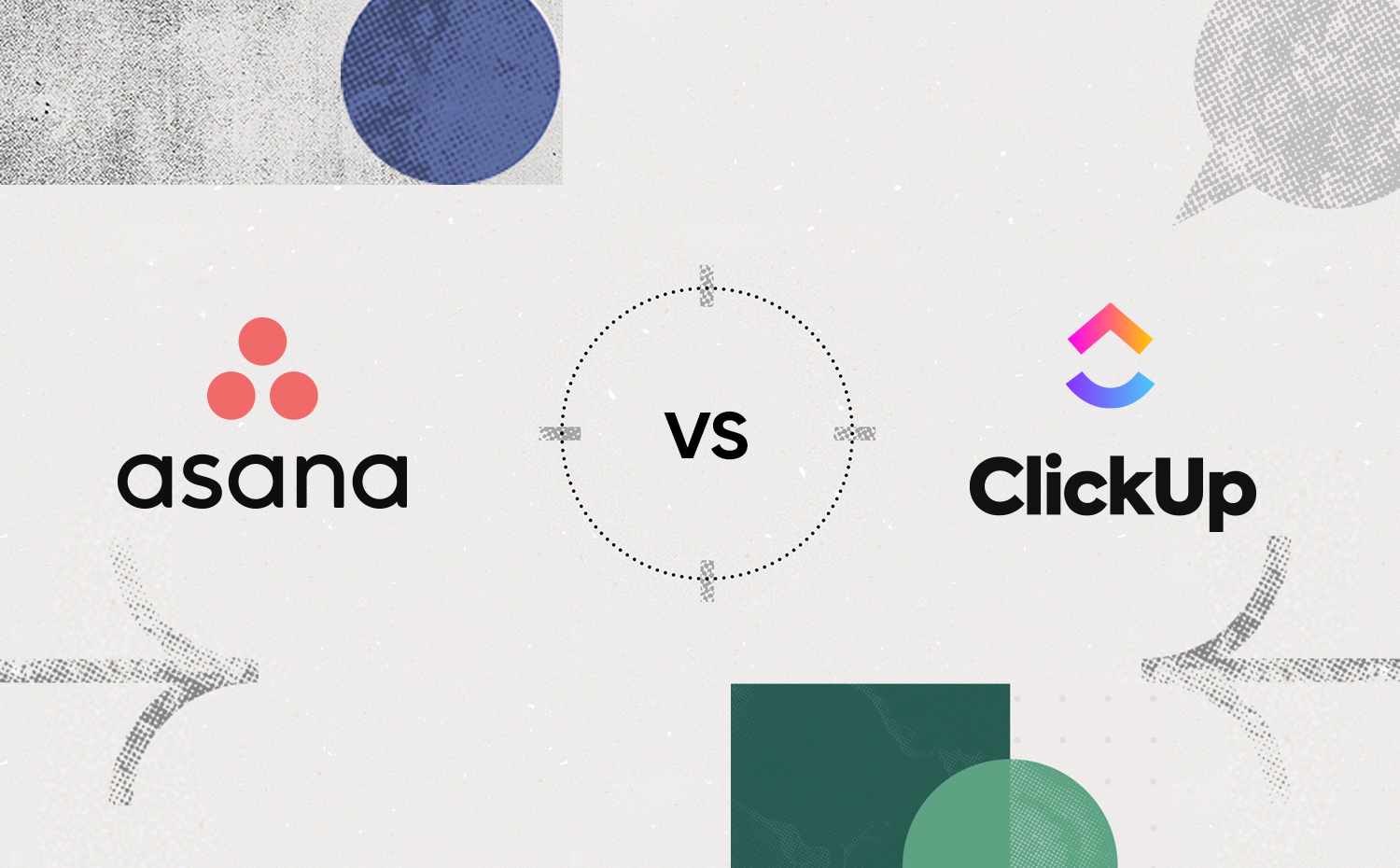 Nowadays, the number of businesses choosing the project approach based on its efficiency is increasingly growing. The quantity of project management solutions is also developing, offering companies many tools to organize workflows, streamline and prioritize tasks, and run a productive workplace.
In this blog, we want to deeply understand the difference between one of the most popular project management software, Asana, and ClickUp, for you to choose the most valuable solution according to your business needs.
Asana and ClickUp similarities
Besides the fact that Asana and ClickUp are both project management solutions that aim to help teams to manage tasks, focus on key objectives, and improve their productivity, they have some more similarities. ClickUp and Asana both offer the following:
Free plans for individuals and small teams trying to make you familiar with the project management approach for no costs
Premium plans for a big team with many costumed functions and a wide range of tools.
Basic work management features include tasks display views, task organization, progress tracking, and workload management tools.
A large number of integrations with third-party applications to get more functionality.
In addition, both of these tools are cloud-based and accessible from computers, tablets, or phones.
Asana & ClickUp: what are the differences?
Both platforms are highly-visible and transparent in work management organizations. However, ClickUp is aimed to be one project management system for everything, trying to cover all users' needs and replace all the other apps. ClickUp offers many customizable workflow templates, management tools, and reporting features. All these are challenging to follow and require a learning curve. When Asana concentrates mainly on project management workflows, they are intuitively understandable and easy to learn.
Both tools offer users crucial project management solutions such as goals, reminders, task dependencies, assignees, custom statuses, timelines charts, time-tracking, reporting, automation, Gantt charts, and other great features. So, what differs them?
Setting up Goals
Asana offers Portfolio features to keep your projects and objectives on track from the convenience of one place. Whereas in ClickUp, you can set your overall project objective and access a dashboard to monitor your progress, Asana provides a control center for all your goals and tasks. With Portfolios, you can see all the priorities, statuses, and due dates and even group your projects inside one Portfolio if they respond to the same objective. You can also share projects with the third-party and other team members.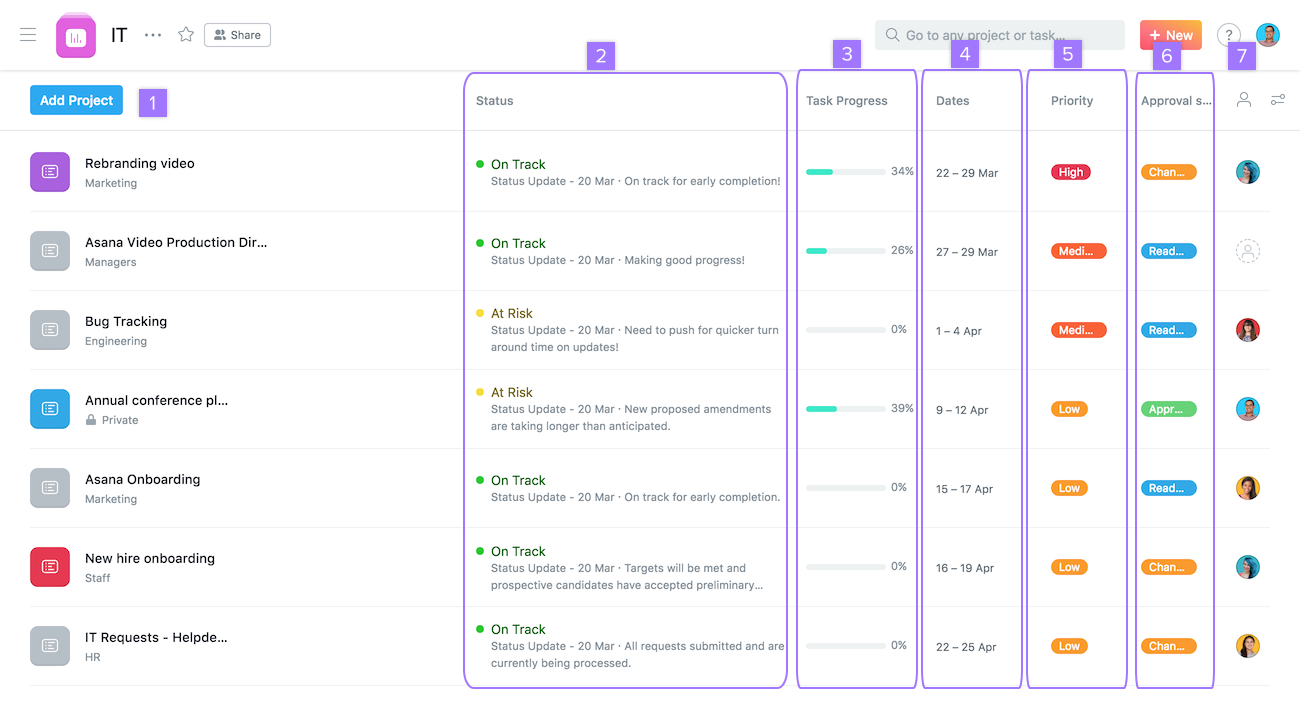 Support
Asana offers its users an online help center with plenty of helpful guides. Here you can also find the Asana Academy, where you can participate in webinars and interactive courses. But even if the support documentation doesn't answer your questions, you can get in touch via a support ticket and/or join Asana's forum and start your journey interacting with the Asana community. ClickUp also offers its users a high level of support. You can contact the support team via their online contact form, email, or leave a message in their live chatbox. And you can also connect with the trainer or consultant for extra help. However, this option is not free. One of the main differences is also the multilingual support possible with Asana, which is, for now, not available in ClickUp.
Integrations
Even though both apps enrich the users with vast numbers of integrations, some of them differ, so it's better to analyze what apps you mostly need in your work and check the possible integrations to make a rational choice. One of the great ClickUp features is automatic data import from other project management tools. However, Asana here also has its pros. With the integrations with Google Workspace and Adobe Creative Cloud, collaboration within design-heavy fields is much simpler.
Asana and ClickUp are excellent project management tools with particularities, pros, and cons. So, the choice is yours! Nevertheless, even if the ClickUp and Asana functionality are rich and do not differ, the Asana platform is easier to use and has higher user adoption.
Asana is a flexible solution that can adapt to different team sizes and is scalable to any organizational goal. With Asana software's help, you can easily coordinate all your work, from daily tasks to cross-functional projects, relying on high-quality multilingual customer support and a simple UX.
Cloudfresh is a center of expertise of Google Cloud, Zendesk, Asana, and Gitlab. We provide a complete cycle of implementation, training, and support for each of our partners' products. We have a certified team ready to answer all your questions and deploy the necessary solutions toward your business goals.

If you want to find out more about Asana pricing or how to use Asana according to your business needs, you are welcome to contact our Asana Experts. Check out our Professional Services via the link, and get advanced support from our specialists.
Let's start a journey toward a project management approach together and make your workflows the generating force of your business success!