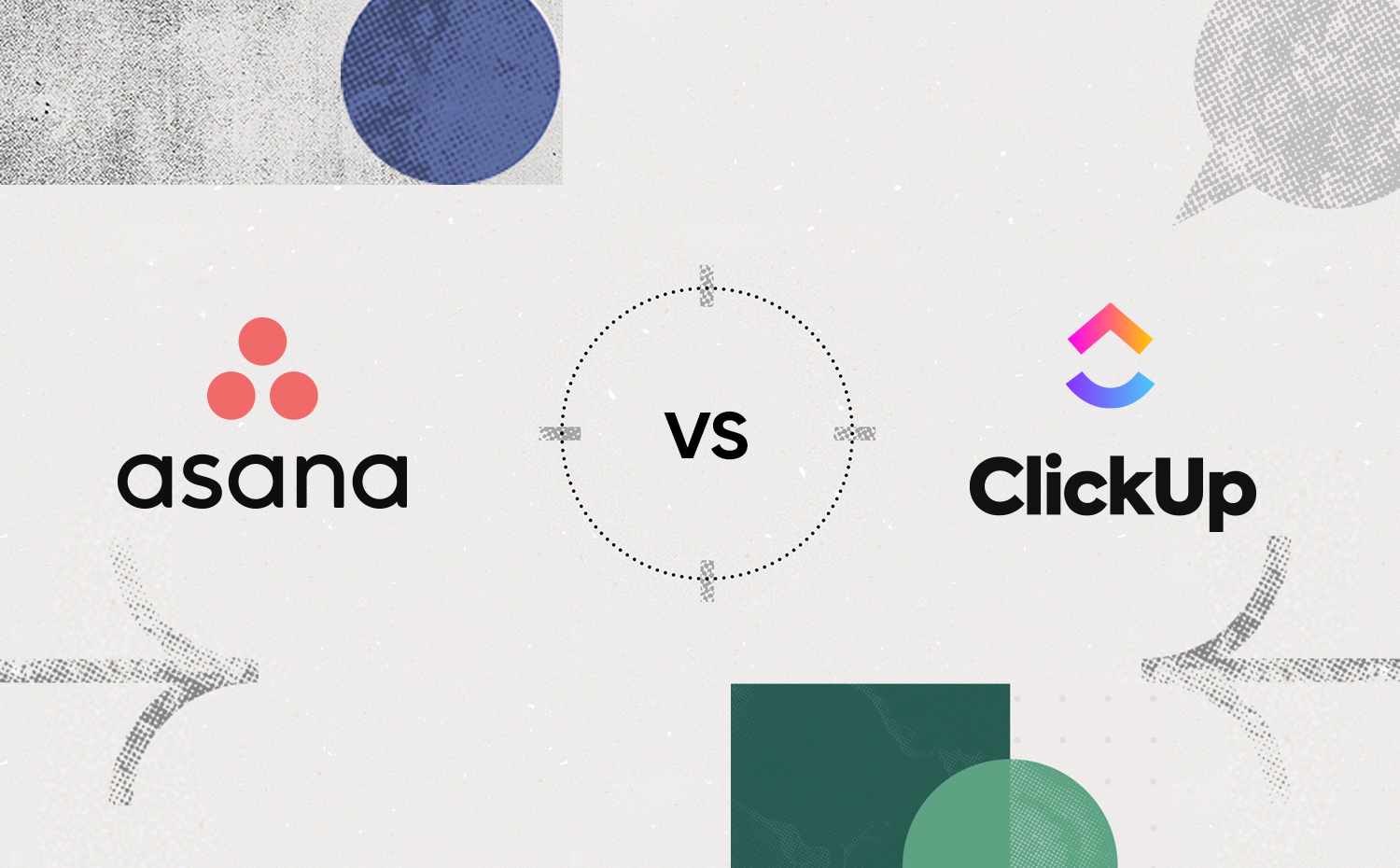 Nowadays, the number of businesses choosing the project approach based on its efficiency is increasingly growing. The quantity of project management solutions is also developing, offering companies many tools to organize workflows, streamline and prioritize tasks, and run a productive workplace.
Effective project management is crucial for organizations to meet goals and deliver results. The right software provides visibility, organization, and collaboration capabilities to streamline work. Asana and ClickUp are well-regarded tools, though they are better suited for different users.
In this blog, we want to deeply understand the difference between one of the most popular project management software, Asana, and ClickUp, for you to choose the most valuable solution according to your business needs.
Asana vs ClickUp Similarities
Besides the fact that Asana and ClickUp are both project management solutions that aim to help teams manage tasks, focus on key objectives, and improve their productivity, they have some more similarities. ClickUp and Asana both offer the following:
Free plans for individuals and small teams trying to make you familiar with the project management approach for no costs
Premium plans for a big team with many costumed functions and a wide range of tools.
Basic work management features include tasks display views, task organization, progress tracking, and workload management tools.
A large number of integrations with third-party applications to get more functionality.
In addition, both tools are cloud-based and accessible from computers, tablets, or phones.
ClickUp vs Asana: What are the Differences?
Both platforms are highly-visible and transparent in work management organizations. However, ClickUp aims to be one project management system for everything, trying to cover all users' needs and replace all the other apps. ClickUp offers many customizable workflow templates, management tools, and reporting features. All these are challenging to follow and require a learning curve. When Asana concentrates mainly on project management workflows, they are intuitively understandable and easy to learn.
Both tools offer users crucial project management solutions such as goals, reminders, task dependencies, assignees, custom statuses, timelines charts, time-tracking, reporting, automation, Gantt charts, and other great features. So, what differentiates them?
Scope
Asana specializes in project and task management with intuitive workflows. It focuses on core features but lacks the extensive customization of ClickUp.
ClickUp is an all-in-one workplace productivity platform for projects, tasks, documents, spreadsheets, and more. Its breadth comes at the expense of some user-friendliness.
Asana positions itself as a dedicated project and work management solution for teams. It strives for simplicity in its interface and focuses on nailing the fundamentals like flexible project views, task lists, boards, calendars, reporting, and collaboration features. While it lacks the depth of customization and breadth of features seen in ClickUp, its straightforward scope makes Asana fast to adopt. It integrates the core elements teams need to plan, organize, track, and manage work in a shared environment.
ClickUp takes a broader approach as an all-in-one productivity platform. Beyond just project management, it combines capabilities ranging from documents and spreadsheets to chat and goals tracking. Its breadth enables centralizing multiple work tools within ClickUp's customizable platform. However, this scope also contributes to a more complex user experience with steeper learning needed to leverage all its possibilities. While power users may appreciate the range of features, more casual users may find it overwhelming.
Learning Curve
Asana offers greater ease of use, especially for beginners. Its interface is simple and focused.
ClickUp's extensive features mean a steeper learning curve. New users may be overwhelmed by the platform's depth.
With its singular focus on project and work management, Asana emphasizes ease of use in its platform's design. The interface contains clean, uncluttered pages and layouts optimized for readability. Intuitive features like Quick Add, keyboard shortcuts, and templates get users working quickly. Designed for all types of knowledge workers, Asana reduces the need for training through discoverable and familiar interactions. This makes it easy for new individual adopters to get started. At a team level, Asana's onboarding resources like videos, guides, and webinars simplify the transition.
ClickUp's extensive capabilities for not just project management but documents, spreadsheets, goals, and more necessitate a deeper learning curve. Mastering the platform's breadth requires upfront configuration and customization based on a team's needs. While powerful for tailored workflows, this setup level can overwhelm users accustomed to simpler interfaces. The large variety of views, tabs, apps, automations, and integrations provide flexibility and add cognitive load. ClickUp reduces friction through elements like customizable templates and imports from other PM tools. But especially for less technical users, ramping up on ClickUp generally takes more investment.
Customization
Asana enables collaboration without heavy configuration needed. It provides flexible building blocks.
ClickUp is highly customizable, from workflows to views and integrations. But a custom setup is required.
Asana enables collaboration without mandating heavy customization upfront. It focuses more on providing flexible building blocks for teams to then structure their own workflows. Project views, configurable statuses, fields, and tags allow tailoring Asana to different use cases without starting from a blank slate. Its shared permissions and sections create space for both organization-wide and team-specific needs. Asana offers personalization like dashboards, favorites, and rules to fit individual preferences. Yet it avoids overwhelming users with an endless array of views, apps, and layouts to manage. Its adaptability derives from both its design for flexibility and restraint in limiting customization demands.
ClickUp places customization front and center as a core part of its value proposition. The platform offers advanced capabilities for tailoring views, workflows, apps, fields, statuses, and more to match a team's needs. While this enables modeling ClickUp to the specifics of an organization and use case, it does require investment on the front-end. Each team must determine the right configurations and customizations for their situation, which takes concerted effort. ClickUp reduces this ramp-up time through features like templated workflows and Suggested Views. But especially when transitioning from other tools, ClickUp's flexibility necessitates significant upfront work to mold the platform before extended team usage.
Pricing
Asana's free plan supports up to 15 users with core features. Paid plans start at $10.99 per user/month, billed annually.
ClickUp's free offering has more limitations but supports unlimited users. Paid plans start at just $5 per user/month when billed annually.
Setting up Goals
Asana offers Portfolio features to keep your projects and objectives on track from the convenience of one place. Whereas in ClickUp, you can set your overall project objective and access a dashboard to monitor your progress, Asana provides a control center for all your goals and tasks. With Portfolios, you can see all the priorities, statuses, and due dates and even group your projects inside one Portfolio if they respond to the same objective. You can also share projects with the third-party and other team members.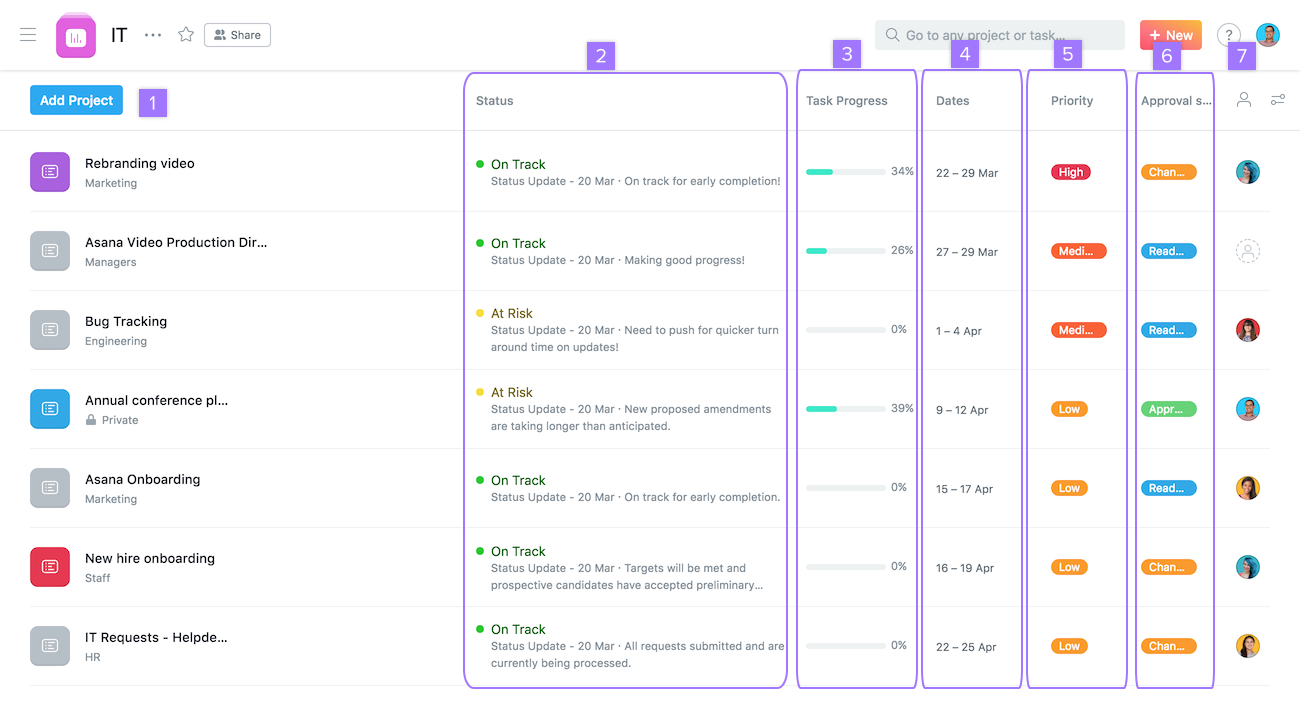 Support
Asana provides thorough documentation, webinars, multi-language support, and responsive customer service.
ClickUp's support options are more limited but do include email, live chat, and paid training services.
Asana offers its users an online help center with plenty of helpful guides. Here, you can also find the Asana Academy, where you can participate in webinars and interactive courses. But even if the support documentation doesn't answer your questions, you can get in touch via a support ticket and/or join Asana's forum and start your journey interacting with the Asana community.
ClickUp also offers its users a high level of support. You can contact the support team via their online contact form or email or leave a message in their live chatbox. And you can also connect with the trainer or consultant for extra help. However, this option is not free. One of the main differences is also the multilingual support possible with Asana, which is, for now, not available in ClickUp.
Integrations
Asana seamlessly connects Google Workspace, Adobe CC, and other popular apps.
ClickUp has broader integration capabilities, including importing data from other PM tools.
Even though both apps enrich the users with vast numbers of integrations, some of them differ, so it's better to analyze what apps you mostly need in your work and check the possible integrations to make a rational choice. One of the great ClickUp features is automatic data import from other project management tools. However, Asana here also has its pros. With the integrations with Google Workspace and Adobe Creative Cloud, collaboration within design-heavy fields is much simpler.
Asana vs ClickUp: Key Use Cases
Asana is ideal for:
Teams wanting an intuitive, user-friendly project management solution
Organizations that value ease of adoption and straightforward workflows
Cross-functional collaboration across marketing, operations, HR, and more
Those needing seamless integration with Google Workspace
ClickUp is better suited for:
Centralizing multiple workplace tools into one customizable platform
Teams willing to invest time into custom configurations and views
Replacing other legacy project management systems
Advanced workflows and automations for skilled users
Asana and ClickUp are excellent project management tools with particularities, pros, and cons. So, the choice is yours! Nevertheless, even if the ClickUp and Asana functionality are rich and do not differ, the Asana platform is easier to use and has higher user adoption.
Asana is a flexible solution that can adapt to different team sizes and is scalable to any organizational goal. With Asana software's help, you can easily coordinate all your work, from daily tasks to cross-functional projects, relying on high-quality multilingual customer support and a simple UX.
Cloudfresh is a center of expertise of Google Cloud, Zendesk, Asana, and Gitlab. We provide a complete cycle of implementation, training, and support for each of our partners' products. Our certified team is ready to answer all your questions and deploy the necessary solutions toward your business goals.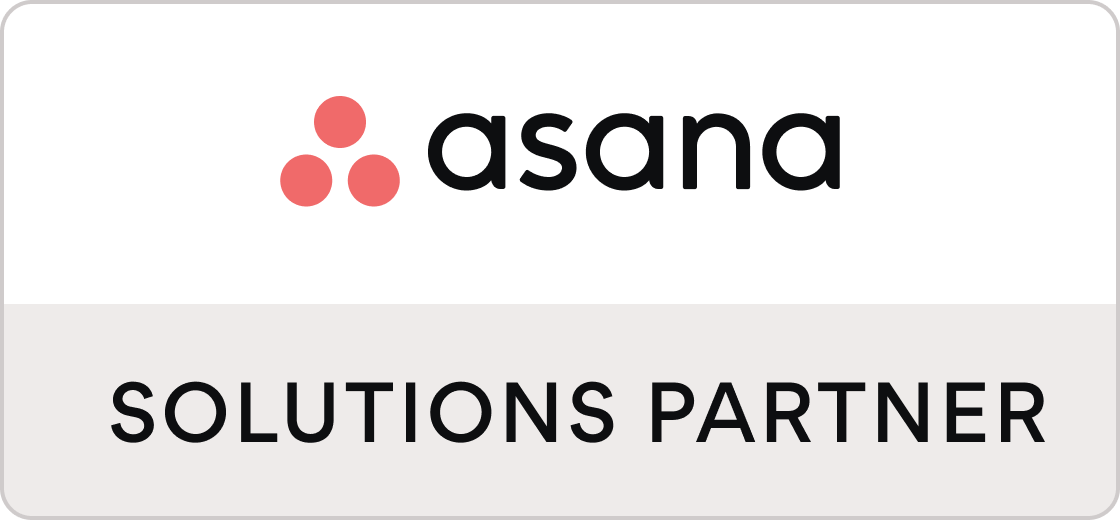 If you want to find out more about Asana pricing or how to use Asana according to your business needs, you are welcome to contact our Asana Experts. Check out our Asana consulting services and get advanced support from our specialists.
Let's start a journey toward a project management approach together and make your workflows the driving force of your business success!