Asana
22.10.2021
Effective meetings with Asana and Zoom
Over the past two years, under quarantine conditions, the use of platforms for video calling has grown by 60%. This is not surprising because all business meetings have switched to online mode. Companies around the world use the Zoom platform to connect with employees, whether they work remotely, in the office or in a hybrid mode.
Now we have a problem of meetings being held for no particular reason. Many work chats on unimportant issues disappeared from sight, as they switched to the format of online meetings. Asana's investigation found that an average of 157 hours were spent on unnecessary online calls. 
The most valuable thing we have in our life is time. Therefore, it is extremely unpleasant if this time is wasted. Asana is introducing a new Zoom app that will be responsible for improving the efficiency of your online meetings. This application will make the work of companies that conduct remote meetings online several times easier.
With the help of Asana Zoom, teams will be able to conduct more effective meetings that relate to the company's workflow. You will also be able to transfer task discussions directly to online meetings and find the materials you need to discuss right away without leaving the call.
Solve tasks on the spot
Asana's new integration with Zoom allows work issues to be resolved right away. Share documents and make changes to them without ending the conversation with colleagues. Access documents during a business conversation, and do not lose sight of them even when the conversation is over.
Make meetings even more productive
Provide your colleagues with discussion papers before calling and thereby give credibility  to why the meeting is needed. Attach a link to the meeting in advance in the work chat, and then the time allotted for the call will definitely not be lost.
Stay online even during a call
You can open your Asana tasks directly in Zoom. The platform will automatically show you the tasks associated with the call immediately, so you will not be disconnected from the workflow, but will be able to carry out tasks even during conversations.
Take notes without leaving Zoom
You don't have to leave the work call tab to make notes or highlight an important part of the conversation. You can do it within Zoom. Save your concentration for the negotiations, while not losing track of important information.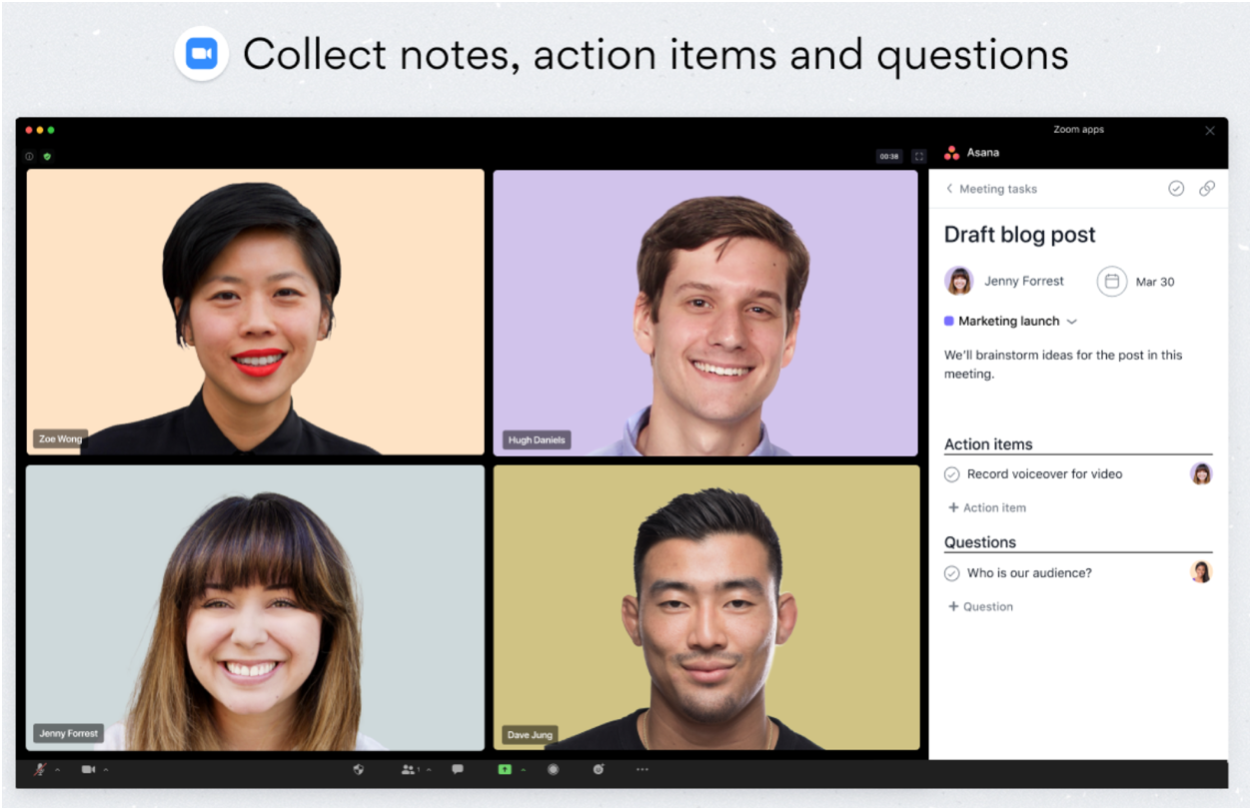 Go through the important points of the meeting even after the call
Asana offers a feature called meeting transcript, which takes you directly to the section with all your notes during a call. Now you don't have to worry if you've missed some element of the conversation or an important detail. Go to the transcript and re-read your notes immediately after the meeting ends.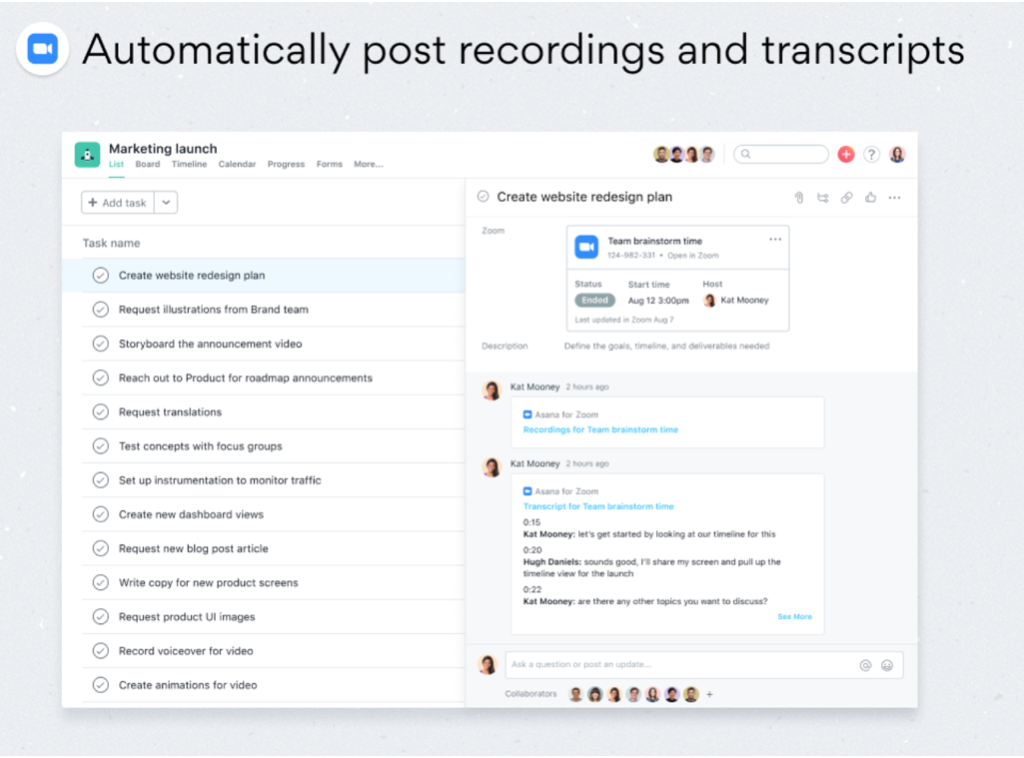 Make your meetings effective!
Leave only the most important information for online meetings, and introduce routine questions to Asana project management software. By connecting the Asana Zoom app, you can make sure on your own that the number of meetings can be easily reduced to 3-4 per week, but at the same time making them as effective as possible. For questions about connecting the application, please contact the Cloudfresh team — a unique center of expertise for Google Cloud, Zendesk, and Asana. For these products, we can provide you with the following services: 
Customization;

Development;

Integration;

Training;

License;

Support.
Our specialists will help you optimize your IT infrastructure, develop integrations for better system interoperability, and help create completely new structures and processes for your teams, while our support center will provide you with the best customer experience!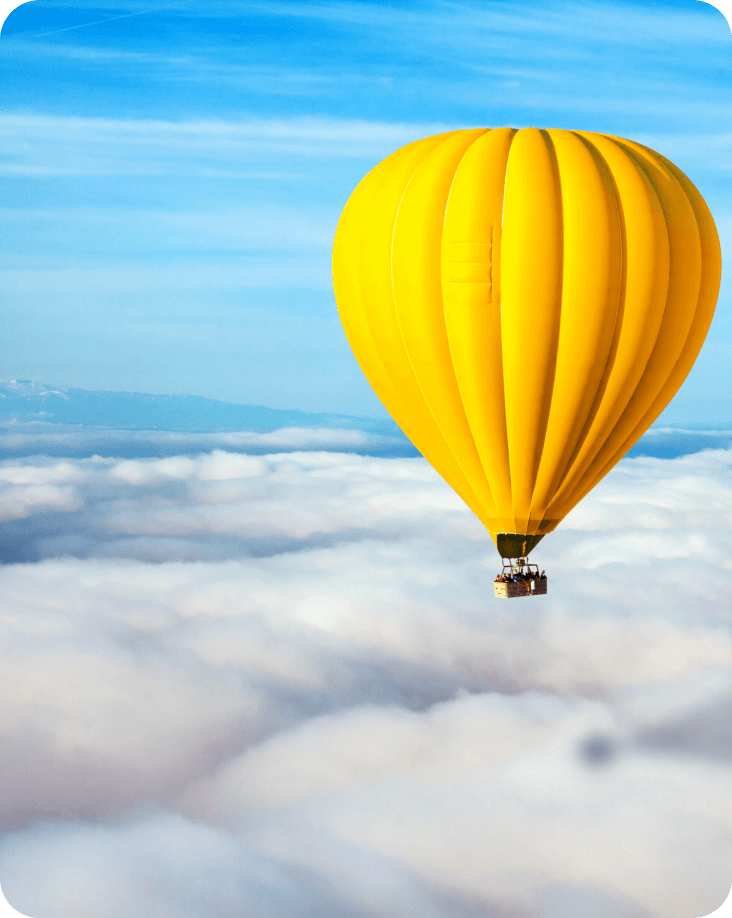 Get in touch with Сloudfresh