Asana
28.01.2022
Asana vs. Trello: choose the project management tools
When it comes to working on projects on a large scale, you should choose the right tool to cover all your needs. It's great if you can decide on at least two of them but since you're reading this article, it means you already know what you want and all you have to do is choose one of the tools. So which management suits your needs, Trello or Asana?
Now we are going to write the pros and cons of these two management platforms and figure out which one is more convenient and which one will do its job better.
Quick Overview of Asana
Asana is a tool for dealing with projects whose tasks do not fit into a simple notepad. With this project management platform, you can delegate, divide, assign and execute your tasks. At first glance, Asana may seem like a very complicated project management tool, but once you get the hang of it, you won't be able to start your day without it. 
For Asana, the main unit of work is the task. You can create tasks, subtasks, combine them into one group or column, set deadlines and assign a person to be in charge. You can also create boards and tabs with separate groups of tasks. This is convenient for the whole company, as you can create an unlimited number of tabs depending on your departments. The marketing, design and targeting departments can easily coexist in this management tool as well as create tasks for the sales department. In other words, it's like a kind of ecosystem where everything is interconnected – tasks can be created for multiple people at once as well as mentioning any of the team members.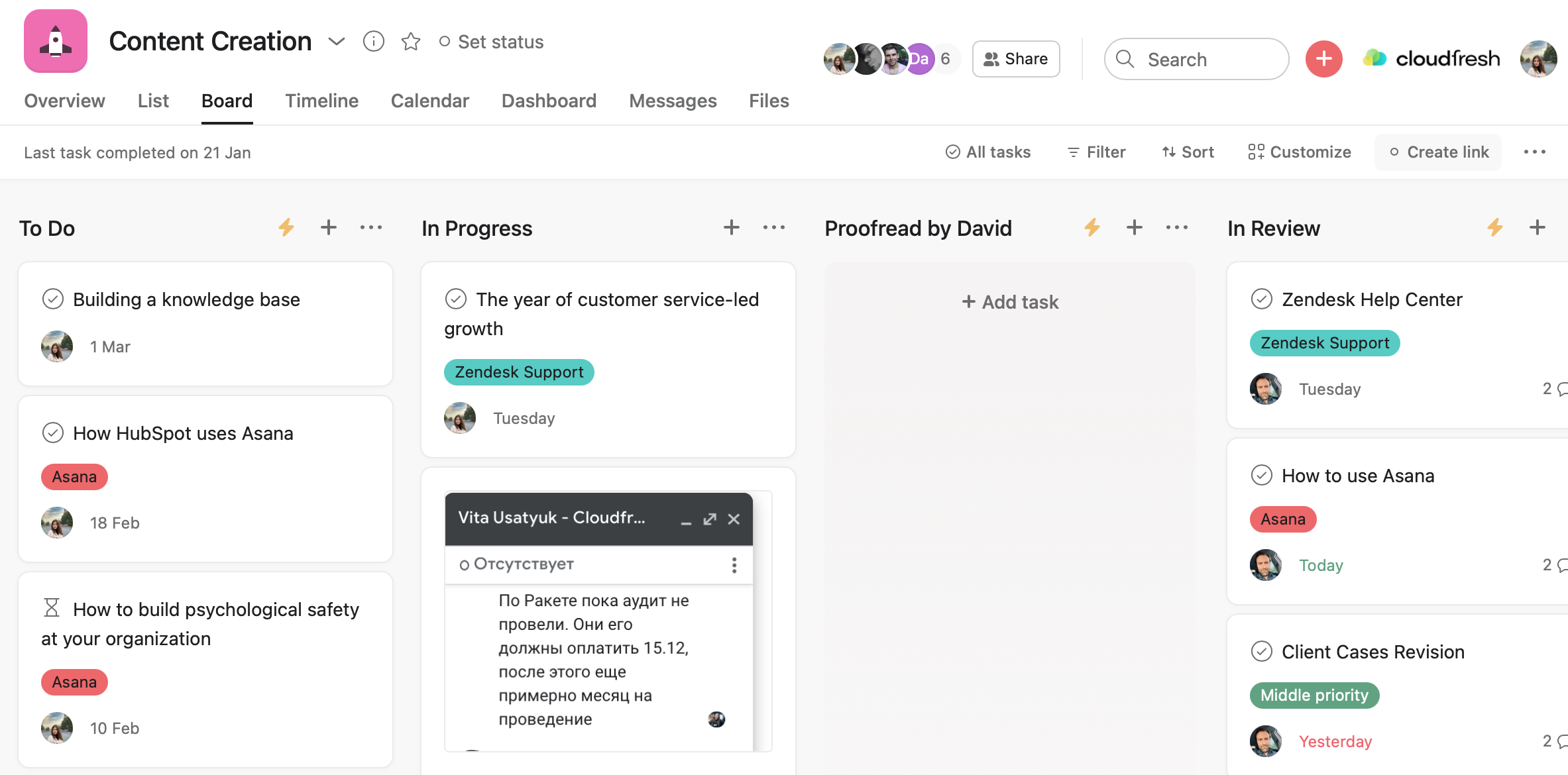 When it comes to task management in large companies with many employees and a department, Asana is beyond comparison. This tool actually does an excellent job of managing tasks. You can easily notice it just looking at the functionality. 
The task management platform offers tools such as:
Timeline – to visually see how much time is left to complete a task as well as what other tasks may interfere with its execution;

Universal Reporting – this tool is more likely to be useful for project managers. It makes it easy to see the overall picture of the process progress;

Dashboards – the most important place in the tool. This is where all the main "magic" happens, since this is where your tasks are stored. In dashboards you can create, edit, update and generally keep track of the project's progress. 
Asana is especially loved by marketers, because their work consists of many small and dissimilar tasks. This management tool will help cope with the goal of simplifying and optimizing workflow. 
Quick Overview of Trello
To understand how Trello works (if you have never used it), imagine an electronic version of Kanban Board. This is true, Trello works on the same principle. Recently, the tool was bought by the company that makes Jira and many users often compare these two platforms. Like Asana, however, Jira offers more functionality. What, then, does the Trello management platform offer? 
Trello is an easy-to-use platform that is more focused on managing entire projects. This is reflected in the three main management units – the board, the task card and the columns. When you create a task, you set up a card where all the task discussions will take place. You can move this card around in the columns, depending on what stage your task is at. You can combine the columns into boards that you can name depending on the project. It's as simple as that.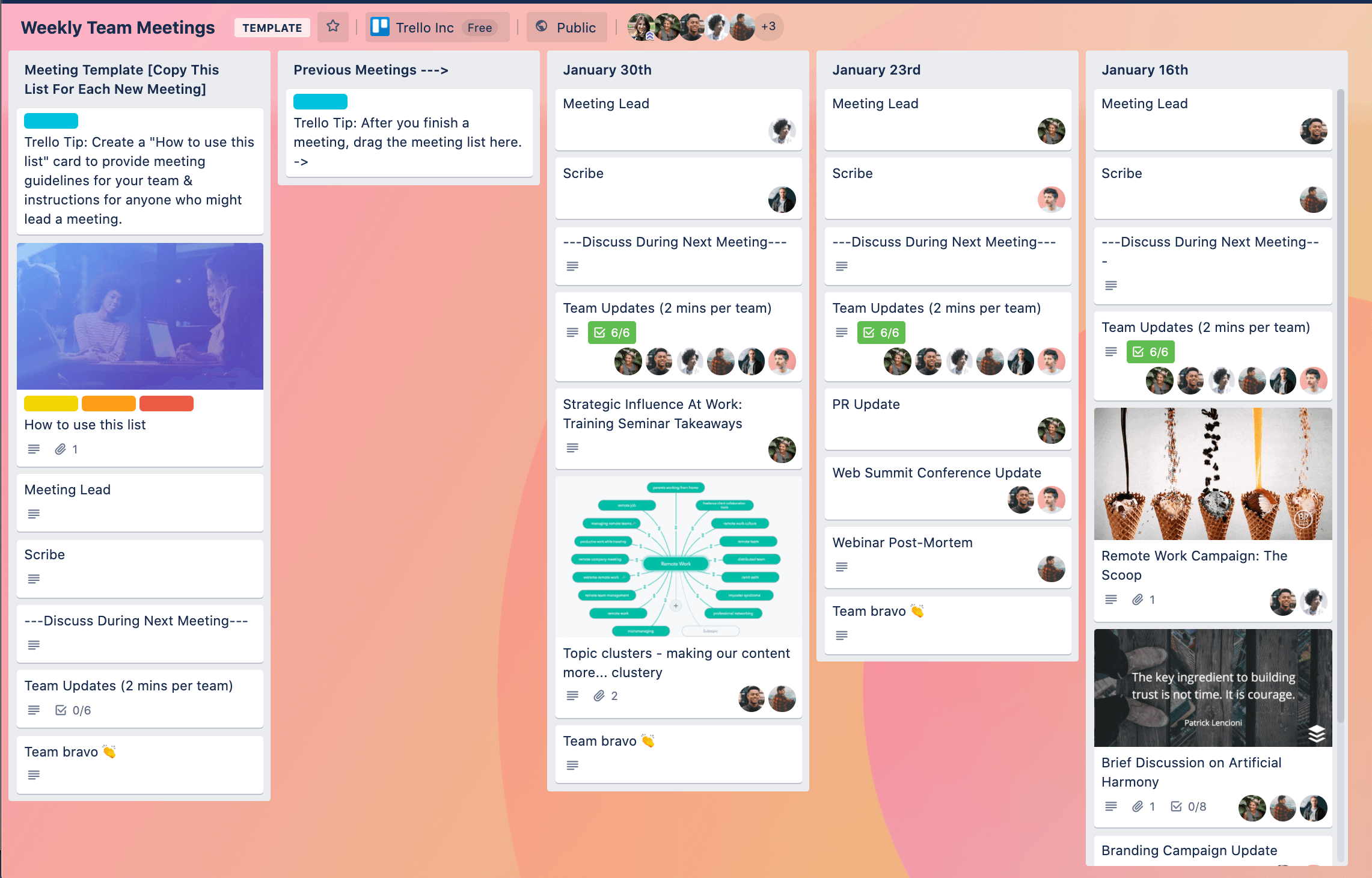 In this management platform, it will be harder to see the whole picture of deadlines, but it is easy to see who is responsible for what. Although Trello is used by companies and individuals alike, it is not a tool that is very suitable for large companies. As your staff grows larger and larger, managing Trello and keeping track of tasks becomes more difficult, so eventually you'll have to switch to another, more extensive platform anyway.
Asana vs Trello – Other features
If we make a general comparison in which we can find out which platform is more convenient after all, let's make a general comparison. 
Trello is a tool that is made on the principle of Kanban software, so you can easily monitor your progress from the outside in its entirety. You can also monitor individual tasks, watch the work process, but if you increase the number of employees in the company, you will no longer be comfortable using this management tool. 
Asana, unlike Trello, has more functionality and easier management for a large team. With the Asana platform, you can track your progress on a timeline, navigate between tabs in different departments and summarize all your analytics and summaries in a large report. This platform also provides extensive functionality in the form of tags, comments and integrations. 
If you compare the two platforms at the moment, Asana wins, of course, because its functionality is much more diverse. Also, with Asana you can do more workflows than with Trello. 
Although, Asana can make it a bit difficult to use because of the complicated rate system, which Trello doesn't have. So now let's take a closer look at how the pricing of these two management platforms is structured. 
Asana Pricing
Asana's pricing policy is divided into four different plans: Basic, Premium, Business and Enterprise. Each plan has a different set of features and each is available in a demo version. 
The first plan is free and has limited features. So you can create an office for up to 15 members, but you will only have a few features available to you. 
The Premium plan costs $10 per member if you pay for a year. Business costs $25 per member if you pay for a year and the cost of Enterprise for a large company should be discussed with the managers. It is also worth noting that if you pay monthly, the price for each member will be much higher. 

Trello Pricing
Trello's prices are much lower and clearer. The first plan, also free, offers users the following feature. You can connect an unlimited number of users to the program, but the functionality remains limited. 
The next plan is called Business Class and costs $10 per user per month if you pay one year at a time. The last plan, since there are only three, is also Enterprise, which costs $17 per user. Yes, Trello's pricing policy is much lower, but don't forget that the functionality of the platform is much more limited than Asana's. 

Collaboration 
Now let's also consider how many people you can involve in each of the management platforms. 
Asana somewhat limits the possibility of involving numerous people. In the free trial version, you can invite no more than 15 people to your team. At the same time, data usage memory is also limited. With the extended Asana plan, you can use no more than 100 MB per file, regardless of the plan. 
Trello is slightly ahead of Asana on this point and offers 250 MB per file. You can also engage an unlimited number of employees even on the free plan, which is a distinct advantage. 
Dependencies
It is also worth considering the presence of such an important feature as dependencies between tasks. This is a kind of blocker that you can set for one or another task. It works like this: if you have a task that you must complete before you start working on another task, that task will prevent you from completing the others. Such a feature easily demonstrates prioritization, which will help you allocate your time correctly. 

Asana provides such a feature in the settings for each task. It makes your workflow a little easier, especially when all your tasks depend on each other. This feature is available only in the premium plan.  
Trello, on the contrary, does not provide such a feature, for which it gets a minus in this section.
User experience and ease of use
As we've said before, Trello is built on the principle of a sticky board, so talking about ease of use is obviously redundant here. If you had to explain to your team how this tool works, it would probably only take you 10 minutes. It's a really easy-to-use platform that gives you the ability to get to work quickly.
Asana is a bit more complicated to manage, so it provides a left panel, where you can easily find the right tool or task in a quick search. Accordingly, it will take you a little less than an hour to explain the platform to your new staff. 
So if you compare the two programs, the verdict will be controversial: Trello is suitable for those who want to quickly start working with a small team and Asana is more suitable for large companies, involving many resources. 
Integration 
When it comes to integration, both platforms win. Both Asana and Trello provide integration with more than 100 tools. You can try integrations with Slack, InVision, Dropbox, Salesforce, Hubspot and Google tools. Setting up integrations is easy and straightforward, so both platforms win on this point. 
So what is better, Asana or Trello?
After doing the Asana vs Trello research, it's hard to say which software is better. Each platform has its advantages and disadvantages, so it is worth relying on your own needs. For example, if you have a small team of technical developers with uncomplicated tasks and projects, then Trello is right for you. Also, this tool is perfect for you if you don't have time to train new employees. 
Asana is better suited for large teams with diverse tasks. It's a great tool for marketing or sales-oriented businesses. With Asana, you can see the full image of what's going on in your company without much effort and you can easily optimize your workflow and get all your projects up to speed. You will also be able to forget what it means to miss deadlines. All tasks will get done on time thanks to the platform's timeline and the quick ability to tag colleagues.
Looking for a detailed comparison of Asana vs Monday? Check out our article to help you make the right choice for your workflow.
If you still have doubts about your Asana plan, you can always contact Cloudfresh for support. Our team is a unique center of expertise for Google Cloud, Zendesk, Gitlab and Asana. For these products, we can provide you with the following services: 
Customization;

Development;

Integration;

Training;

License;

Support.
Our specialists will help you optimize your IT infrastructure, develop integrations for better system interoperability and help create completely new structures and processes for your teams, while our support center will provide you with the best customer experience!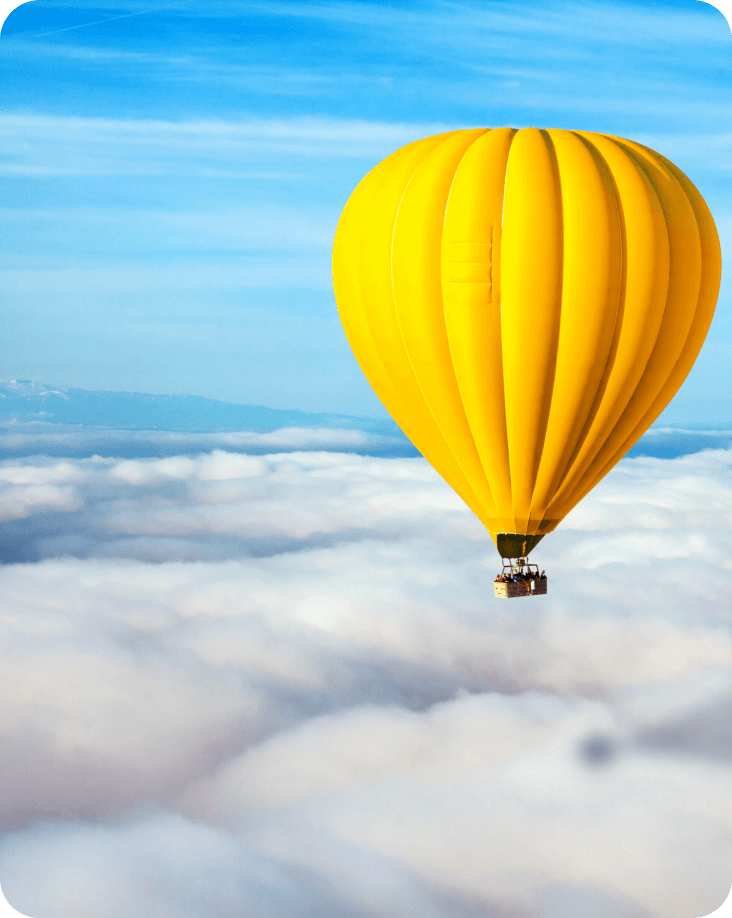 Get in touch with Сloudfresh