13.11.2023
Announcing a Limited-Time Offer: Unlock Free Onboarding and Exclusive Savings on GitLab Premium & Ultimate Plans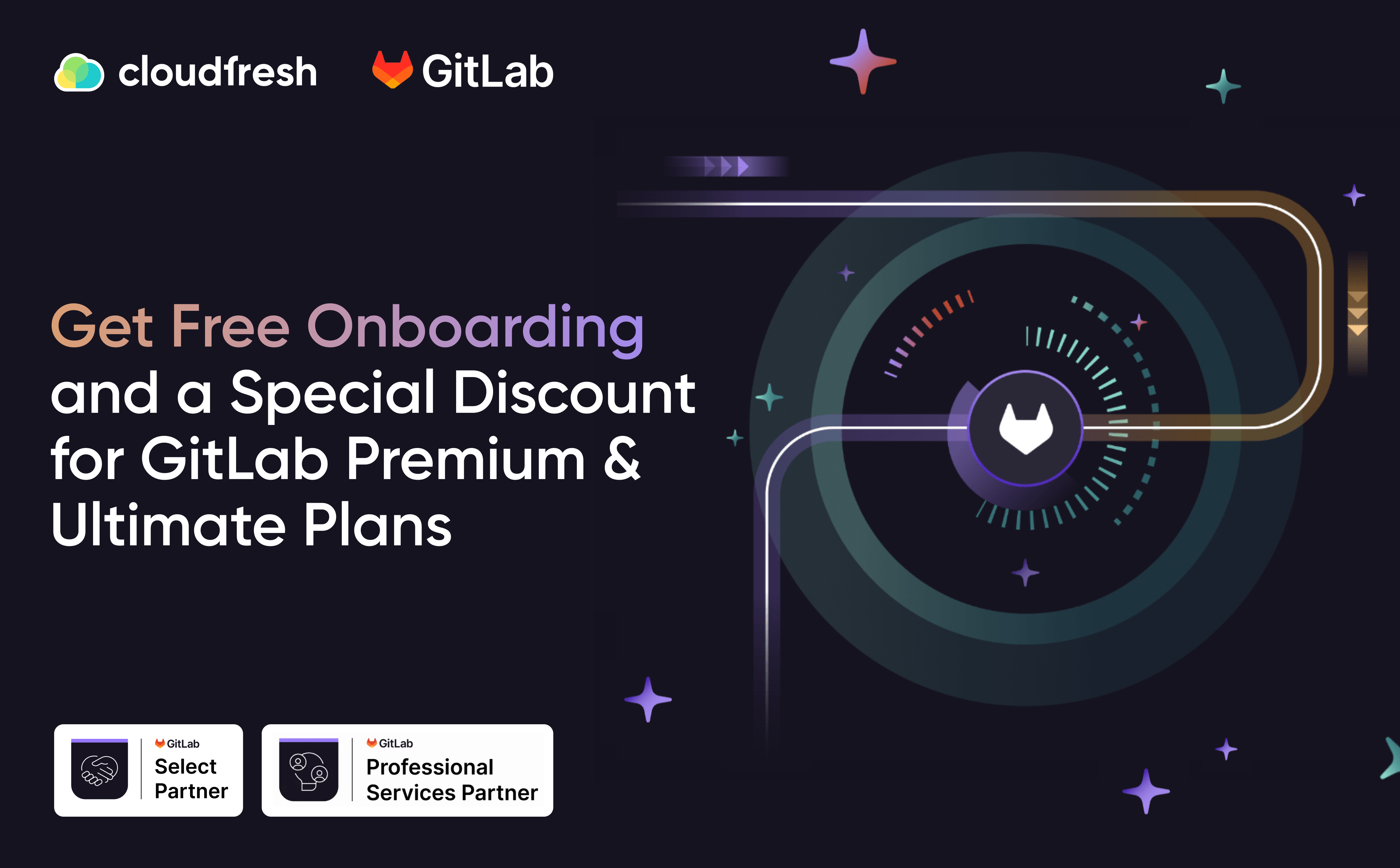 We're excited to share an exceptional opportunity with our valued community. Until December 31st, you can seize a remarkable offer for GitLab Premium and Ultimate Plans, complete with a complimentary "Fresh Start" professional services package and an exclusive discount on GitLab licenses.
What You Get:
Free "Fresh Start" professional services package: Receive expert guidance, consultations, and CI/CD template from Cloudfresh, an official GitLab Select Partner with a top-tier status in the field.
Local Support: Enjoy support that's tailored to your time zone, ensuring even greater convenience.
Competitive Commercial Terms and a Special Discount: Benefit from highly favorable commercial terms that are truly hard to match.
Flexible Payment Plans: Choose from various flexible payment options and explore creative financing solutions. We offer multiple currency options, encompassing PLN, USD, EUR, UAH, CZK, and even cryptocurrencies.
Professional Services: Access a suite of services, including audits, migration, implementation support, and AI solutions to maximize GitLab platform adoption across various use cases.
Expertise in Technology: Tap into our wealth of expertise in a wide range of technologies. This extends beyond GitLab to include other crucial aspects of your business and how they seamlessly integrate.
Security Focus: Prioritize security with our unwavering commitment to the principles of DevSecOps.
What's Included in the "Fresh Start" professional services package:
GitLab Features Training: Explore a spectrum of topics, covering project information, planning, security, CI/CD, packages and registries, analytics, wiki, and snippets.
Consultation on Self-Managed Instances: Dive into crucial discussions about IT infrastructure choice, project instance size, machine configuration, runner types, sorting according to CI/CD, and setting up a self-hosted registry.
Configuration and User Management Consultation: Learn the intricacies of creating and configuring groups, users, roles, and permissions.
CI/CD Training Session: Immerse yourself in topics like syntax, dependencies, security considerations, and the CI/CD editor. Visualize and validate your workflows.
Cloudfresh CI/CD Template: This all-encompassing template includes the essentials: basic CI/CD, SAST, DAST, secret detection, and container scanning.
GitLab Runner Setup Training: Gain a comprehensive understanding of what a GitLab Runner is and how to set it up to cater to your unique requirements effectively.
Don't let this opportunity pass you by. Claim your offer now and chart a path to success with GitLab & Cloudfresh by filling out the form here. Also, you can sign up for the free 30-day SaaS or Self Managed GitLab trial.