Google Cloud
10.09.2021
New product map — AWS vs Azure vs Google
Any professional craftsman will tell you that the quality of the work performed directly depends on the quality of the tools. In the case of cloud masters, the situation is the same. We try to find and select only the best tools, but you should remember that "best" is a subjective concept. When choosing tools for work, you should always pay attention to the language support of the product, its cost, cloud comparisons with existing tools, portability and availability.
When choosing AWS vs Azure vs Google cloud products, you can compare them all using the same criteria and choose the right tool for the job. Perhaps you clearly know how many of the well-known tools work, but until now it has not been possible to visually compare each of them. Therefore, in order to structure the information easier, Google has created a product map with cloud provider comparison that help you to choose AWS vs Azure vs Google products. 
Cloud providers comparison – AWS vs Azure vs Google
The new map allows users to apply convenient filters to their search, so they can find the tool they need. You can filter the list by product name or by certain keywords in this cloud provider comparison table. This will help you compare the specifications of similar products from different suppliers.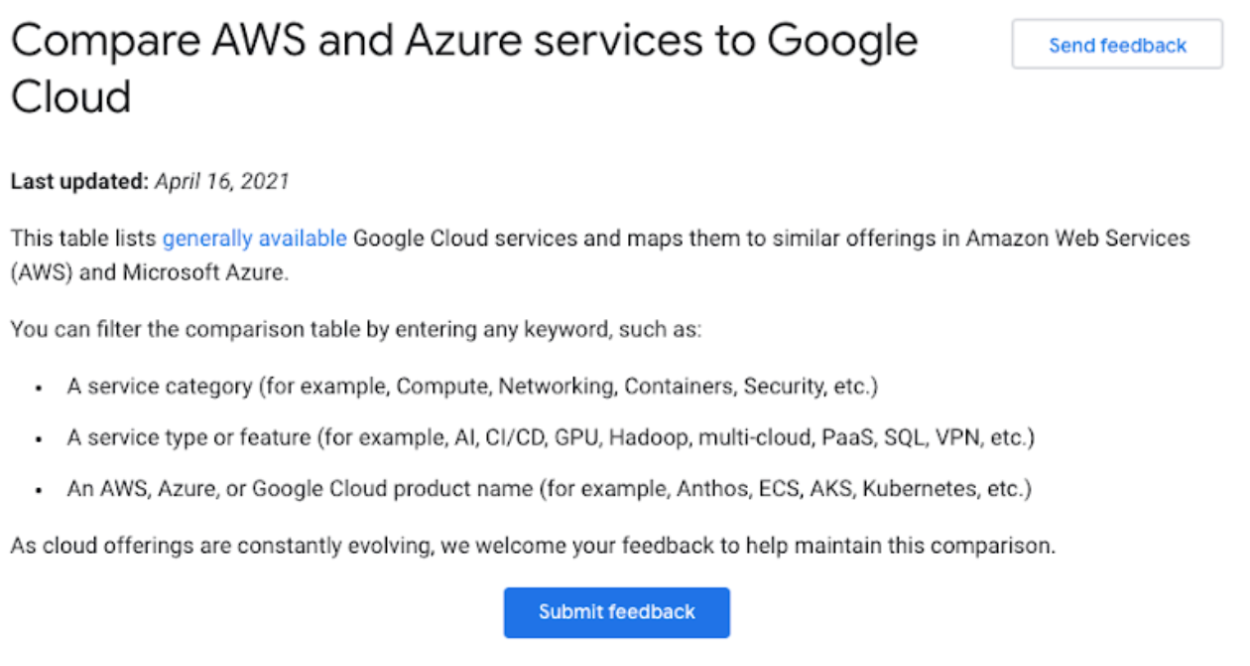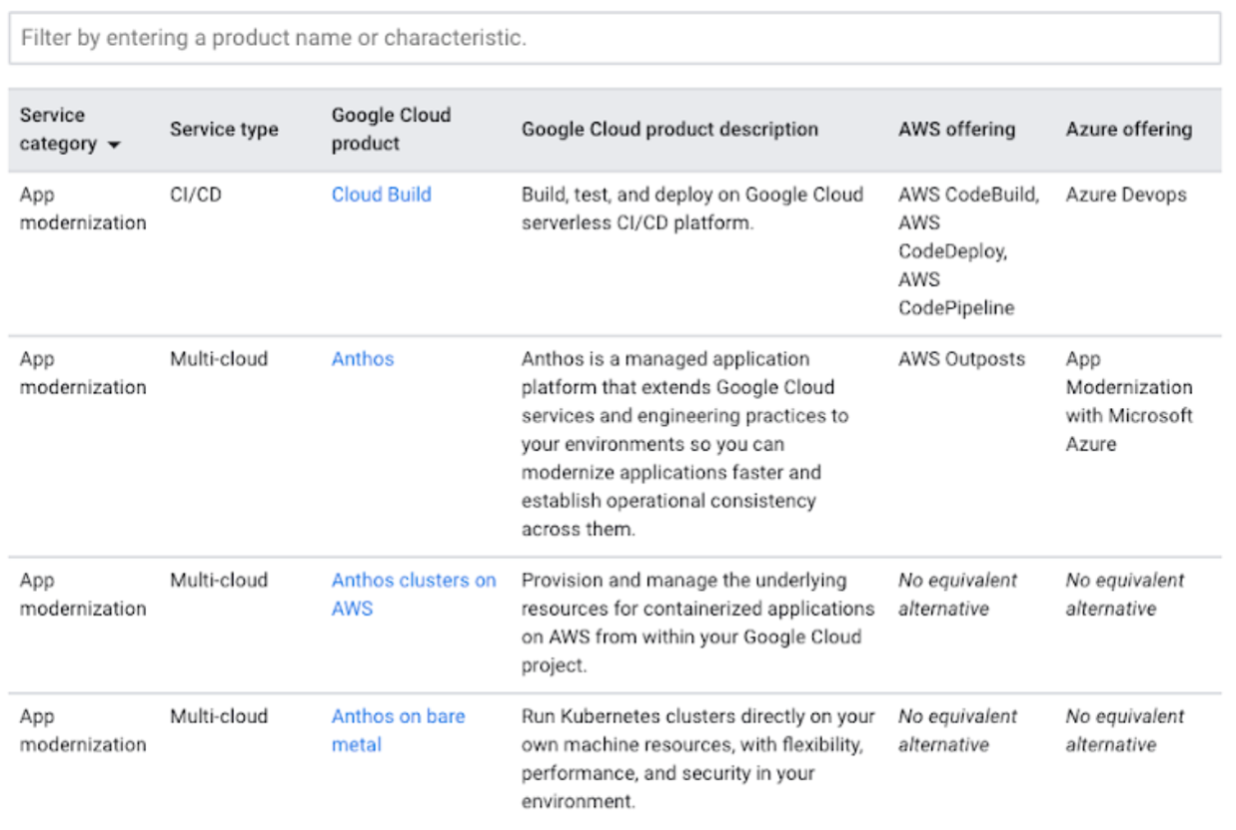 From this map, you can also easily observe the cloud providers comparison and trend of how Google's tools and products have become more popular and useful over the past few years. This is also confirmed by Gartner 2020 and Gartner 2021, where Google became the leader in cloud infrastructures and platform services.
How does the
cloud service comparisons
map work?
While using this map, you can learn more about AWS and Azure tools and compare their main characteristics. You can also find Google Cloud products for yourself that offer solutions that suit  your needs.
By the way, thanks to the table of cloud service comparisons, you can learn not only about the key characteristics of the tools, but also get acquainted with the advanced capabilities of products that you didn't  know about before.
Now you can search for the tools you are interested in using keywords such as "calculator", "containers", "CI/CD", "SQL", "Kubernetes", or "no equivalent" in this cloud providers comparison.
By clicking on the product you are interested in, you can find out more detailed information regarding language support, cost and availability.

The table can also give you an alternative version of Azure and AWS which  can provide you with  all the same product functions as Google Cloud SDK, for example.
In any case, we believe that this table will be useful to you, especially when choosing AWS  vs Azure vs Google tools for work. You can also start using the Google Cloud trial to experience the full benefits of the platform. For detailed information on products, you can ask the Cloudfresh team any questions you may have about cloud service comparisons. The Cloudfresh is a unique center of expertise for Azure vs AWS vs Google, Zendesk, and Asana. For these products, we can provide you with the following services: 
Customization;

Development;

Integration;

Training;

License;

Support.
Our specialists will help you optimize your IT infrastructure, develop integrations for better system interoperability, help create completely new structures and processes for your teams, and help you find better AWS vs Azure vs Google cloud product, while our support center will provide you with the best customer experience! 
Unlock the full potential of Cloud solutions – explore our Google Cloud professional services!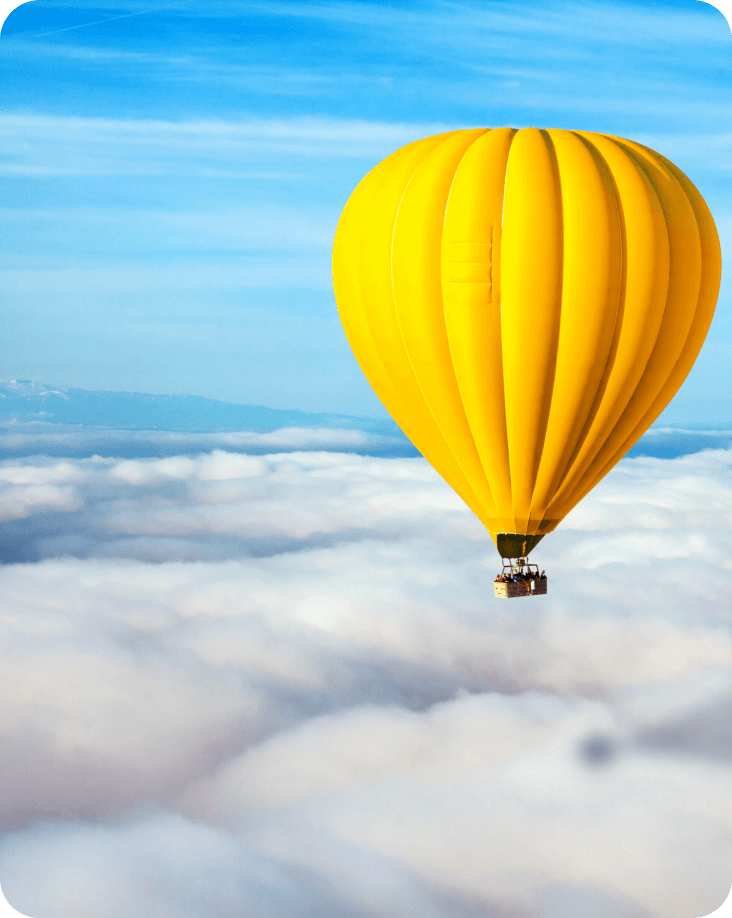 Get in touch with Сloudfresh