Experience the new interface and features in Jamboard
Google is constantly working hard to keep the Jamboard on top of the mountain. This time, new changes to the Google Jamboard user interface make it even more enjoyable for brainstorming and making your team work more efficiently. These changes will help turn meetings into dynamic collaboration sessions where teams get the job done. This makes organizations more nimble, collaborative, and proactive while keeping everyone connected in real-time. Recall that Jamboard is an interactive whiteboard developed by Google as part of the Google Workspace (ex. G Suite) and Google for Education family. The Jamboard has a 55-inch touch display compatible with online collaboration across multiple platforms. Google Workspace (ex. G Suite) users can collaborate in the same Jam session through the Jamboard itself, through jamboard.google.com on PC, Mac, or Chromebook/Chromebox, and through the iOS and Android apps. The Jamboard can be wall-mounted (mount included) or mounted on a Rolling Stand (optional). More on the update below.
Jamboard UI updates
New toolbar
Colors are grouped immediately in the toolbar below the Pen tool.
Automatic drawing functions grouped under the pen tool.
All image insertion tools grouped under one image insertion tool.
New Dial Tools
Easier to add and remove images.
The pop-up menu on the image panel for intuitive operation.
Become a Jamboard Pro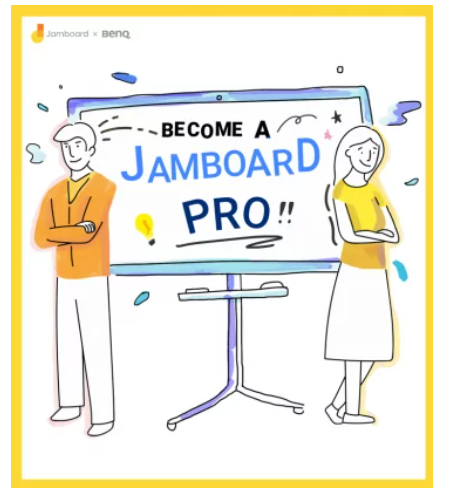 Google has improved the user experience for editing on Jamboard devices. To make it easier for users to get familiar with the updates, BenQ has developed a user guide. This tutorial provides more detailed information about using the toolbar, frame bar, and other essential features such as:
How to use the Jamboard editing tools
How to open Jam on Jamboard
How to Collaborate with Others on the Jamboard
Download the "BECOME A JAMBOARD PRO" manual
Only in September 2019 – additional 1000 Euro discount when ordering Jamboard. The promo is valid for new and existing customers of Google Workspace (ex. G Suite), Google for Education, and Jamboard.