Google Cloud Platform (GCP) is not just an alternative to AWS. It is a versatile and more convenient solution for storing your information in the cloud. Now the cloud is the leading technology for building a business, and multi-cloud is the future wave, becoming more and more popular.
Organizations face the challenge of evaluating and selecting not just one but multiple public cloud providers and then integrating and supporting them. Therefore, we are now introducing the benefits of GCP – a more open and cost-effective service than AWS, which has profound knowledge in cybersecurity and artificial intelligence (AI) / (ML).
AWS cloud storage has been available since 2006, while Google launched its cloud in 2008. Many people think that because of this, Google is a new player in cloud storage, but this is not the case. In fact, Google developed Borg, the precursor to Kubernetes, around 2003 or 2004. This means that Google has much more experience with cloud storage than Amazon.
Compared
AWS and GCP offer a core set of computing, database, and networking features such as:
Computing function: Google Compute Engine and Google App Engine | Amazon Elastic Compute Cloud (EC2);
Storage function: Google Cloud Storage | Amazon Simple Storage Service (S3) and Amazon Elastic Block Store (EBS);
Network features: Google Virtual Private Cloud | Amazon Virtual Private Cloud (VPC);
Database: Google Cloud SQL, Google Cloud Firestore, and Google Cloud Bigtable | Amazon Relational Database Service (RDS) and Amazon DynamoDB.
See the table below for more complete and clear information: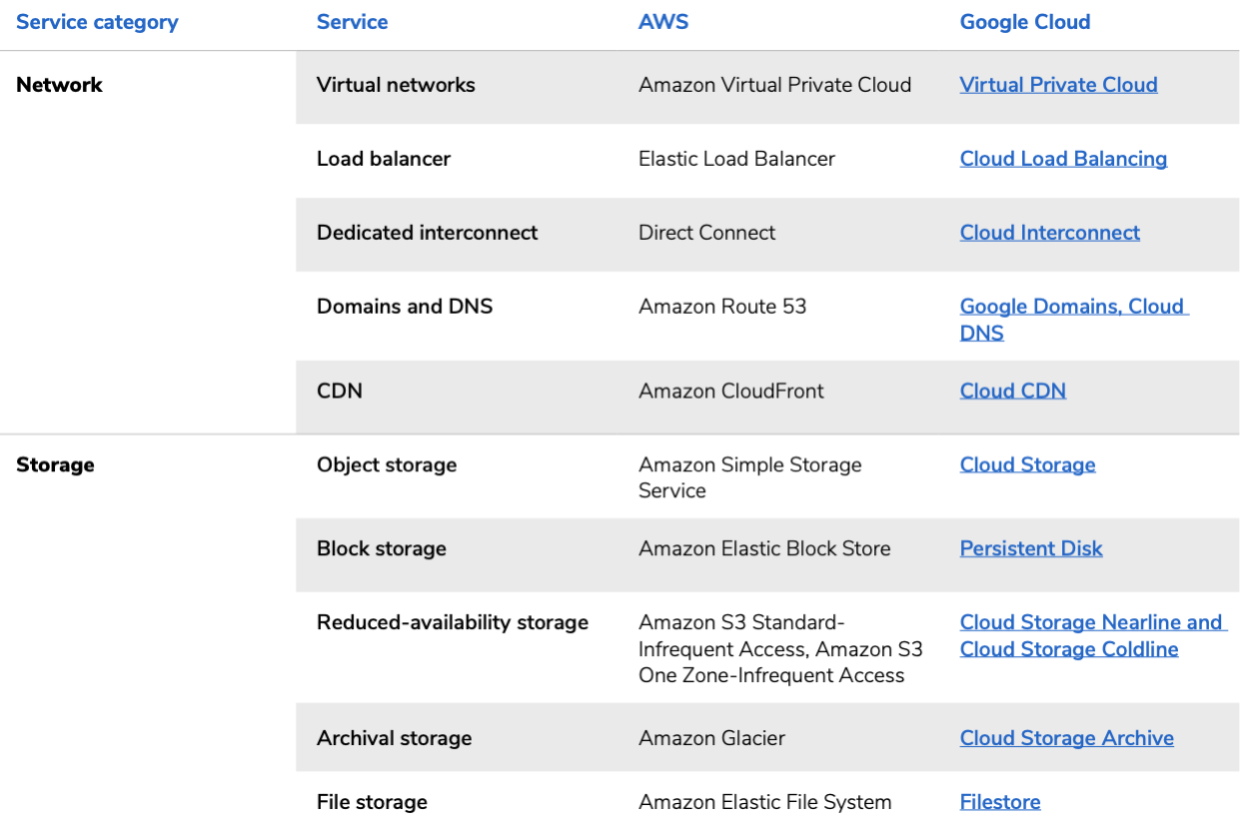 Why Choose GCP
There are several good reasons to migrate your information storage to GCP. One of them is transparency in use. Compared to AWS, which has no overhead in terms of use, GCP helps its customers keep their cloud server costs as low as possible. Also, when using GCP, you will find benefits such as:
Savings with microservices. GCP users can deploy 4,000 Docker containers in perfect orchestration through the Google Kubernetes Engine. In this case, the download will not require a lot of memory, thereby simplifying the download process.Low total cost for EDW. ESG found that GCP users saw a 52% reduction in costs compared to a 41% reduction in costs for AWS users.
Virtual machines at a fixed price. Preemptable Virtual Machines (PVMs) help saves up to 79% of workloads that can be exacerbated by technical failures.
Individual types of machines. Save up to 48% of resources with the ability to choose any cloud configuration and memory.
More on the benefits of GCP in greater detail.
Cloud usage tracking and easy billing
GCP makes working with cloud storage simple and convenient. GCP allows you to create multiple accounts for one project. AWS charges a fee for each new version that appears on the server. And this can be very inconvenient when you are in a company working on one project on the cloud. In this case, the fee is charged only for the storage of the project and not for the adjacent accounts.
Using AI and Machine Learning
In 2021, using artificial intelligence tools will be a big advantage. This advantage is especially felt when using the cloud and moving from AWS to GCP since the first service does not use these tools. The use of AI and ML is a huge plus, especially for those teams that do not have a person responsible for data processing.
Easy cyber security setup
Since Google is the main platform for finding information, it is also the most popular place for cyberattacks. Therefore, when creating products, the security issue is almost in the first place. Therefore, every minute Google protection:
Scans 7000 URL links for browser extensions or viruses;
Checks over 694,000 malicious web pages for malware;
Sends more than 6,000 messages to Chrome users about the presence of suspicious links;
Detects one malicious site on the network.
Qualified providers
GCP providers undergo periodic training and audits to provide only first-class services and better understand the needs of their customers. Thus, GCP maintains standards for various financial, healthcare, and government areas.
Support from Kubernetes
Yes, AWS also offers Kubernetes connectivity among its range of services, but don't forget that Google was involved in its creation. Therefore, as with AWS, GCP users will also benefit from a quick Kubernetes installation that is not delayed.
Reliability and performance
What else GCP has to offer and AWS can't offer is fast, uninterrupted connectivity. With hundreds and thousands of miles of fiber worldwide, GCP can provide you with quality performance. The data speaks for itself: GCP has twice as many submarine cables as AWS.
Ease of use
After all, GCP was created to be simple and understandable for anyone, whether it's for IT professionals or for non-technical roles. Therefore, the result is a simple and easy-to-use product.
Individual service
If your company invests in GCP, then GCP will support and help you grow. A whole army of engineers is on guard and helping GCP users to help your company figure out any issue.
Unlike other cloud servers, Google will not leave its customers without help. To make it easier for you to use Google services, our Cloudfresh team offers assistance and uninterrupted support to European countries in matters such as:
Customization;
Development;
Integration;
Education;
License;
Support.
Our Google Cloud consultants will help optimize your IT infrastructure, develop integrations for better system interaction, and create entirely new structures and processes for teams. At the same time, our support center will provide you with the best customer experience!