Google Cloud
03.04.2023
Google Cloud Backup and Disaster Recovery Services: What You Need to Know
Wiseman said the bikers are divided into two main categories: ones that wear protection gears and those that will fall from the bike in the future. Indeed, there are two other groups – ones who learn from others' experiences and those who do not. The same story is with all-around companies and the data they store. Some companies are protecting their data after data-loss survival while others are ignoring the threats of physical failures of hardware, site crashes, logical data failures due to viruses, malware, software malfunctions, and human factors like mistakes of intentional hostile actions. Some people tend to prevent data problems because they've already heard of this from people who couldn't survive the loss of data (around 80% of all who experienced such a situation, and the bigger the company is – the fewer chances to deal with it).
In the modern environment, data security and protection are one of the most crucial aspects for many businesses worldwide. However, many malicious things can cause your data to be corrupted, destroyed, or lost. These factors are often challenging to foresee but yet possible to prevent. Here enters the Backup and Disaster Recovery (further, DR) options to ensure the resilience and recoverability of your data in the most unexpected moments.
In this blog, we will discuss the Backup and DR possibilities proposed by Google Cloud and dive deeply into building resilient infrastructure and enhancing your data security and protection when some pernicious activities happen.
For a step-by-step breakdown of how to develop a robust cloud migration assessment, make sure to read our in-depth article on the topic.
What is Backup and Disaster Recovery?
Let's start with the explanations of what Backup and DR terms mean.
What does it mean to back up data? Backup is copying or achieving essential data and storing it in an alternative location to recover it after it's destroyed or corrupted. The possibilities of Backup in cloud services and on-premises infrastructure should correspond to the following characteristics:
Сentralized backup management across workloads
Efficient use of storage to minimize costs
Minimal recovery times
Disaster recovery (DR) is the process that supports an organization's ability to remain operational while maintaining or reestablishing the vital infrastructure after an adverse event.
Speaking of Backup and DR, two metrics are crucial to consider while analyzing your recovery chances to survive natural or other disasters:
RTO ( Recovery Time Objective ) – the maximum amount of time for the applications to remain offline according to your SLA.
RPO ( Recovery Point Objective ) – the maximum amount of time for which data can get lost from your application due to malicious activities.
In September 2022, Google announced the release of Google Cloud Backup and Disaster Recovery services that enable centralized Backup and DR management directly from the Google Cloud console. Let's plunge into the essential possibilities of Google Cloud Platform (GCP) workloads Backup and restore.
Google Cloud Server Backup Services
Google Cloud proposes to its users the simple setup, restore, and management of the DR and various cloud backup strategies.
One of the priority pillars of the GCP backup solution is to provide you with a centralized management experience. What does it mean? You can spend less time on management and control within an utterly holistic view while having consistency in your data protection coverage. With this possibility, IT administrators can create an application- and crash-consistent backups for virtual machines (VM) on Compute Engine, VMware Engine, or on-premises VMware, databases, and file systems on a single pane of glass. All your data will be stored in the original format ensuring its application readability.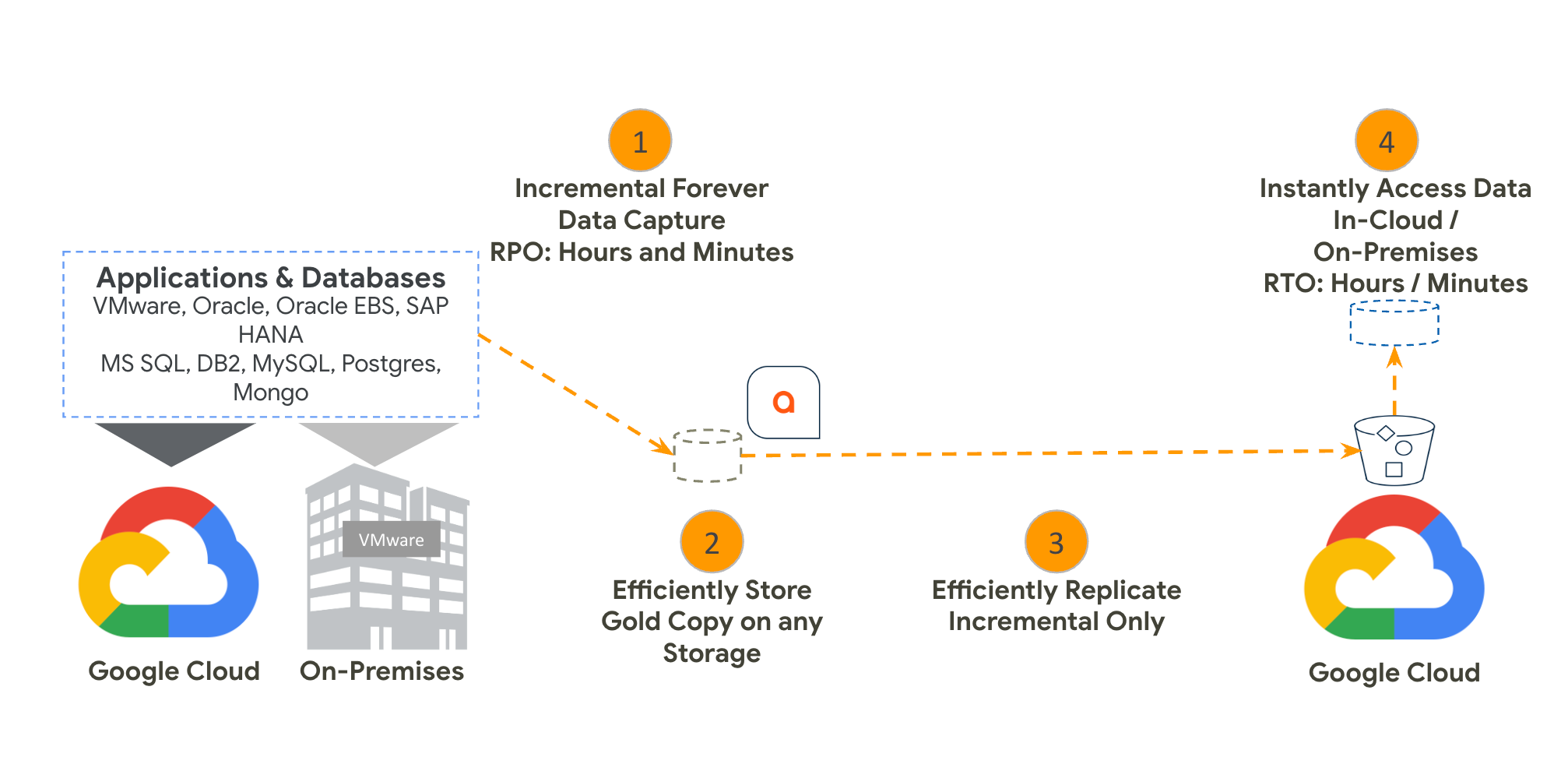 Leveraging your data protection in the cloud means you have all available information within one Backup storage in an affordable format without spending much time on its translation or transition. So the time needed for recovery is decreasing while critical business operations could be renewed faster.
To minimize the total cost of ownership of your Backup, the Google team designed space-efficient "incremental forever" storage technology as a part of Cloud Backup services. This solution has, in its essence, the principle that you pay only for what you use and what you need. How does it work? While having your prior Backup, Google Cloud will store data for all further backups containing block-level changes according to the previous backup session data state. It allows for faster backups, less overhead load on your production resources, reduces the network bandwidth required to transfer related data, and cuts down storage costs by minimizing the amount of storage consumed by your backups.
For more, you can be flexible while choosing the amount of cost you can spend and the data retention time. Using Google Cloud Storage, a managed service for storing unstructured data, you can select the desired storage class for your Google data recovery that corresponds to your needs achieving maximum business and cost efficiency. For example, using Archive Storage will enable you with the lowest-cost, highly durable storage service for data archiving, low latency access, Online Backup, and disaster recovery with data available within milliseconds.
Key benefits of Google Cloud backup and Disaster recovery
One of the common misconceptions is that using the cloud for data storage already means that your data is safe in the event of a disaster or other threats like malware. However, you should remember that only because you use the cloud does not mean that your data is sufficiently safe. So you should always check what cloud provider's solutions are capable of Backup and DR.
Here are some of the benefits of GCP backup and disaster recovery:
 Managing and restoring data all-in-one place
With GCP centralized data management, you can set up, monitor and manage many workloads from the central dashboard.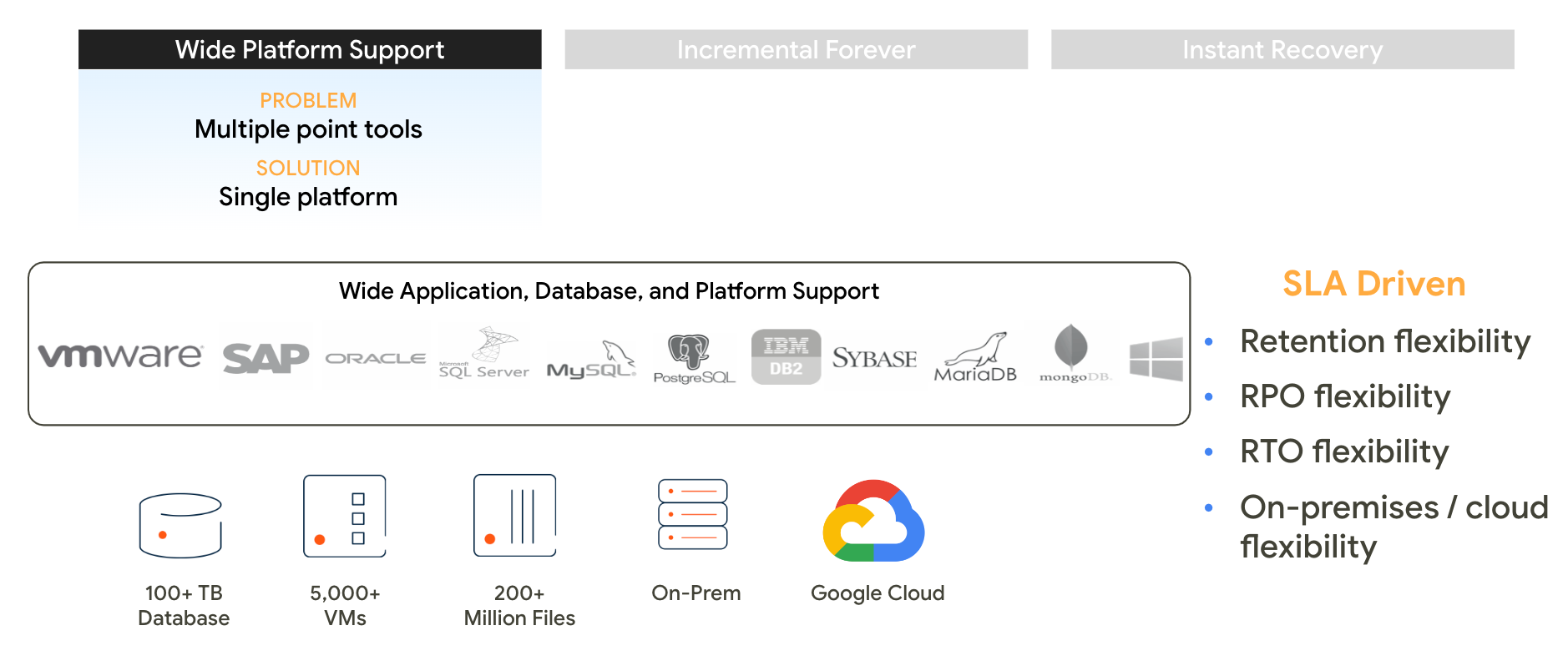 2.  Shift your RPO to a minimum
Google Cloud Backup and Disaster Recovery services are VMWare and application-aware and know virtually any database you may use, from MS SQL and PostgreSQL to SAP DB, Oracle, and Mongo, so you may shorten your RPO as much as 10 minutes without overloading your systems due to always incremental concept.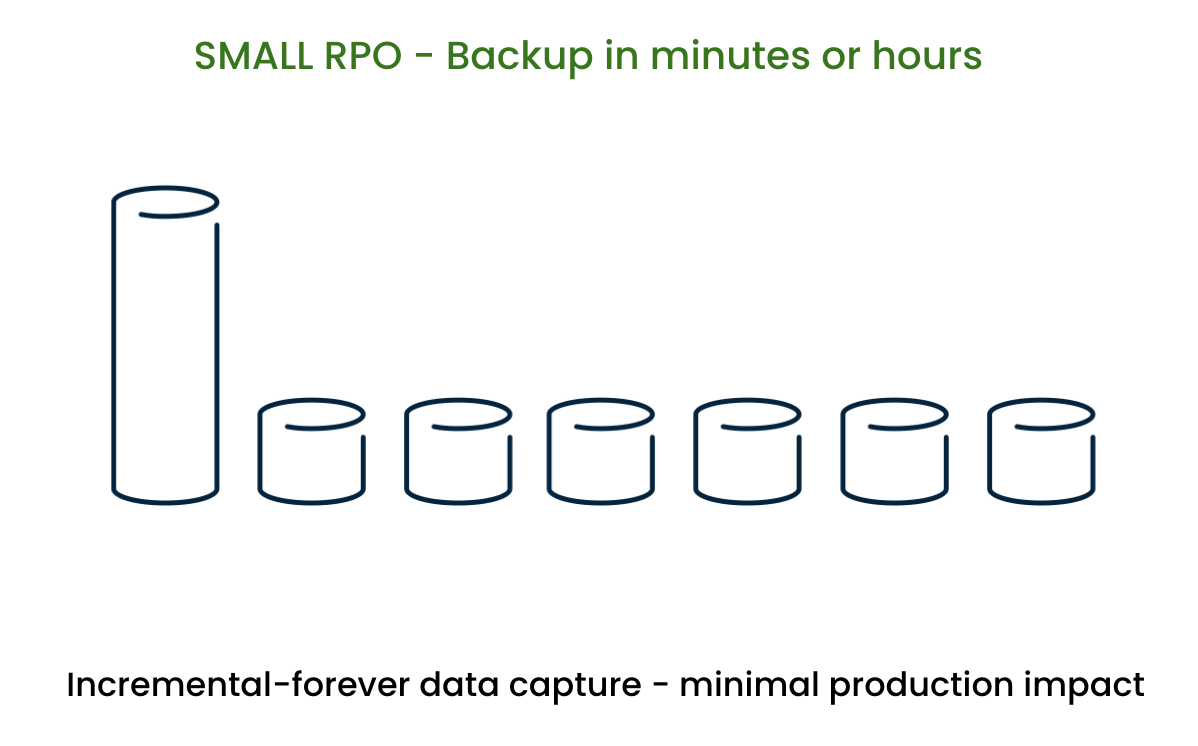 3. Put an end to the endless downtime with instant recovery
Minimize your RPO with the ability to instantly mount your backup data to hosts, so you don't need to wait a week until your 50 TB database is restored and you are in business immediately. And don't forget the ability to have the onsite cache if you are on-prem, and then the service will restore your VMWare and mount the data locally. So it's lightning-fast compared to any other solution you may ever have. And you may return to any of those 10-minute slices since you started using the service.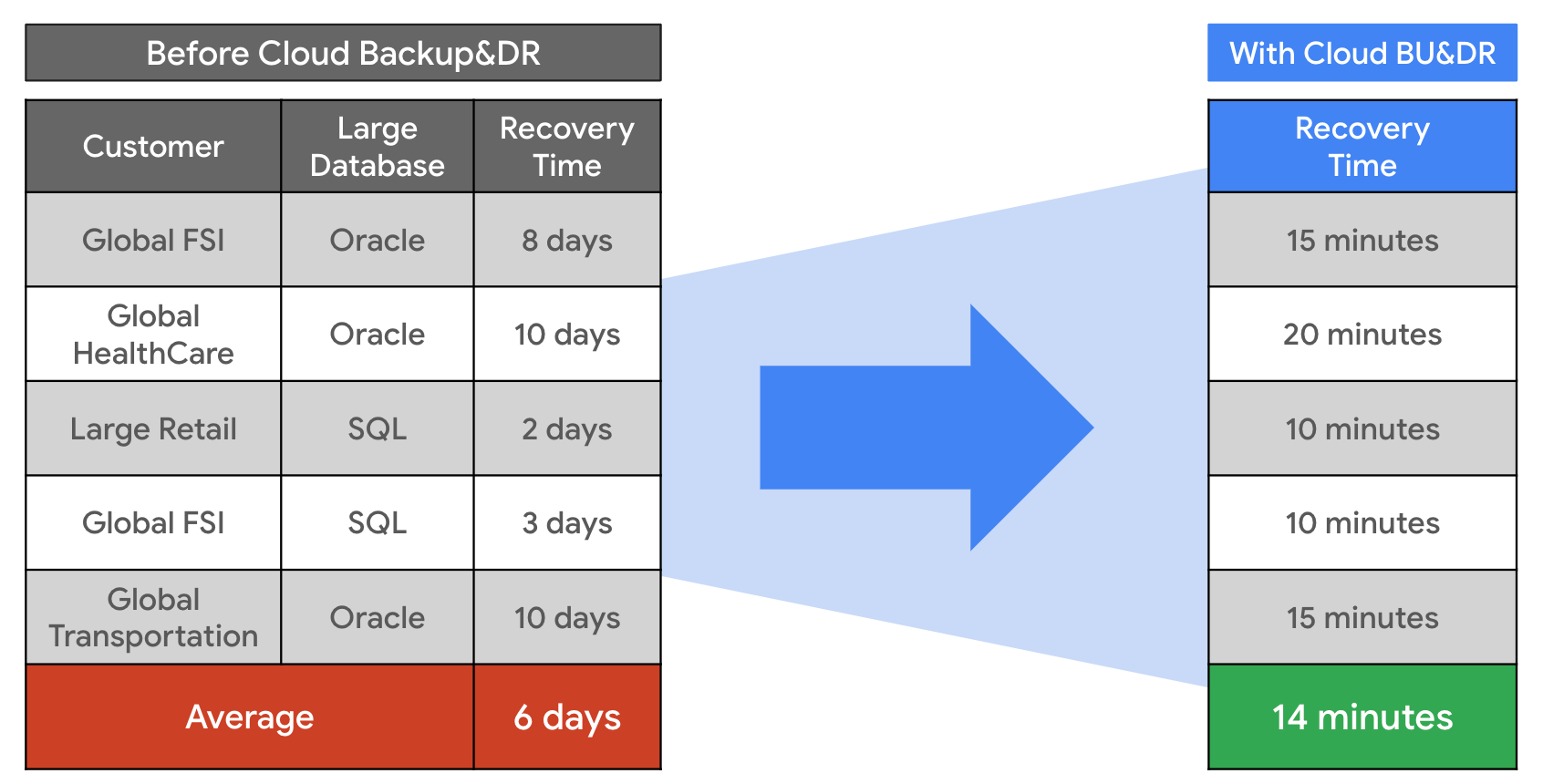 4. Some more benefits
You may instantly mount any of the slices as a writable snapshot for any necessary purposes, like analysis, audit, legal or testing.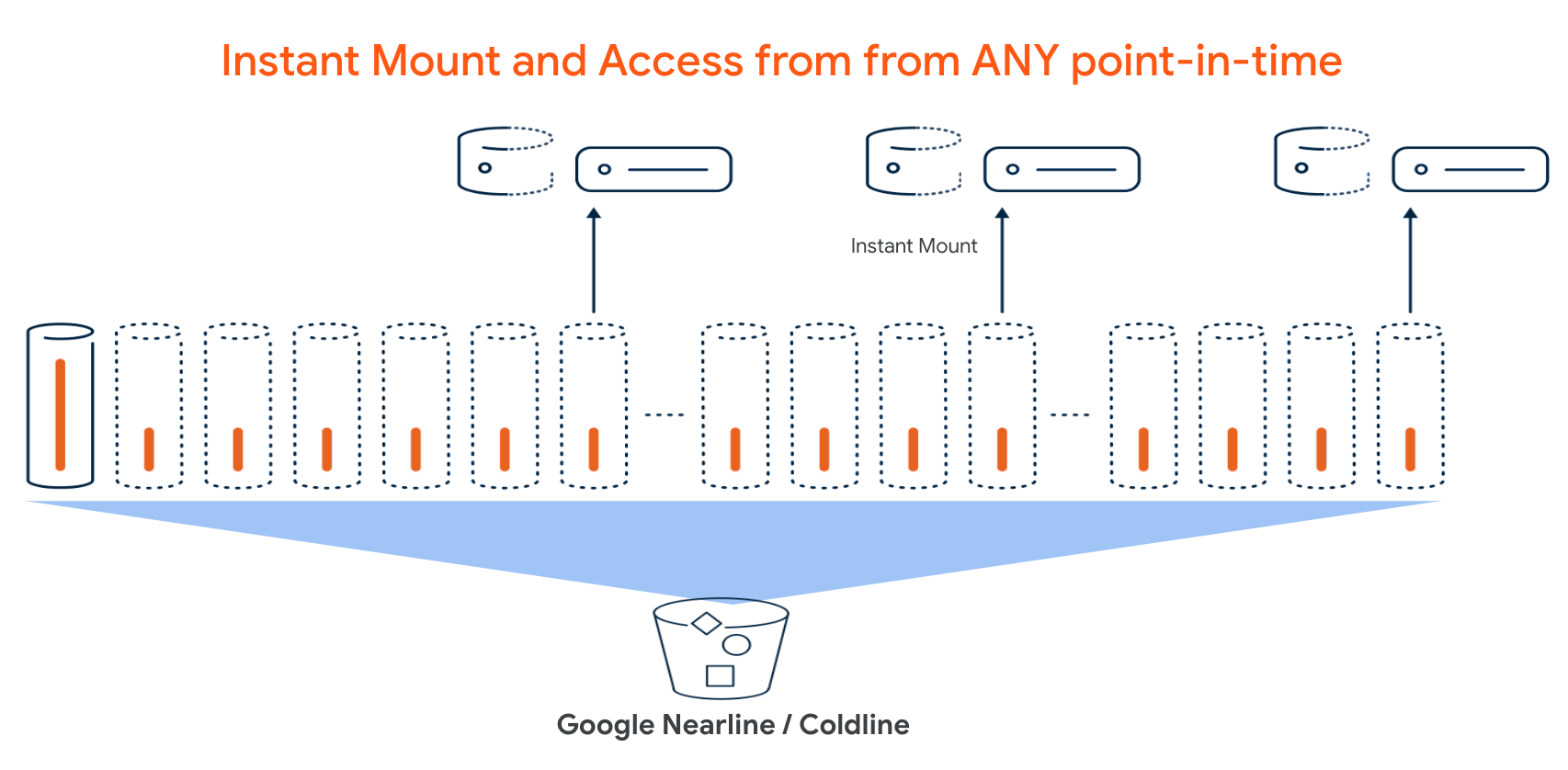 5. Reduce your spendings
Pay only for what you use when you need the Google Cloud Disaster Recovery Services, billed monthly based on your usage. And it's as cheap as 0,03$ for GiB per month for regular data and 0,09$ and 0,24$ for different types of databases, plus the Cloud Storage space is even more affordable. And yes, no prior reservations – just actual data.
6. Save your resources by reducing space for storing backups
Efficiently use Google Cloud storage backup and do not duplicate it — profit with the incremental changes added to your initial Backup saving your time and costs.
As you can see, with GCP Backup and DR solutions, you can protect your workloads running in the cloud from malicious and unexpected events. You can also secure the data stored on-premises by backing it up to Google Cloud. There are various options to benefit from disaster recovery in the cloud and drastically optimize the costs.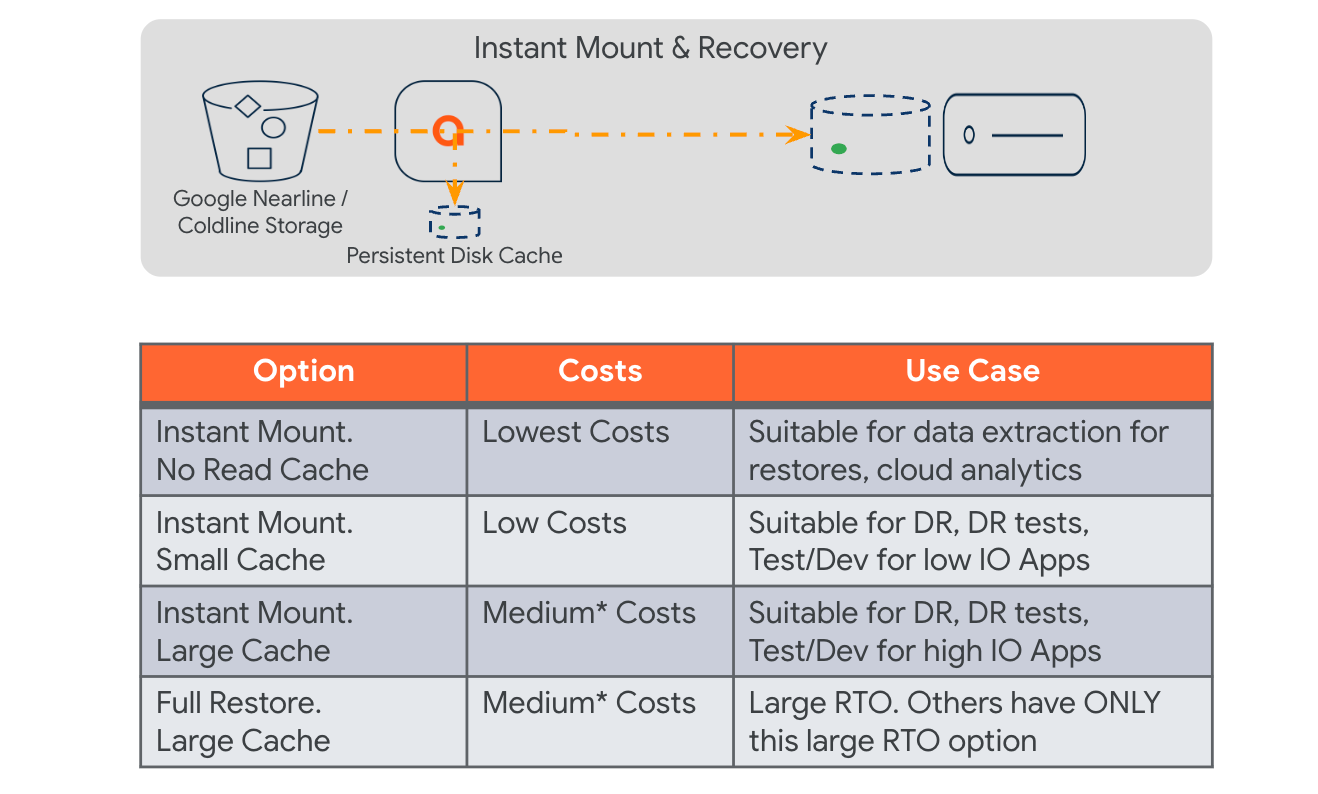 7. Restore your infrastructure with a single click
Service allows scripting the complete data restoration with one button push to another region or restoring your on-prem infrastructure to the Cloud in minutes without additional pay. So your CFO will be pleased to save money while your data is vault-level protected. Also, you may schedule the backup and DR testing by paying for the target infrastructure for just the minutes you need to restore and verify the data and application's integrity. Having a Backup and Disaster Recovery service is invaluable, regardless of whether you're dealing with Google data lake, data warehousing, or any other data management solutions.
So, lots of features. But how unique are they? Absolutely. And even more unique altogether in a single service. Here is the quick sum up of the key Backup and DR functionalities compared with the traditional Legacy Software and the New Entrants on the market.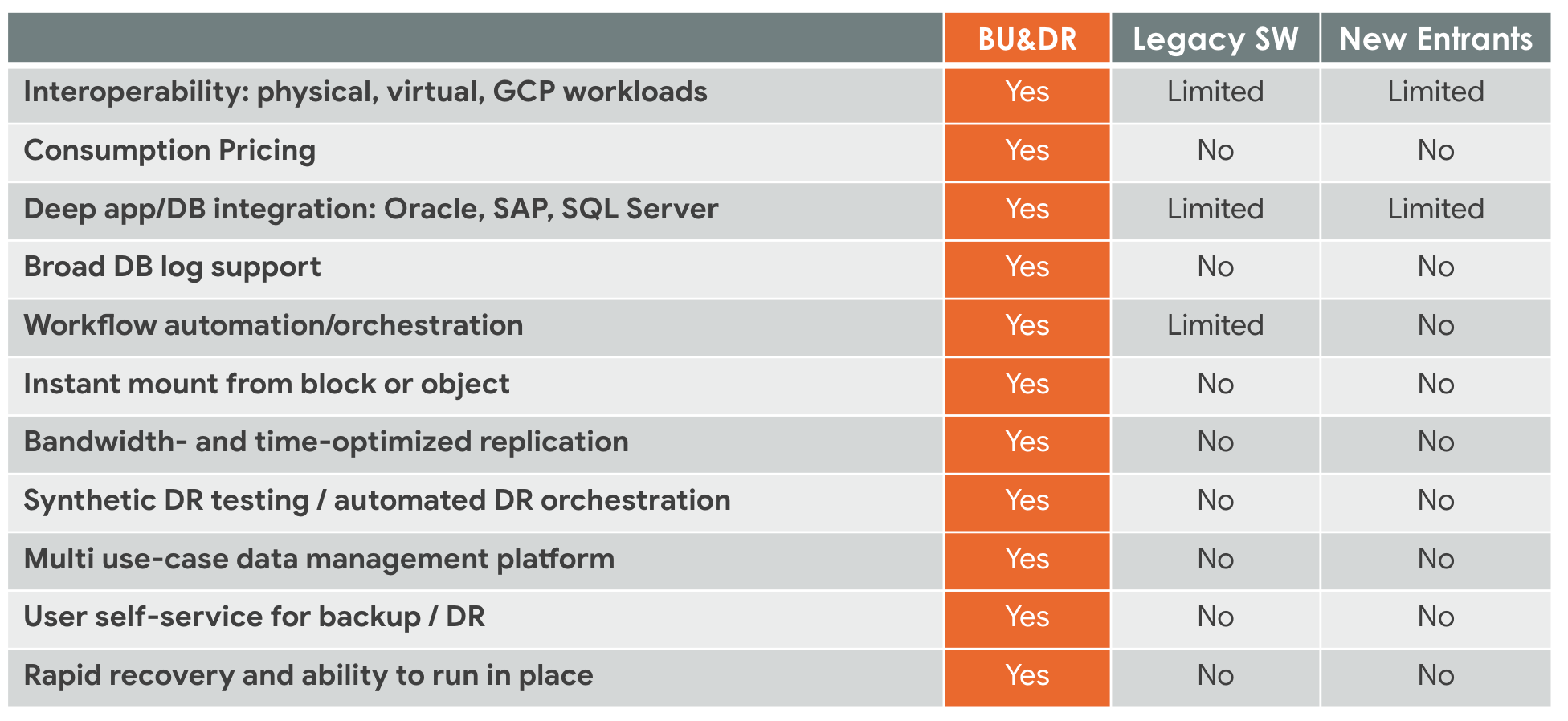 Why cooperate with the Partner?
Being a Google Cloud Premier Partner, we can enable you to profit from the secure and protected cloud infrastructure while maintaining your business operations at the highest level with Google Cloud for business solutions. Our certified professionals will happily guide you to cloud backup services for business. And sure, we will provide the best possible financial options at your convenience. Contact our team via the form below, or do not hesitate to learn more about Google Cloud platform consulting that we often implement for our existing clients.
Stay secure and productive even in the most unexpected situation with Google Cloud's cutting-edge and flexible solutions. And have your bike ride as safe as fast and exciting!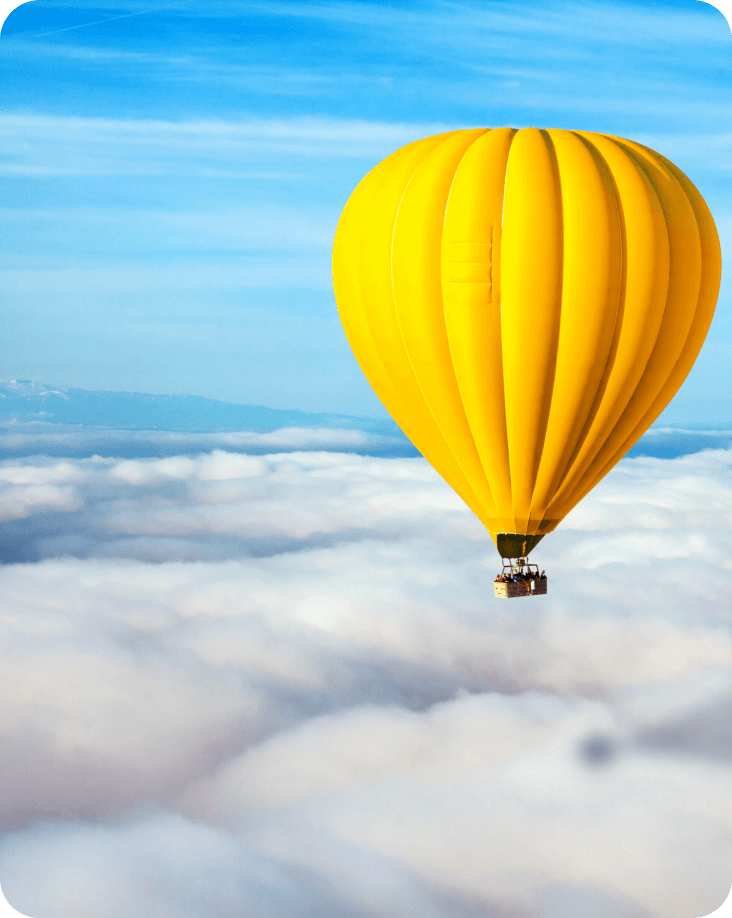 Get in touch with Сloudfresh