As the global economy struggles to recover from the pandemic, IT industry leaders face inevitable challenges. Following the shift from office-based to remote working and following the shift of business to cloud-based platforms, it is clear that the world will struggle to get back on track. 
Specifically, using Google as an example, it can be concluded that the interaction between software developers and other IT professionals has already been forever transformed by the changed workflow. 
With the transition of working and conducting any kind of communication to electronic platforms, we have moved into a new era. It is no longer just a question of local business transformation and a partial move to e-sites, but also of making global decisions to transform the entire company. The key trigger that will facilitate a complete move to the cloud is data. So the data and what we can do with it is the way for cloud transformation. 
Recently, an investigation commissioned by Google found that analytics plays an important role in improving a company's performance. The survey results from the investigation are as follows: data does play a significant role in scaling a business; the more data a company has, the more it will positively differentiate itself from its competitors. 
IDG study results
Data analytics was a crucial element during the first wave of the pandemic. It was the one that showed how many organizations had already moved to an IT platform and how many were still delaying the process. It also revealed that 55% of the companies that had not transitioned to digital platforms in time had significantly shifted or postponed work dates on many projects. If you summarize all the results of the investigation, it becomes clear that working with data is very important even when there are not enough resources. 
Now, let's talk a little about percentage statistics. As the study showed, 37% are already using advanced technology or are natively integrating it. 54% of companies identify themselves as fully transformed already. Another 39% are still creating strategies to work with implanted digital technologies but are not using them to their full potential. You can see a more visual representation of the results of the study in the image created from the statistics.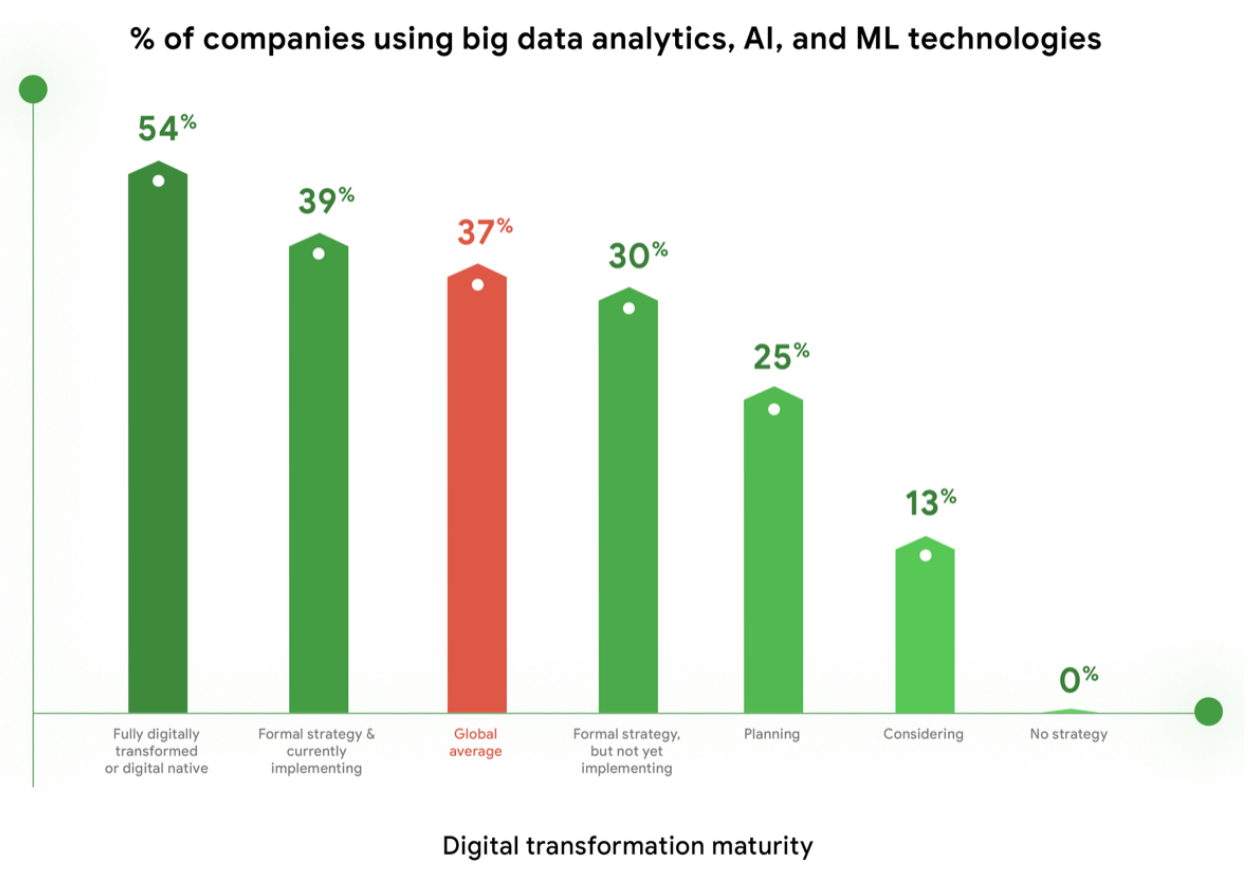 It is also worth mentioning that as companies use data analytics, cloud technologies have become increasingly popular. This is not surprising, because cloud technology solves most of the problems in scaling a business. For companies that have decided to transform their business, the cloud solves several issues at once: 
Insufficient tools for transformation or poor developer skills; 

Risks and security issues when working with data;

Outdated systems and technologies.
At the same time, the cloud helps to scale quickly, launch projects, and significantly reduce costs when working. 
Even though the Covid-19 pandemic has made significant adjustments to big companies, it doesn't mean it won't be like before. Perhaps it means it will only get better and it's time to scale your business to a larger size. This way you can manage your data and subsequently your workflow. Communication within the company will become easier and new projects will be launched more quickly. For this purpose, we advise you to install Google Workspace, which will help you to get used to new work formats quickly and easily. For installation questions, please contact Cloudfresh — a unique center of expertise for Google Cloud, Zendesk, and Asana. For these products, we can provide you with the following services: 
Customization;

Development;

Integration;

Training;

License;

Support.
Our specialists will help you optimize your IT infrastructure, develop integrations for better system interoperability, and help create completely new structures and processes for your teams, while our support center will provide you with the best customer experience!