Zendesk and Salesforce are two of the biggest industry leaders in offering customer support in the market. Both platforms provide everything you need to ensure a high-quality customer experience, but don't forget that our initial goal is not only to entice customers, but also to retain them for future deals. That's why we decided to find out which service cloud data is better and which one is right for your growing business. 
Answering the question of who is better is not easy. It's not like answering the question of what is better, Fanta or Coca-Cola. It's a matter of taste, but in our discussion we need to consider several factors at once. So before writing this material, we studied various reputable sources, interviewed those who themselves have used both platforms and came to our own conclusion. Now let's figure out which of the tools is more suitable for high-quality work with clients. 
Key Zendesk  and Salesforce features
In order to rationally analyze which program is more suitable for you, we need to start with what the two tools are and how they differ. 
Zendesk is a CRM system, which provides sales agents with a complete overview of the work with the client. The program can store all the information about your customer contact interactions, which in turn provides a complete picture of the interaction with the client. It's convenient, flexible, and the platform can be easily integrated. 
The Salesforce ticketing system is a tool that also provides a complete overview of customer service. The system can also be easily configured and integrated into other platforms, such as Zendesk. If you use the Salesforce service cloud, then you can manage not only sales issues but also marketing matters. 
As you may have already noticed, both systems are very similar to each other and yet have some differences. To better understand how the two systems differ, you need to move to the technical level and look at the two platforms in terms of functionality. 
Zendesk pricing and functionality
Zendesk provides four main types of multiple tools – Guide, Support, Chat and Talk. 
The Guide is probably one of the most useful features of the Zendesk ticketing system. This is a special section with a smart knowledge base where all the information customers need will be collected. At this point, customers will be able to find instructions or basic answers to some questions and have a self-service option available to them. This section helps them to learn the information even before the client asks for help from the agent. The main advantage of the manual is also that the company can design it in its own color scheme and add logos to it.
The support help center tool speaks for itself. This is the ticket system, where agents will receive requests from clients. 
Chat is a system for communicating with customers. Some may think it looks a little outdated and they may be right. But the design of Chat is designed specifically around the principle to make it easier for agents to get things done.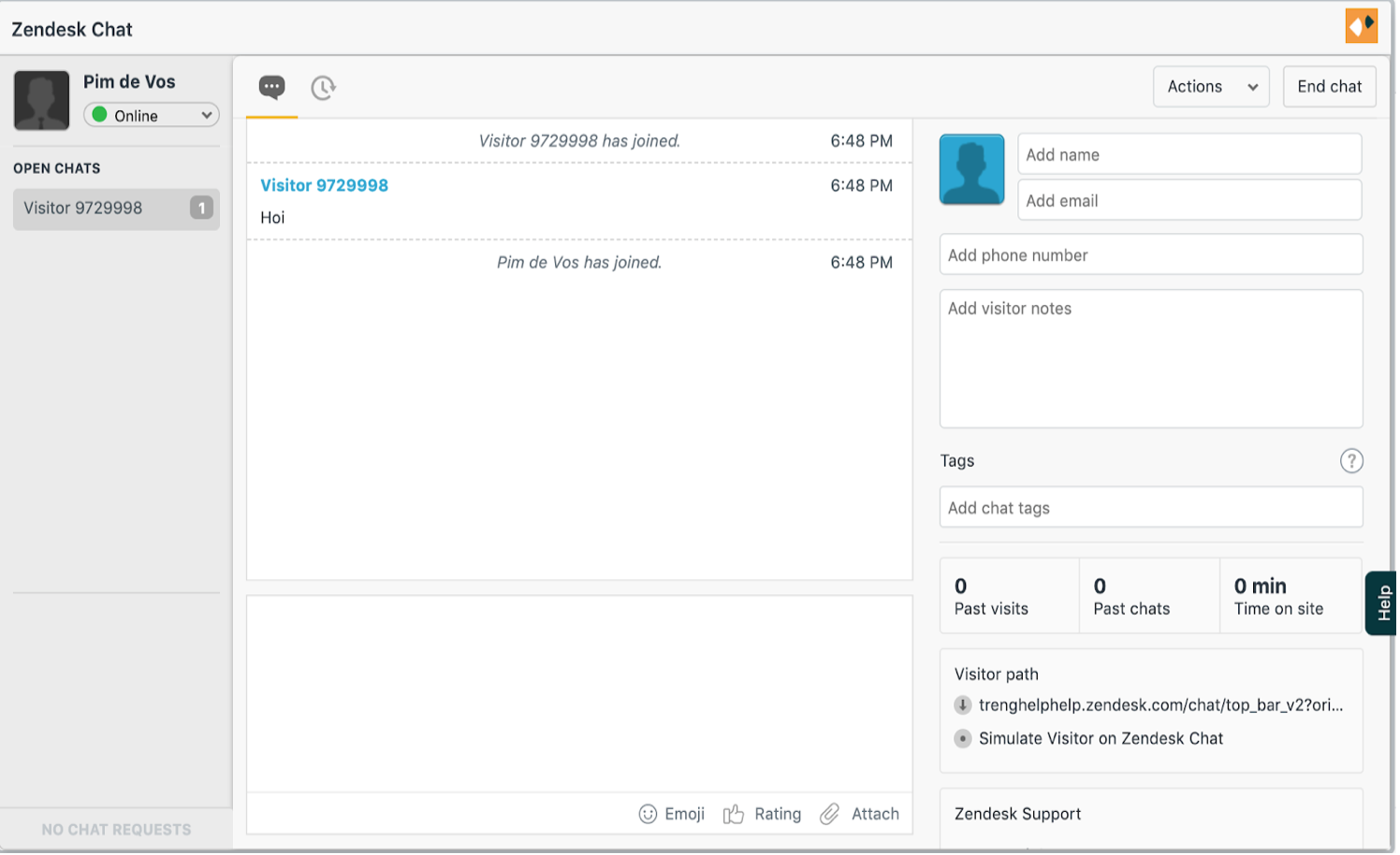 The Talk tool is designed specifically for phone conversations with clients. It will store all the information related to telephone communication with the client. 
One of the main advantages of Zendesk is that agents can transparently see the entire history of interaction with customers. There are unique tabs for each tool, which will make it easier for the agent to get used to the functionality.
Now let's talk about the cost of Zendesk. Initially, Zendesk offers two options — Zendesk Support and Zendesk Suite. The first has three pricing plans. It's worth saying that it won't be easy to choose a pricing plan for your business on your own, as each one is significantly different. That is why we advise you to seek help from the Cloudfresh team, so that our experts can introduce you in detail and familiarize you with all the functionality.
Each pricing plan differs in the availability of additional features. You need to be attentive with this question, because the first plan will not cover even half of what good customer support requires.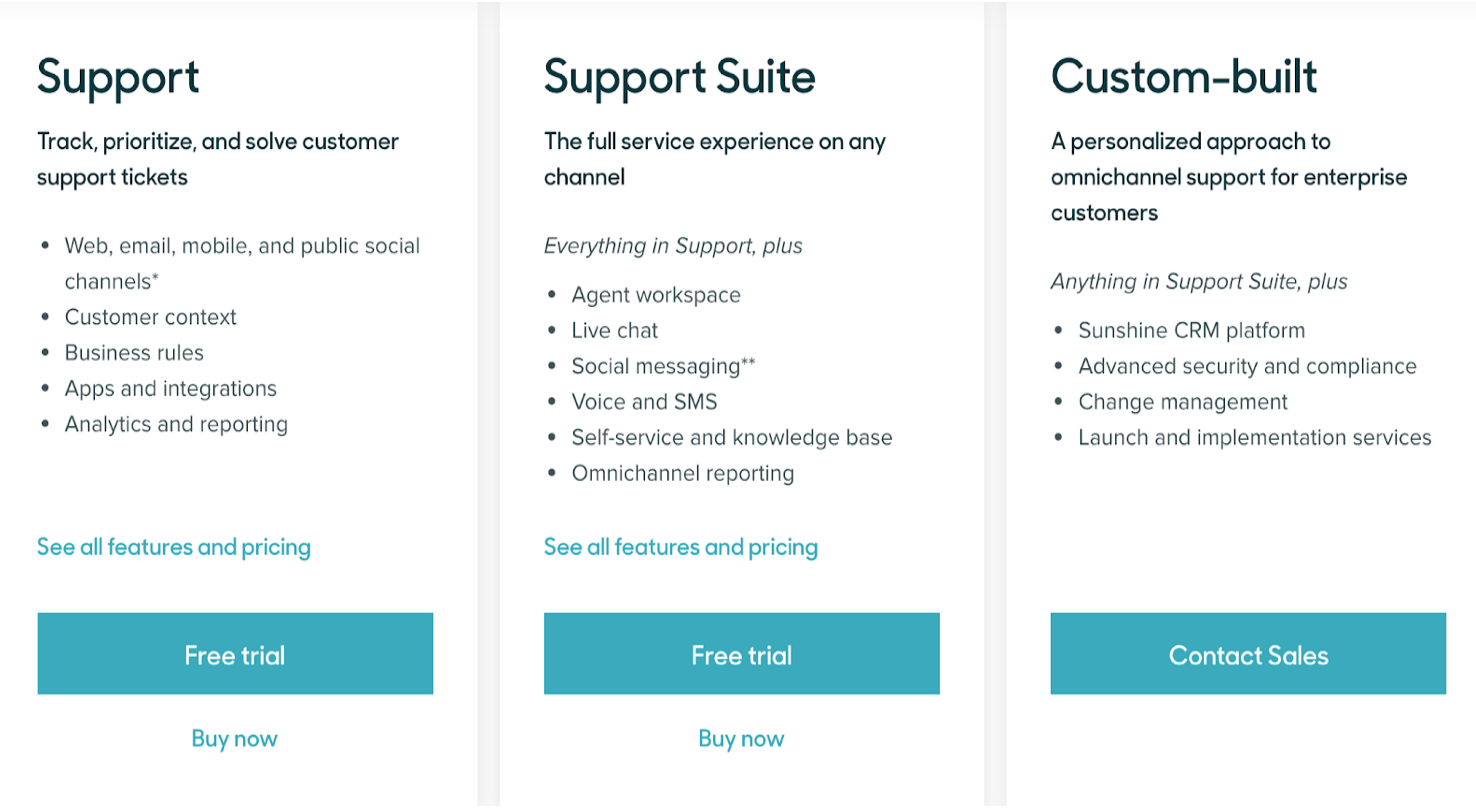 The Zendesk Suite plan is more useful. It includes all the basic functions you need for support, including manuals and Talk. The plan is also divided into two plans, one for businesses and one for entrepreneurs. But then the price can be a little higher. Anyway – you always have to pay for a good quality product. But that doesn't mean you can't buy this product at a discount. The official Zendesk website, as well as the Cloudfresh website, often have events with discounts on the purchase and integration of the product.
Salesforce pricing
At first glance, Salesforce pricing plans may seem a bit simpler than Zendesk's. Salesforce's products have four basic plans: Essentials, Professional, Enterprise, and Unlimited. As with Zendesk, you need to pay once a month, but you need to sign up for services a year in advance. Also, the Essentials plan already offers all the basic functionality.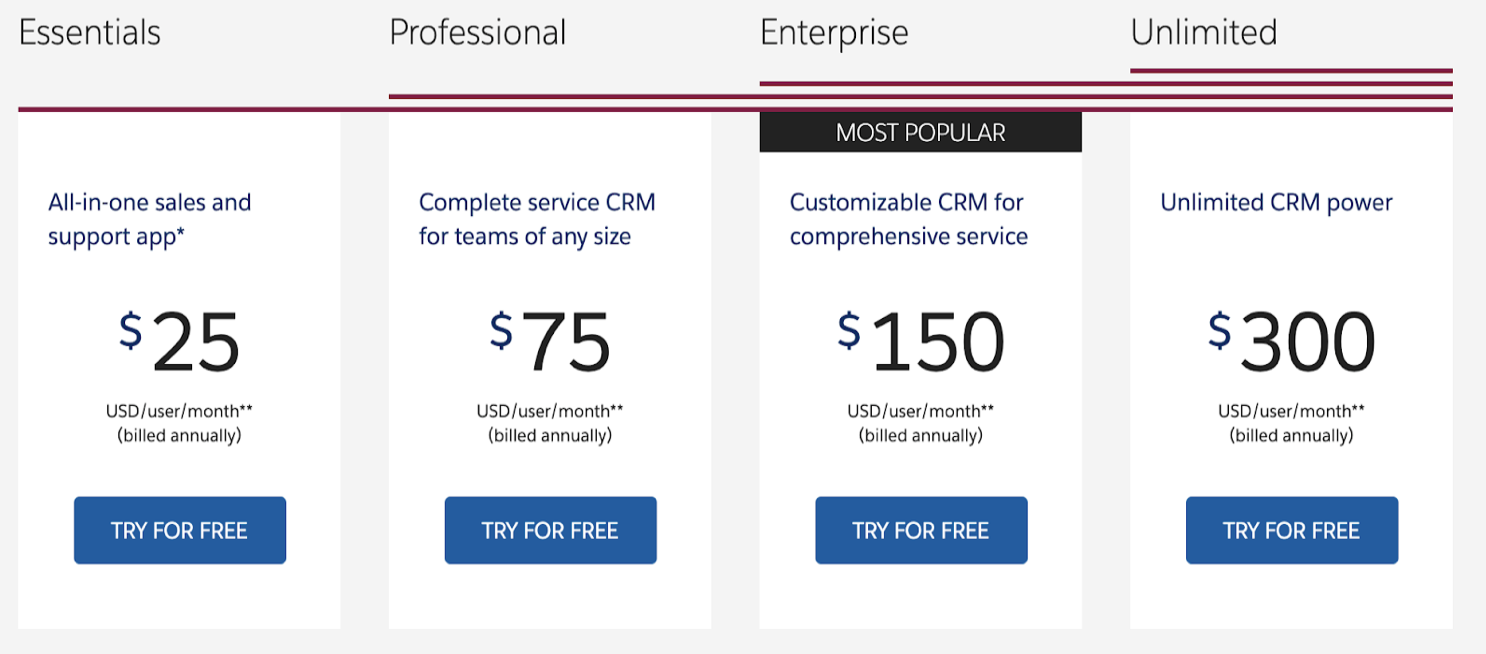 But if you need to assign roles to your agents and fully manage the software solutions, then a simple plan is not enough. In general, the pricing policy is slightly different from that of Zendesk. But to choose which plan is right for your business, again, it is better to consult with experts first. 
Overall look and user-friendliness Zendesk vs Salesforce
After we've discussed the technical specifications, let's move on to the design of the platforms. Now we will consider both platforms more from a usability point of view, because when a new employee comes to work at your company, you would definitely not want to spend weeks training him. The interface should be simple and intuitive. 
This section of the article will not have a purely objective opinion, because "convenience" is subjective for most people. So in order for you to understand which tool Zendesk vs Salesforce suits you better, we advise you to try both of them. Especially if you have the opportunity to try both of them for free.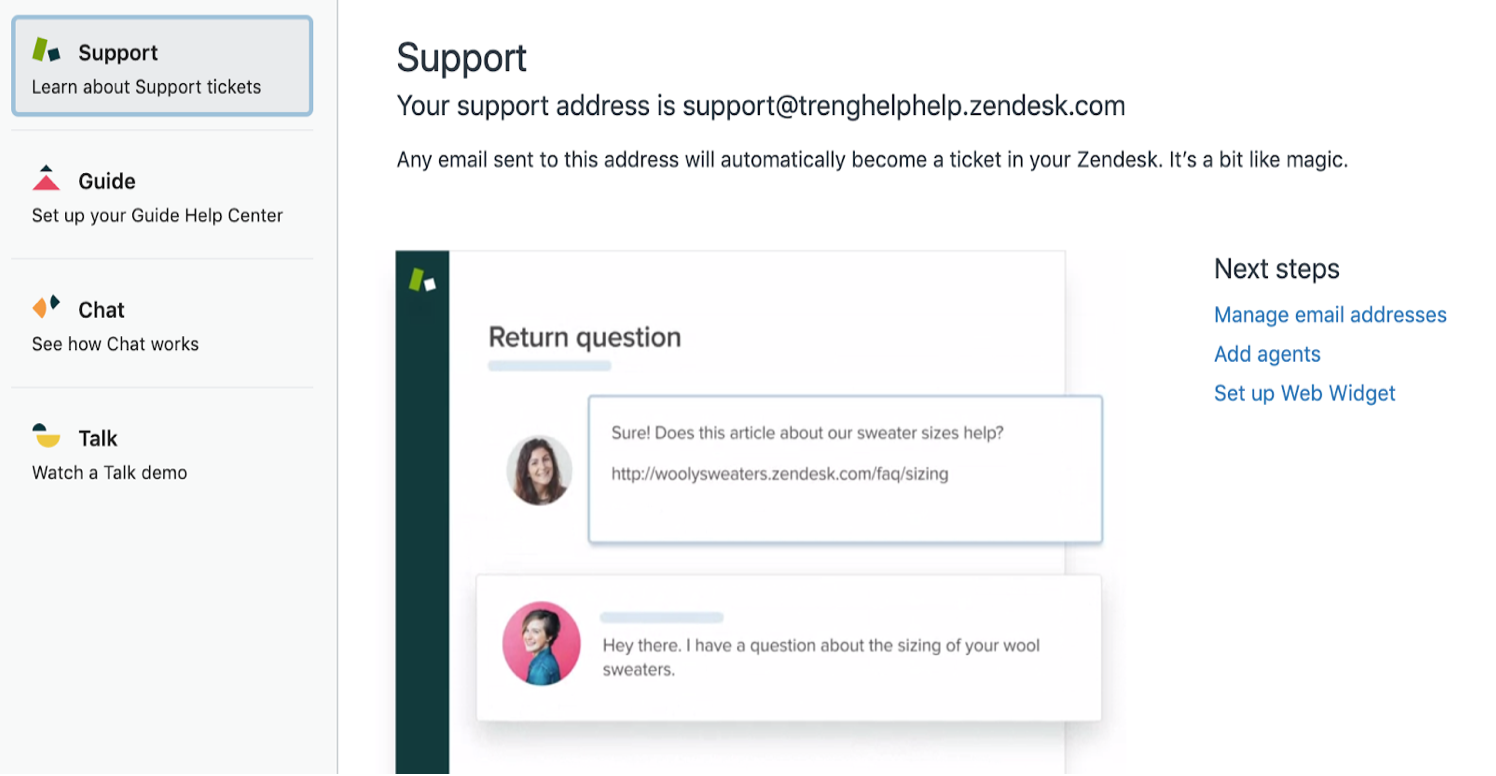 Zendesk
Zendesk is actually easy to use and implement. As mentioned earlier, there are separate sections for each tool on the site, which makes it much easier to find them. Another consideration when starting to work with Zendesk is that you don't feel lost. Right away, when you first use the platform, you will probably know what to do. 
The easiest and most convenient panel is the ticketing section. Since your agents will be working in this area, it looks as simple and uncluttered as possible. Also, to make it easier to start using Zendesk, the platform offers certain instructions that will get a novice user up to speed. 
Salesforce
The first impression of using Salesforce service cloud features was not as pleasant as using Zendesk. When I first started using the platform, my eyes were scattered with so many buttons and tabs. Hence, the conclusion is that the program is a bit outdated in its design. It would have been much easier if there was a "Start" button right on the main screen when you begin. But, unfortunately, there was no such button. 
Sure, you can spend some time trying to understand the functionality, but are you ready to spend so much time for each new employee that comes to your company? For a visual demonstration of the interface, we attached a screenshot below. 
Perhaps for many people, this functionality will seem convenient. But our first impression when using Salesforce was precisely that looseness. So if you do decide to use this platform, you will definitely need the help of a developer. 
Zendesk and Salesforce Support
Now that we have evaluated the visual, technical, and price components of the two products, it remains to evaluate the platforms in terms of support team quality. Here we must admit that both products are able to provide the best support and provide clients with a first-class productive customer communication experience. 
The only nuance that shows Salesforce integration is not in the best light is the two-day response process, which can lead to significant inconvenience when working with the platform. 
Conclusion
We suggest summarizing all of the above and weighing the pros and cons. In order to make sure you decide for yourself which support system suits your business best, we have compiled a brief summary of the advantages of the two platforms. All you have to do is compare them and make your final decision. 
Advantages of using Zendesk:
Simple and easy interface;

Multiple features for comfortable collaboration; 

Easy to integrate and customize the platform;

Ability to combine telephone, chat and support in one system. 
Advantages of using Salesforce:
Provides full access to customer communication; 

Can integrate with other applications, including Zendesk; 

Quick support for customers. 
Well, now you know exactly the background of these two platforms, because we tried to write not only about the advantages of the platforms, but also about their disadvantages. The final decision is up to you. If you still have doubts and are not sure if you made the right decision, then we advise you to ask the Cloudfresh team for help. Cloudfresh team is a unique center of expertise for Google Cloud, Zendesk, and Asana. For these products, we can provide you with the following services: 
Customization;

Development;

Integration;

Training;

License;

Support.
Our specialists will help you optimize your IT infrastructure, develop integrations for better system interoperability, and help create completely new structures and processes for your teams, while our support center will provide you with the best customer experience!