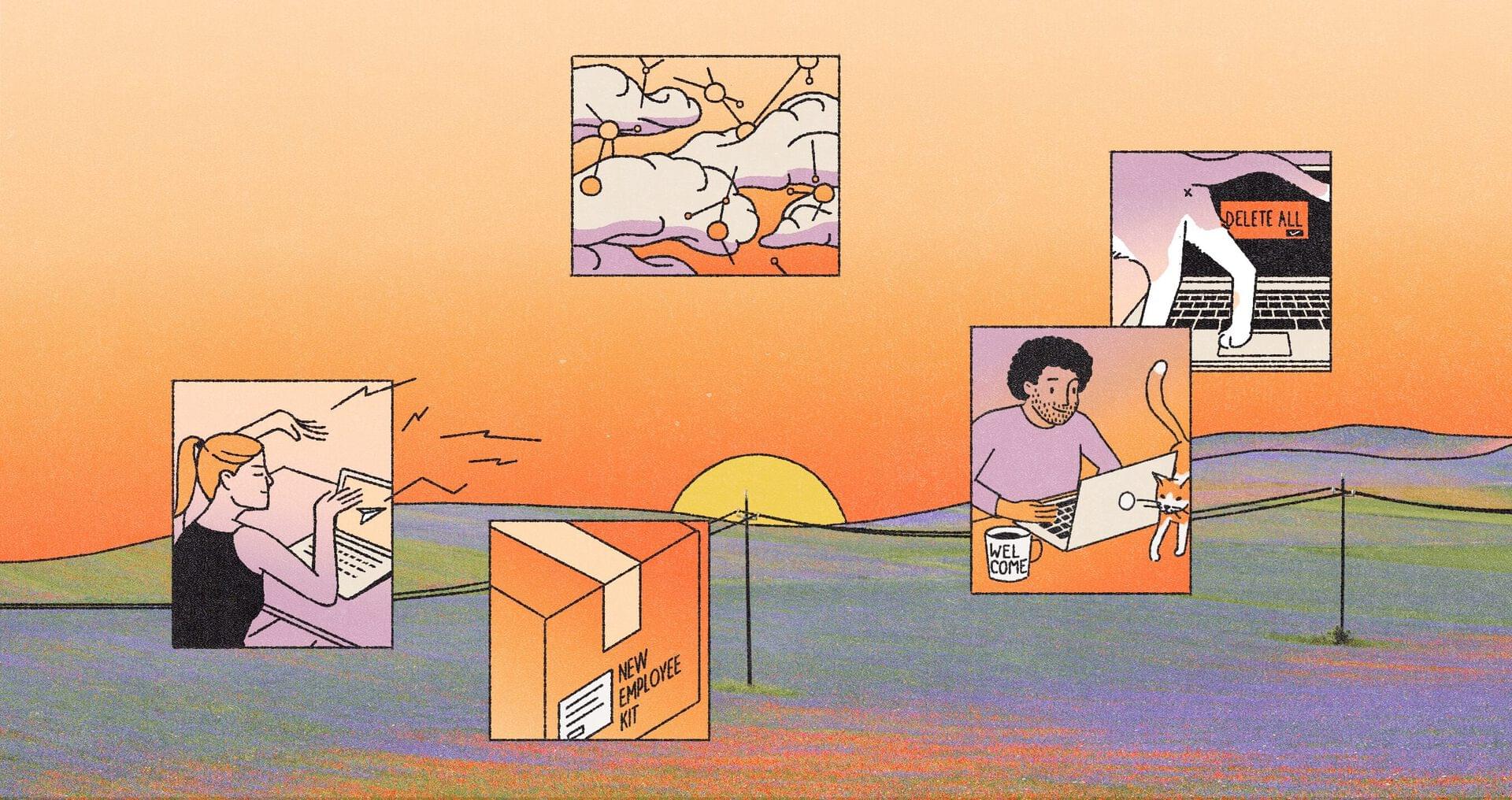 While the traditional office work model is getting less popular among leading businesses around the globe, many employees have become comfortable working remotely while maintaining high productivity. What priorities are needed to be followed to secure the efficiency of work processes? In this article, we would like to cover the essentials.
There are significant, long-term implications for how IT is managed and supported. Providing a fully integrated view across end-points, cloud, networking and applications in a hybrid deployment model has become critical for the service desk and businesses they support.
We are going to focus on three top priorities for businesses adopting a hybrid model.
Logistics organization: Keeping track of your assets
Now more than ever it is essential to keep track of all assets (hardware, software, accessories, etc.) associated with all end users, across the entire asset lifecycle. Several complex events are happening at once; companies are scaling their hiring with less emphasis on geographic proximity, fewer companies are returning to pre-pandemic office work models, and employees are not only remote, they're starting to change their location of work because they have the flexibility. These changes boost the processes of business movement to the cloud, enable a dynamic rise in network entities (IoT), and accelerate the risk of cyber attacks. 
Coordination of IT logistics in this model has become increasingly complex; the service desk has to not only to be accurately aware of all assets since these assets have become a constantly changing variable. Having a clear understanding of asset status as it moves through its lifecycle not only has financial implications, it also triggers regulatory and HR workflows that will reach across multiple functional areas.
Security enforcement: Minimizing the risks of working from anywhere
Given the increasing potential attack probability associated with the work from anywhere model, enterprises need to track antivirus software, license, and location status on all relevant assets to minimize risks associated with hybrid work models. 
When any issue occurs, the first point of contact is the service desk, and many security breaches can be attributed as a user experience — something not working the way it's expected to. It is critical to have a complete and complex view of the user's working environment. (hardware, software, cloud instances, etc.) that are part of a schema used by the service desk to resolve IT support issues. Having this type of perspective not only ties previously disparate systems together around the variable that matters most (the user), it can also show interdependencies that can put the company at risk.
User experience upgrade: Making onboarding and off-boarding a clear process
It is important to employee and customer productivity to deliver a positive onboarding experience, ensuring the right assets are delivered to the right person at the right time, which can be challenging in a "work from anywhere" model. For many employees, a big part of the onboarding process is the experience they have getting set up and up to speed. Everyone wants to onboard fast when starting a new job, and nothing is more frustrating than losing time waiting for a laptop or having a laptop without the proper configuration and software. This can be the difference between a happy, motivated employee or a frustrated one.
The same process applies to the off-boarding of employees. If you remove an employee's credentials from the system, you run a very real risk of deleting all the files they were working on. This has security and compliance implications; being able to track devices and the software they use is critical to ensuring a smooth transition for both the company and the employee. As has happened many times, a disgruntled employee who becomes a former disgruntled employee can be very risky. 
Data in motion is data at risk
There is way more disruptions in the IT ecosystem now than ever before

More devices with sensitive information are out in the field

New cybersecurity factors arise and data breaches happen more often
All of this is happening against a background of continued migration to the cloud, digital transformation to a WFA (hybrid) environment, and an explosion of unsecured devices. When things start to be getting more complicated, the first door that gets knocked on is the helpdesk, so having a fully integrated perspective across all your IT assets is integral to the success of any enterprise's service desk.
To enable a powerful asset management process, Zendesk has partnered with Oomnitza. Using Oomnitza and Zendesk together, you can easily track and manage all your assets—and securely interact with everything that powers your business, wherever you are.
So for efficient workflow, use the Zendesk customer relationship tool, which will free up your agents' time for more critical tasks and communication with potential clients. To learn more about the Zendesk tool, contact Cloudfresh experts.
The Cloudfresh team is a unique center of expertise for Google Cloud,  Zendesk, and Asana. For these products, we can provide you with the following services:
Customization;

Development;

Integration;

Training;

License;

Support.
Our specialists will help you optimize your IT infrastructure, develop integrations for better system interoperability, and help create entirely new structures and processes for your teams. At the same time, our support center will provide you with the best customer experience!