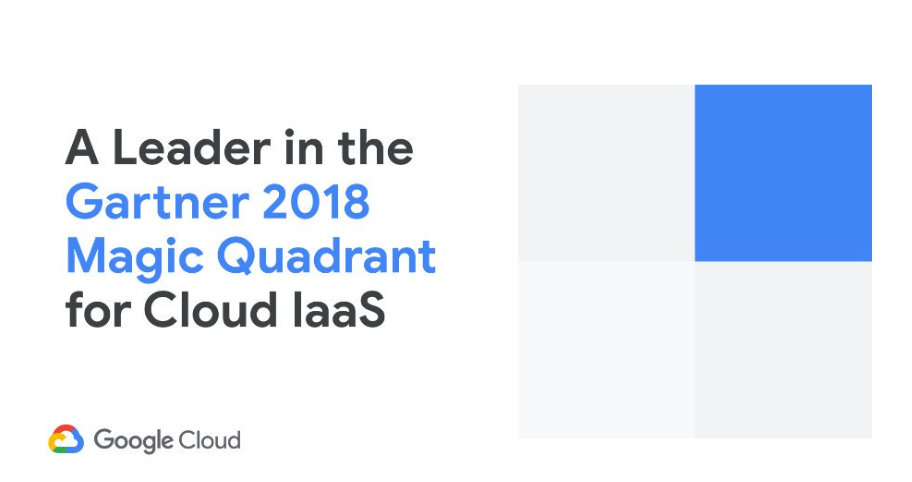 We are pleased to announce that Gartner recently named Google a Leader in Open Cloud Storage Services in the 2018 Gartner Magic Quadrant.
As organizations continue to create, manage, and store incredible amounts of data, industry analysts like Gartner's research allow you to evaluate and compare cloud providers.
Google Cloud is constantly working to create and distribute safe, secure, accessible products at any work level. Over the past year, Google has introduced new categories to meet more consumer storage needs, launched new products and unique features, and continued to expand the overall storage ecosystem. Below are a few points from Gartner's report on what factors led Google to lead in this category.
Reliability-focused storage
With Google's globally distributed network, you can plan your application architecture with the correct storage fallback code to take advantage of a multi-dimensional regional infrastructure, reducing the impact of any regional issue. This solution automatically uses the same secure development infrastructure, built-in security, and global network that Google uses to protect the information, identities, programs, and devices.
In addition to infrastructure reliability, Google's Customer Reliability Engineering (CRE) program can help customers succeed through personalized support that provides common operational challenges between the company and Google. Google experts work hard to ensure the whole world can trust them with data storage.
Storage easy to use
The developers built GCP for flexibility, whether you want to work in a hybrid cloud, multi-cloud, or create an application. You need a product that integrates quickly and delivers the same performance in quiet and peak periods to meet these needs. Cloud storage has a single API, and the object lifecycle policy allows you to transfer data at a level without affecting the programs that have access to this information.
Google Cloud Storage products are easy for workloads ranging from the content serving to Big Data analytics. The new features are fully tailored to the unique requirements of these use cases. Cloud storage now offers sequential lists of operations to ensure analytics workloads can rely on a single consistent, most up-to-date view of all your objects. Resilient Disk now offers cross-region replication, making it easier for organizations of all sizes to build and run even legacy applications in the cloud.
New storage products and partners
This summer, Google announced the launch of Cloud Filestore, BETA, a managed file store for applications that require a shared file system and interface. This was announced alongside the Transfer Appliance, reaching general availability to help you move your content to Google Cloud as quickly as possible. This product gives you a simple, integrated, original experience for building a fully managed network-attached storage (NAS) using your Google Compute Engine and Kubernetes Engine examples.
NetApp Cloud Volumes for Google Cloud Platform (GCP) continue to be scaled up to enable users to take advantage of the same high-performance file storage functionality that NetApp uses in GCP. We want to help you adopt the GCP for file content with the best solution for your business.
Google Cloud continues to be the go-to for businesses looking to achieve greater availability, scalability, and security in the cloud. See other leading analytics reports on Google Cloud. You can download a free copy of Gartner's Magic Quadrant for Cloud Storage from our website.